He was wearing a mask while he waited to see her. She arrived in a car. They then held hands, gave each other a hug and started to cry.
"I am very happy. It had been almost a month since I saw my wife, and I am going to see my children in a little while," said Gilmer Barrios, a Guatemalan immigrant who was reunited with his wife and their two small children this week.
Barrios, 28, was arrested on March 23 by U.S. Customs and Border Protection in Southern California and was deported four days later to Tijuana, Mexico, without having a deportation order and without first seeing an immigration judge.
He spent 21 days in Mexico without being authorized to be there, until the United States reinstated him. Noticias Telemundo first reported Barrios' case, alerting the Guatemalan consulates, who then negotiated Barrios' re-entry into the United States.
His irregular expulsion occurred in the midst of the coronavirus emergency.
Border Patrol was granted new emergency powers during the pandemic, or at least until May 20. They now have the authority to immediately remove migrants who just crossed the border. In March, agents used their new authority to remove 6,306 people, according to official data. There are estimates that the total number of removals is more than 10,000, including in the first days of April.
But Barrios was not a migrant who had crossed the border; he has lived in the United States for over a decade. Authorities arrested him while he was driving and he spent three days in custody. During that time, he asked to see an immigration judge.
Wendi Lee, a CBP spokesperson, told Noticias Telemundo by email that Barrios was expelled after being detained at a checkpoint on I-15 in California.
"It was later discovered that he had pending immigration processes in the United States. The Border Patrol of the San Diego sector quickly took action with the assistance of the Guatemalan Consul General to allow Mr. Barrios re-entry to the United States," she said.
Barrios told Noticias Telemundo that his return was less traumatic than his removal. "Several agents and the head of the Border Patrol in San Diego were waiting for me with my name. They asked me my name and they took many photos of me," he said.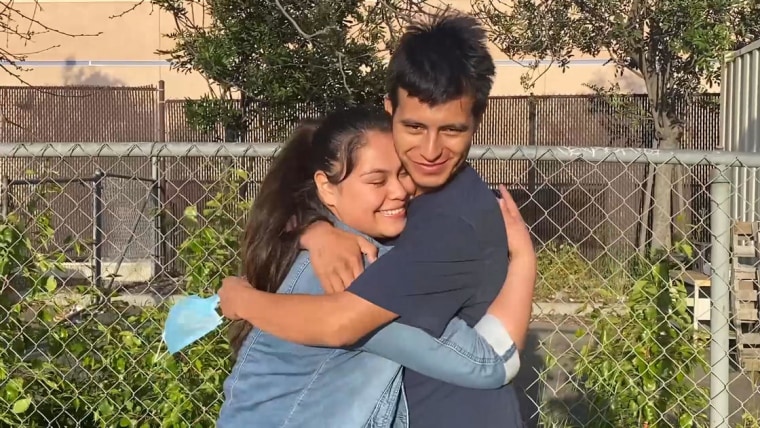 After his return to the United States, he spent six days detained at a Border Patrol station in Chula Vista, California. He was then released on parole to continue working on his pending immigration case.
"They didn't insult me ​​and they didn't hit me like they did the first time. I was one of the people they treated the best. I don't know why, but they treated me well," Barrios said in a video that the communication agency Tzunu Strategies shared with Noticias Telemundo.
Barrios' wife, Kimberly Barrios-Hernández, said that the behavior of their two toddlers changed during their father's 28-day absence.
"They were very sad, very serious. They clung much more to me," she said. "If I just went to another room, they already felt that I was going to leave them, that they were not going to see me anymore."
Investigative reporter Damià Bonmatí first reported the story for Noticias Telemundo.