Natalie Khawam, attorney for the family of missing Fort Hood soldier Vanessa Guillen, said "we believe that her remains were found."
The announcement at a Wednesday press conference comes hours after the U.S. Army said it found partial human remains, which have not been identified yet, during a search for the missing soldier in Texas.
The finding comes days after investigators said they suspected foul play related to her disappearance.
Mayra and Lupe Guillen, Vanessa's sisters, said during the press conference that while they will continue to wait for the remains' identification process to take place, they are demanding a congressional investigation of the Army's handling of the case.
"The human remains have yet not been confirmed, and I won't lose hope," said Lupe while trying to hold her tears.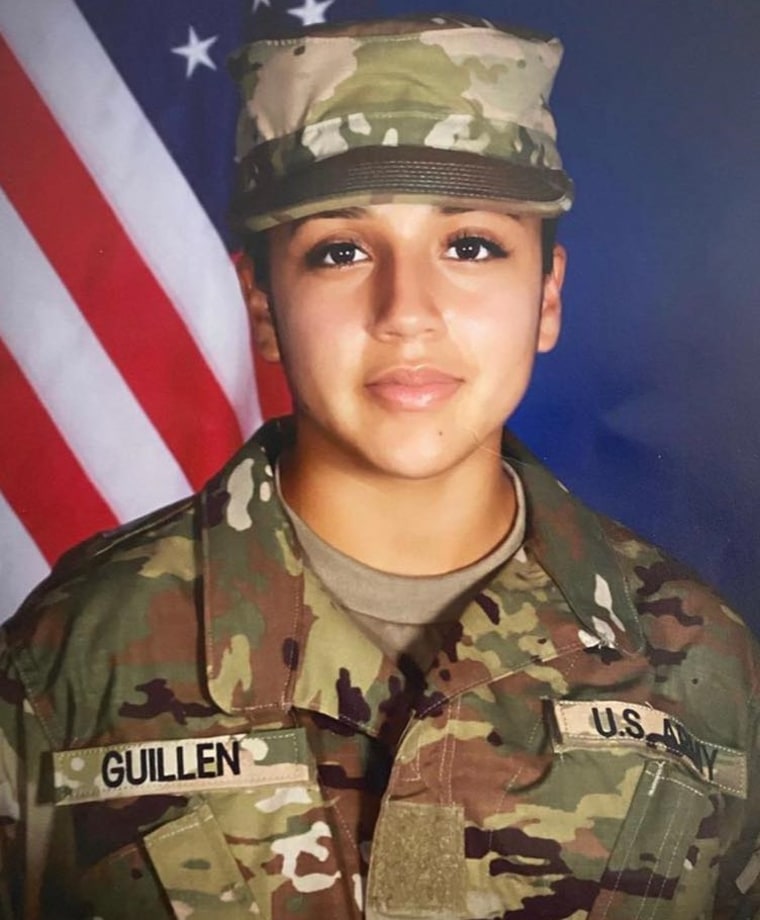 The CID, the Army's primary criminal investigative organization, said the process to identify the human remains can take time.
"We need a congressional investigation as soon as possible. They lied to us since day one, Fort Hood. They're hiding," said Mayra.
Khawam also said that a suspect who apparently died by suicide early Wednesday morning in Killeen, Texas worked with Vanessa on the day she vanished.
Hours before the press conference, the Killeen Police Department said a person wanted in connection to a Fort Hood criminal case died of a self-inflicted gunshot wound Wednesday morning. The person was an active soldier, according to police.
Mayra said that the man who died by suicide "laugh at my face" when she went to the military base to ask about her sister's disappearance.
After the press conference, the Army confirmed that "one military suspect is deceased after taking his own life." They also said that "a civilian suspect has been arrested by the Texas Rangers in connection with the disappearance of Pfc. Vanessa Guillen."
"The civilian suspect is the estranged wife of a former Fort Hood Soldier and is currently in custody in the Bell County Jail awaiting charges by civilian authorities," the Army said in a statement.
Private First Class Vanessa Guillen, 20, was last seen at a parking lot in Fort Hood, Texas, where she was stationed, on April 22. Officials said that "her car keys, barracks room key, identification card and wallet" were found in the armory room where she was working on the day she disappeared.
On June 15, the Army raised the reward to $25,000 for anyone with information leading up to Vanessa's whereabouts. The League of United Latin American Citizens, the nation's oldest Latino civil rights organization that has been helping the Guillen family, added an additional $25,000 to the reward the following day. Two days later, the military opened up a separate inquiry looking into allegations that Vanessa was sexually harassed by a supervisor.
Vanessa's sister, Mayra Guillen, previously told NBC's "Dateline" that Vanessa had told their mother that she felt unsafe at Fort Hood and that a sergeant had been sexually harassing her. Mayra said Vanessa never identified the person and never reported the incidents to the Army's sexual harassment and prevention program.
After the sexual harassment reports surfaced, many service members have used the hashtag #IAmVanessaGuillen to share their experiences with sexual assault and harassment on social media.
Sexual assault in the U.S. military has increased over the past two years, according to a report from the Defense Department.
"This should never have happened and we will never know what happened until we get a congressional investigation, because everything we were given was lies," said Khawam. "We don't know who's covering up for who, but it doesn't matter. We lost a life. We lost a beautiful young soldier and it's time we fix our system."