It feels like the whole world has heard of "Hamilton," but have you heard of "Spamilton: An American Parody?"
An off-Broadway show is serving up a satire of the Broadway phenomenon, and just like the juggernaut show that it gently mocks, it's offering a new generation of Latino as well as African American actors a chance to shine.
Since opening in 2015, the musical "Hamilton," created a frenzy of media hype and made its creator, Lin-Manuel Miranda a household name. Miranda uses a mainly Latino and black cast to tell the story of Founding Father Alexander Hamilton in a hip-hop infused, modern musical.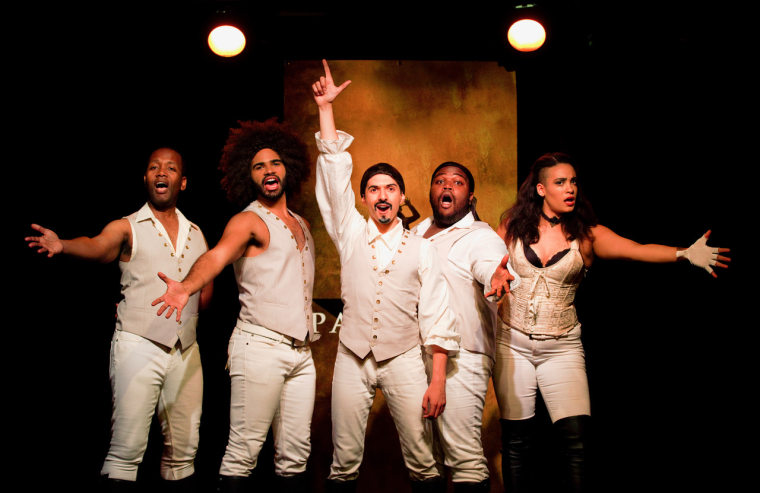 Gerard Alessandrini, the writer and creator of "Spamilton," felt compelled to do a takeoff because, in his view, the original show offered rich source material.
"'Hamilton' is a loaded show, with so much plot, history, and significance," he said. "It also has so much behind it, how they (the creative team) turned Broadway on its ear, utilized rap and hip-hop, and created a cultural colossus."
And in casting "Spamilton", Alessandrini said he he has used more actors of color than in any of his other productions.
"I wanted young people, and obviously I wanted people who resembled the original Broadway cast," he said. "I am very proud of the performers we cast; they are all so energetic and enthusiastic, and give the show a kind of innocence and charm."
Dan Rosales, who plays Miranda playing Hamilton, has been part of "Spamilton" since it first premiered at a small cabaret space last year before moving to the Puerto Rican Traveling Theater – literally a block away from Hamilton and the "Hamilton" store.
"When I auditioned for this show, it was called "Untitled Satirical Book Musical," said Rosales, who is originally from Southern California and a graduate of the Boston Conservatory of Music. "We didn't know what we were getting into. The original contract was for about two weeks - we had no idea what the reception would be."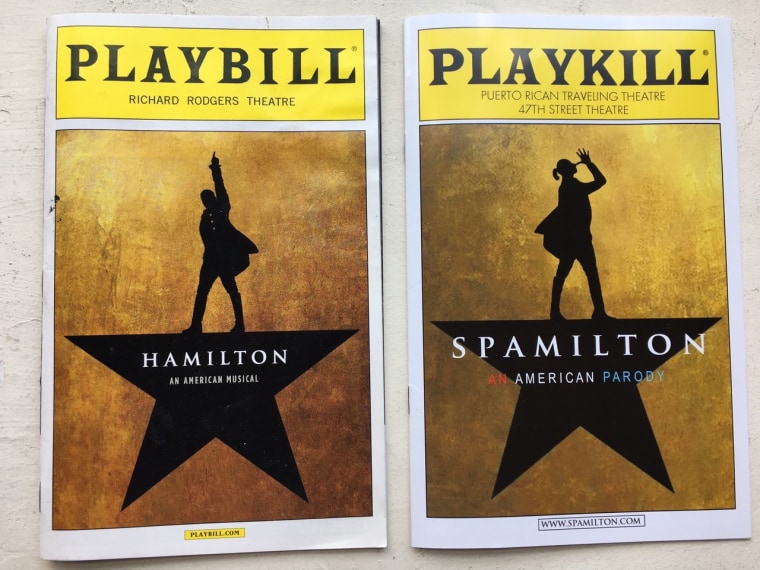 But the young Latino actor has won raves from major critics as he raps lines like, "I love being a hot big shot" and "I am not going to let Broadway rot!", while mimicking the mannerisms and sounds of the "Hamilton" star.
He has even performed as Miranda for Miranda, when the "Hamilton" creator and his team came to see the show.
"It was actually fun to be imitating him being a whiny guy, and seeing him laugh at himself while the audience laughed, too," Rosales said. "There was a little bit of hesitation in the very beginning of the show, but he (Miranda) ended up loving it and hanging out with us backstage."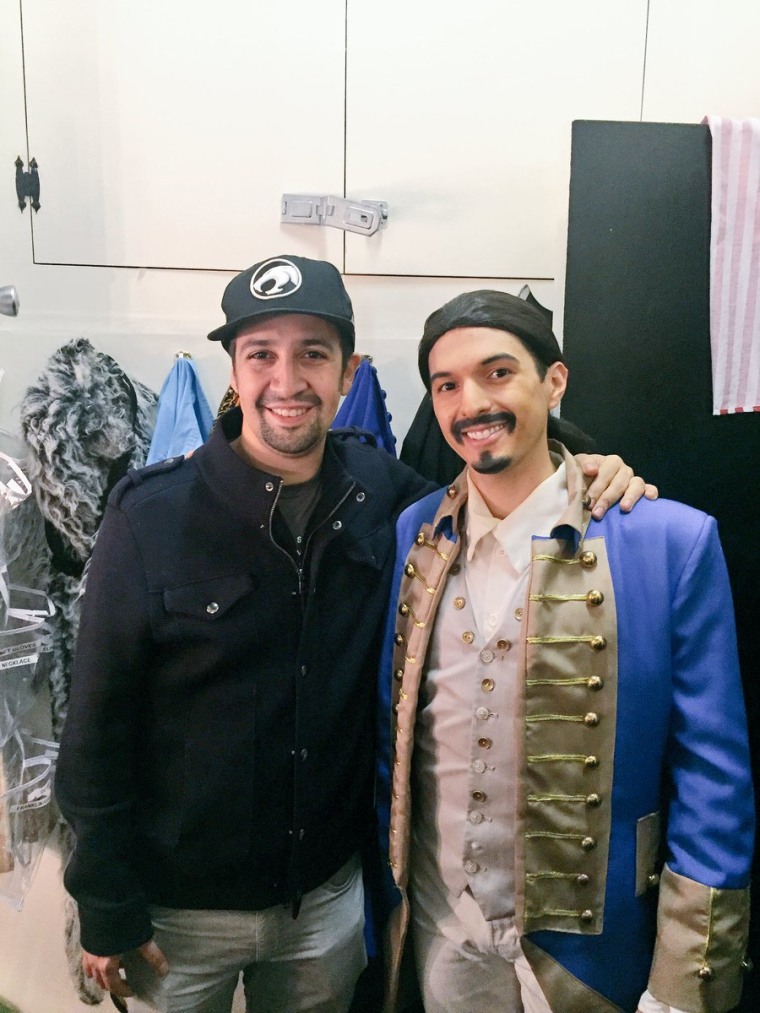 After seeing "Spamilton", Miranda tweeted that "I laughed my brains out" and arranged for the original cast to see "Hamilton" as his guests.
RELATED: Lin-Manuel Miranda, Dad Luis Talk Latino Heritage Through Generations
Nicole Vanessa Ortiz, a former Top 45 finalist for American Idol season 5, is making her New York City theater debut in "Spamilton". Ortiz plays myriad female roles in "Spamilton". This means that, eight times a week, she performs as the Schuyler sisters – Hamilton's wife and his sister-in-law, in addition to spoofing Michelle Obama, Beyonce, Jennifer Lopez and a host of Broadway's leading ladies.
Like several of her castmates, she has auditioned for the real "Hamilton" as well.
"As the show ("Hamilton") expands, it seems like there will be more opportunities and more work. So I feel some encouragement to hang in there," she said.
Asked if she had seen "Hamilton," Ortiz laughed and said, "Oh no, it's too expensive!"
RELATED: Young Latino stars make waves on Broadway
While "Spamilton" is providing a showcase for Rosales, Ortiz, and other Latino performers, they remain among an elite group of Hispanic stage actors. The working membership of Actors Equity, the union representing theatrical performers, is only 3.2 percent Latino. And a new diversity report from the union reveals that, between 2013 and 2015, Latinos received just 4.4 percent of the total principal contracts for Off-Broadway musicals.
Currently "Spamilton" is playing in New York and Chicago. A Los Angeles version will open in November, and there are plans for a touring company. The original cast, including Rosales, has also recorded an album of the show.
Yando Lopez, who plays Lin-Manuel Miranda in the Chicago company of "Spamilton", said that he appreciates the visibility that the show has given him.
"I think Chicago is a good place in terms of non-traditional casting," he said, "but a lot of shows still cast all white (actors) when the breakdowns (casting notices) say they can be any ethnicity."
But Lopez believes the theater industry is becoming more inclusive. "It is changing," he said, "just changing very slowly."
Unlike "Hamilton", "Spamilton" is accessible to most theatergoers. The top ticket price for "Hamilton" is $849, though scalpers and second-market sellers routinely get more. By comparison, tickets for "Spamilton" begin at $25.
"This show is a good time," said Lopez. "In a moment where everything is so political and people might feel mad or scared about the future, this is a nice break. It is nonstop jokes."