EL PASO, Texas — Tokens of heartbreak and turmoil piled up Tuesday at a makeshift memorial along an elevated roadway that looks down on the Walmart where a gunman ended the lives of 22 people.
Four days after a shooter carrying a high-powered rifle entered a Walmart and opened fire on children and adults on a busy, back-to-school shopping weekend, mourners steadily arrived at the marker commemorating the dead.
Roses, lilies, balloons and stuffed animals lay beside crosses, homemade signs, prayer candles called "veladoras" and the flags of the U.S. and Mexico, providing a gathering place for the grieving and the stunned.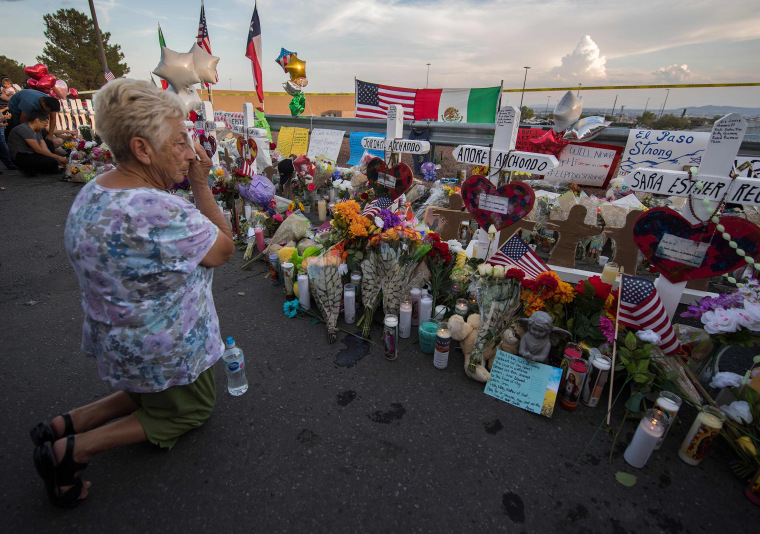 They cried, sighed, embraced and prayed — some loudly in impromptu prayer huddles — as they braced for a visit Wednesday from President Donald Trump, who has been criticized for stoking the violence unleashed in their city.
The gunman, who drove 650 miles from Allen, Texas, is believed to have posted a screed online in which he spoke of a Hispanic invasion, killing Mexicans and the takeover of government by Hispanic Americans.
Trump was in El Paso in February, when he told the nation the border was a gateway into the U.S. for dangerous outside forces, and a wall was needed to keep them out.
Now, some are skeptical he can deliver comfort to the grieving city.
"I don't think he supports El Paso," said Dolores Sanchez of Sugar Land, Texas. "I know that he feels that he has to come, but the real thing that I hope is that he will change his talk, the way he speaks about our community and about Hispanics as a whole."
Sanchez, who was marking her 68th birthday, moved to El Paso from Arkansas in second grade and grew up in the city. She said she felt she had to return to her hometown to show respect for the victims and be with the community.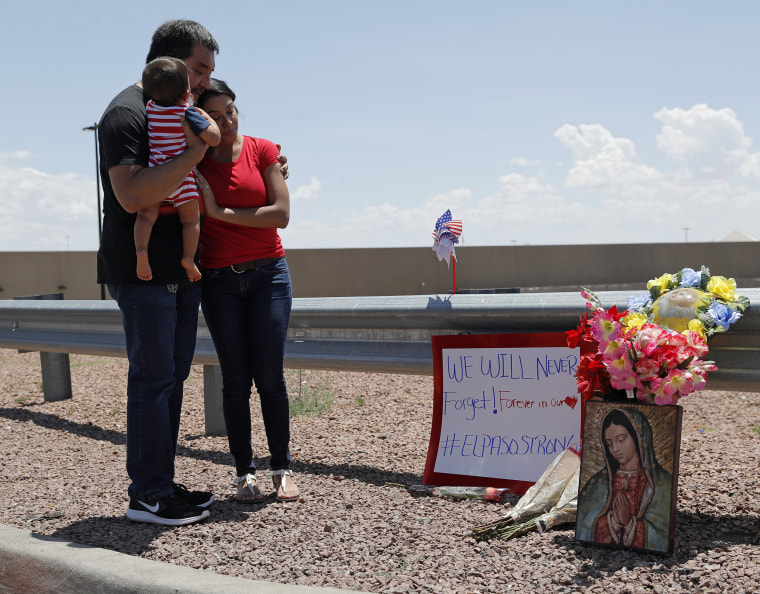 Although the city and surrounding county area is more than 80 percent Hispanic, it's home to a military base that adds to the city's diversity and, some say, to its acceptance of different cultures.
Vikki Deloach, 53, an Air Force military brat, has lived in El Paso since she was 8, when her father retired here, in her mother's hometown. She is African American.
For years, Deloach has been a cheerleading coach to the high school-age granddaughter of Angelina Eglisbee, who died in the mass shooting that officials are calling an act of domestic terrorism.
The city embraces its Mexican neighbors, Latinos and other cultures, Deloach said, adding that she has been called the "n-word" in other places but not El Paso.
She chuckled when asked whether the city would embrace Trump.
"Depends on why he's coming. If he's coming to make this political, then no," she said. "If he's coming because something will be done about the hateful rhetoric that is spewed by not only him but other people, if there is going to be something done in regards to gun control and these AK-47 and AR-15s, then yes, we will embrace him."
She said she believes Trump opened the door to the hate that came to El Paso.
The city is not immune to political and racial tension.
Students and alumni protested when a former Trump administration staffer, Heather Wilson, was hired to be the next president of the University of Texas at El Paso. They raised concerns about her record regarding the LGBTQ community and claimed a Latino candidate was not seriously considered for the post.
The city is in the middle of a dispute over proposals to demolish the historic Duranguito neighborhood to build a multipurpose arena, and there are divisions over whether El Paso needs a wall or more border enforcement.
Trump's February El Paso rally drew thousands, but a counter-rally featuring presidential candidate Beto O'Rourke also drew thousands, displaying the city's political divisions that many do not want emerging Wednesday.
Ahead of the visit, Trump tweeted late Tuesday that O'Rourke should 'be quiet' after the Texas representative called out the president, saying his racist rhetoric and characterization of Latinos had contributed to recent mass shootings.
Trump also took a jab at O'Rourke's nickname calling it 'phony' and implying that he uses it for political gain. The Democratic presidential candidate, whose full name is Robert Francis O'Rourke, goes by 'Beto,' a childhood nickname.
O'Rourke hit back, defending his hometown and again placing blame on the president for 'inspiring' an 'act of terror.'
'It just kind of hits you right here in your heart'
Born and raised in El Paso, Rick Saenz, 43, stood before the memorial, in his fire department uniform, thinking about the days he worked at the Walmart when it first opened in the mid-'90s.
"It just kind of hits you right here in your heart. You don't really get hit with the reality of it until you are standing right here at this memorial," said Saenz, who has been a firefighter at White Sands Missile Range for over 20 years.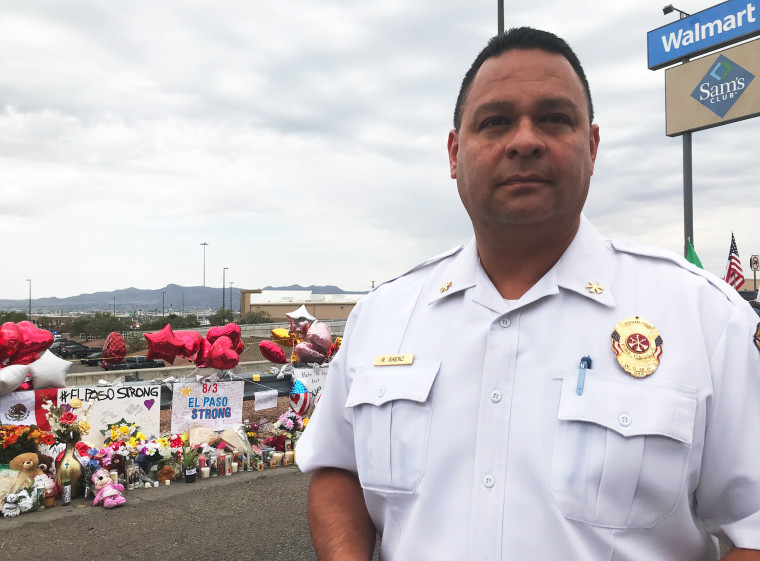 His eyes grew misty.
"Seeing all this right now puts a lump in your throat, kind of sinks your heart just a little bit."
He said now is not the time for politics, and the city needs to heal. He said he hopes Trump will its unity, "that we are El Paso Strong".
Rob, 37, who did not want to give his last name, visited the memorial with his wife and children. He said he supports the Second Amendment right to bear arms but said officials should focus on mental health and preventing people with mental health problems from getting guns.
Experts say mental illness is not a major risk factor in gun violence.
Rob said Trump could provide comfort with his visit.
"I don't think we should stop anyone who wants to show love and support," he said.
There will always be opposition to Trump, he said, but he is the commander-in-chief. "If he has something to say, people should listen," he said.
In his televised address to the country, Trump also focused on mental health, saying, "Mental illness and hatred pulled the trigger, not the gun."
In a tweet Tuesday, Trump said he will visit with first responders, law enforcement and some of the victims.
Alan Samuelson, 63, a retired police officer who moved from San Diego to El Paso, said he plans to be "as close as I can protesting" Trump on Wednesday.
Samuelson, who is Jewish, said he has always felt acceptance in El Paso, which is home to a Holocaust museum and study center.
"I am of the Jewish faith, I had to deal with discrimination too," he said. "I grew up in Poway, California, where the shooting at the synagogue took place … so that kinda hit me, then it happens here, Gilroy and places like that. "
One woman was killed and three people injured in the Poway shooting in April.
In Gilroy, California, a gunman armed with an AK-47 rifle opened fire at the Garlic Festival, killing three people and wounding more than a dozen others. It occurred July 28, the same week as the El Paso shooting. The day after the attack in El Paso, a gunman killed 10 people and wounded 14 when he opened fire in Dayton, Ohio.
Sulecia Rodriguez, 26, pulled an ice chest on wheels through the growing crowd at the memorial, handing out ice cold water. Part of the staff at a nearby nursing services company, she wanted to stave off any dehydration as the temperature was expected to hit 98 degrees Tuesday.
She was gracious, chatty and smiling, making the rounds in the heat in a flower print dress and strappy sandals with heels. But she said the attack has left her traumatized.
She is afraid to go out, fearful of going to a corner store to buy a beverage "because you never know what, you know?"
"I need a lot of stuff from Walmart, and you know we have others in the city, and I don't want to go in. I don't even want to leave my house. I'm scared," she said.
As for Trump's pending visit, "Honestly, I'm not prepared. I was very surprised he's going to be in the city. I'm hoping it turns out good."
Follow NBC Latino on Facebook, Twitter and Instagram.