MEXICO CITY — Carolina Perez, 17, recently ran for her life.
The high school student who lives in Naucalpan, northwest of Mexico City, was walking when two men started chasing after her. She desperately sprinted and was able to reach the safety of her home.
"I'm not free and I'm not happy and I'm not safe on the streets," Perez told NBC News. She was one of an estimated 80,000 women who marched in the country's capital Sunday, International Women's Day, against the spate of femicides and gender-based violence that has rocked the country.
Recently, two cases have garnered international attention: A young woman, Ingrid Escamilla, was murdered, disemboweled and skinned by her boyfriend and images of her body were splashed across a tabloid cover. Fátima Aldrighett, who was 7, was kidnapped while she waited for her mother to pick her up after school; her body was found days later with signs of torture.
On Monday, women took the protests a step further, staying home and not going to work or school as part of the "Día sin Mujeres," or "Day without a Woman."
Lourdes Quiroga, 55, is a psychoanalyst who lives with her family in the Colonia Roma neighborhood of Mexico City. She says she sees women patients on a daily basis who suffer violent abuse perpetrated by men.
"We're in danger, and we have to do something for our security and our lives," she said.
About 10 women a day are killed
About 3,825 women died in Mexico in 2019 as a result of a violent incident — about 10 women a day — according to figures reported by The Associated Press. The number was 7 percent higher than in 2018, according to the data.
"In Mexico, it's like we're in a state of war; we're in a humanitarian crisis because of the quantity of women that have disappeared or been killed," María de la Luz Estrada, coordinator of the National Citizen's Observatory of Femicide, told AP.
Veronica Hernandez, 60, a university professor of indigenous studies, described the situation as "hell for women."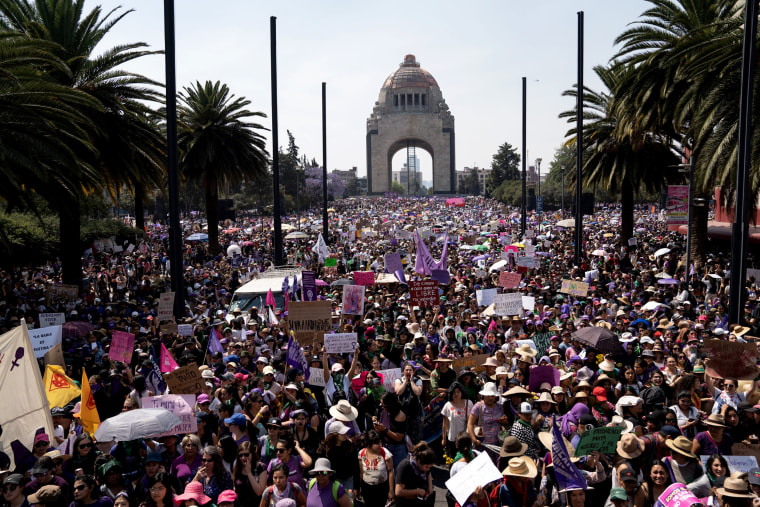 "So many women are disappearing from the streets — I'm very angry at what's happening, as we say here in Mexico, encabronada (enraged), because we don't see actions, we don't see decisions in order to sort the problem at the roots," Hernandez said.
"Do I have any confidence in the police?" Hernandez paused to laugh. "No ... because they are part of the problem, which is structural."
Karla, 22, is a university student and an English teacher. "They don't do anything," she said about the police. "They just ask for your data and that's all."
Karla feels guilty she isn't in the classroom Monday since she's participating in the Día sin Mujeres, but she says a personal experience recently left her confidence and self-esteem shattered.
During a recent visit with relatives, she went to thank her uncle before leaving when he grabbed her and kissed her forcefully on the mouth. She said she recoiled in shock and horror.
"He just grabbed my face and kissed me. I actually have a girlfriend and the first thing I thought about was her, and then I thought, 'What am I going to do?' The next thing I thought was that I'm getting in so much trouble. Not him but me!" she said. "I wanted to cry so badly, but I just had to hold back my tears, because I was about to go to school and I have to concentrate there."
"Now he looks at me, but says nothing. I don't want to be around him or even look at him, because I feel so uncomfortable and I want to cry every time I see him," she said.
'Some men think they are more than us'
"Machismo is a very big problem in Mexico and in the world because some men think they are more than us and they use their power to end our lives," Quiroga said. "No matter if it's a word or some sort of offense, almost everybody has had an attack from some man in some moment of our lives."
On Monday, Mexican President Andrés Manuel López Obrador said the women's one-day strike would not have "a big impact" on the economy. He has been fiercely criticized for his response to the recent protests, including for his comment that conservative rivals are behind the protests.
Yesterday, protesters threw Molotov cocktails at the palace and banners called him a misogynist.
Hector Camberos, 25, a university student from Atizapan, participated in the women's rally Sunday.
"This march conveys a really important message that women have a voice and they need to express themselves. I think there's also an element of sheer desperation; most of these women have lost a lot of people in their life," he said. "The situation in Mexico is really dire. There's no capacity to feel safe — whether you are a man or a woman."
James Blears reported from Mexico City.
Follow NBC Latino on Facebook, Twitter and Instagram.