EL PASO, Texas — Andre, 3, immediately recognized his father during an emotional reunion Tuesday after they had been separated for three months, his father said.
"He looked at me and said, 'Hello, Daddy,' and he gave me a hug," Pablo Ortiz, a migrant from Guatemala, said in Spanish at a news conference Wednesday at Annunciation House, a Catholic charity in El Paso, Texas, that is providing shelter and legal services for migrant parents.
"I just gave thanks to God," Ortiz said.
Roger, a father from Honduras, said he was so desperate and distraught that he cut himself and threatened suicide after his son, Roger Jr., 4, was taken from him when they sought asylum at a port of entry in February.
"It was too difficult for me. He is my only son — he is the reason for my life," said Roger, who did not give his last name.
"We gave each other hugs, kisses. We didn't want to let each other go," he told NBC News in Spanish about the reunion.
As their fathers spoke, Andre and Roger Jr. sat on their laps and played with toys, stamps and coloring books, sometimes hugging their parents. At one point, Roger Jr. shaped modeling clay and told his father in Spanish, "Daddy, I made a dinosaur!"
Ortiz and Roger were among the more than 100 parents with children under 5 who had been separated under President Donald Trump's immigration policies. A court order mandated reunifications for the youngest children by Tuesday. The government missed that deadline for a majority of families, leaving some still separated.
Late Wednesday night, an administration official said that the government anticipates it will reunite families who are eligible under the court order by Thursday morning.
"We anticipate that, as of the early morning on July 12, we will have reunified all children under age 5 who are eligible under the court order for reunification with parents in the United States."
The deadline for court-ordered reunions for the rest of the nearly 3,000 separated children is July 26.
Rubén Garcia, the Annunciation House's director, said the organization was told at 6:15 p.m. local time on Tuesday that they would be receiving three families who had been reunited in the custody of Immigration and Customs Enforcement (ICE). The group arrived later that night, and one father and daughter who were released had already left on a plane to another part of the country, Garcia said.
Ortiz and Roger were to leave with their children later Wednesday to stay with relatives for the rest of their immigration cases. Garcia asked that details about their reasons for coming to the U.S. not be shared out of concern it could affect their immigration proceedings. He expressed concern over Roger's claim that he was separated from his son after legally going to a port of entry and claiming asylum.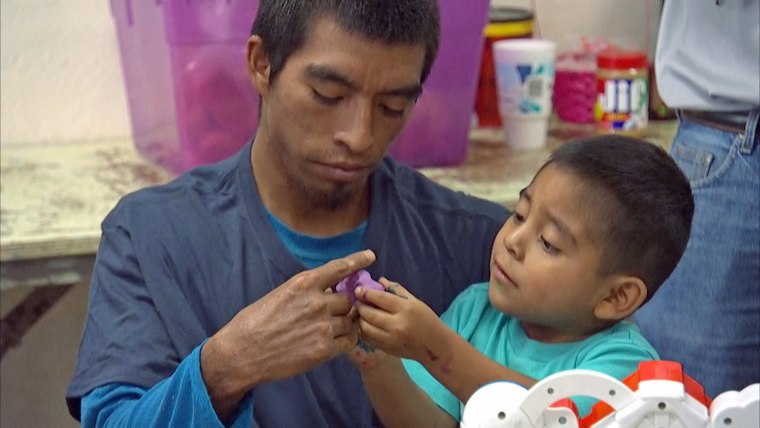 Garcia said the fathers were only told they would be reunited with their children shortly before it happened.
He added that his organization was also working with migrant parents with children older than 5 who have yet to be reunified.
"We're concerned about all the different hoops they're going to have to go through to get their children reunited," he said.
On Tuesday, U.S. District Judge Dana Sabraw urged the government to reunify the children with their parents as quickly as possible and told the administration to provide information on why it could not reunify all children under 5 by Tuesday's deadline.
"These are not aspirational goals," Sabraw said, referring to the deadlines he set.
In a court filing, the federal government said that out of 102 children under 5 who had been separated from their parents, four had been reunited before the deadline and 34 more were expected to be reunited on Tuesday. It was unclear whether Sabraw would set a new deadline for reunifying the other children with their parents, 20 of whom have either been deported or released from custody into the U.S.
Families who are released together will be enrolled in an alternative detention program, such as being supervised or wearing ankle monitors, Matthew Albence, ICE's executive associate director of enforcement and removal operations, said in a statement. Parents with a criminal background may not be released, and if there are concerns for the safety of the child or if the adult is determined not to be the child's parent, those families may not be reunited, Albence said.
Annunciation House has been working with 48 parents who were separated from their children, said Taylor Levy, its legal coordinator.
Levy said that communication with case workers for the parents with children under 5 had improved with the impending deadline, but that the process had been inconsistent.
Four of those parents were initially told they had to pay for the plane tickets to reunify with their children, but for two of them, the requirement was later waived. Despite spending hours on the phone trying to assist in the reunification of another migrant woman with a son under 5, there was still "no final plan despite the fact that we're past the deadline," Levy said.
Roger said the experience will leave him traumatized for a long time.
"Separation from your child is practically a terror," he said. "It's something you'll never, ever forget."
Gabe Gutierrez reported from El Paso, and Daniella Silva from New York City