SAN ANTONIO — Former Housing Secretary Henry Cisneros told members of the oldest Latino civil rights group the Latino population is the "saving grace" of America's future and asked, "Why cannot more Americans see that ... ?"
Speaking to the League of United Latin American Citizens (LULAC) convention, Cisneros said the organization was formed out of a "sense of justice and a need to act" and "we are at one of those points again."
Cisneros said he's trying to find a way to use media to tell the country what Latinos mean to it, in the same way that Al Gore brought the issue of climate change to the public with his movie "An Inconvenient Truth."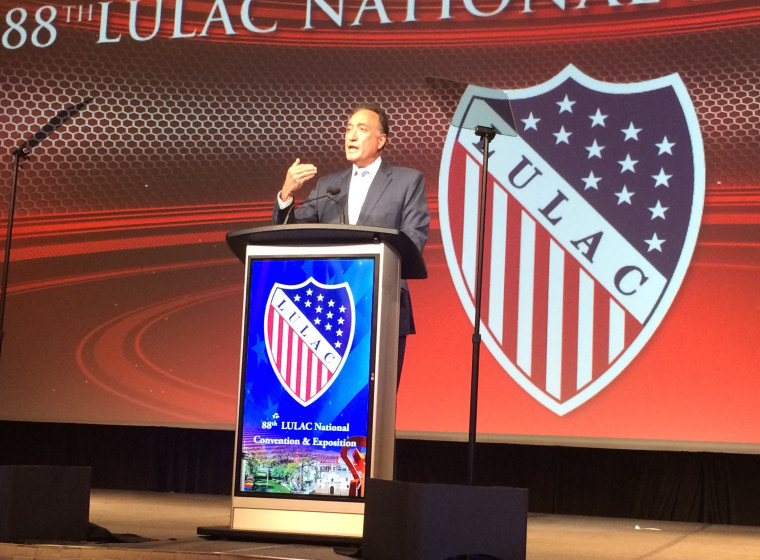 "We need to be telling the story (of Latinos) to the entire American people, without defensiveness, without shame, without apologies," Cisneros said. "We are who we are. We're Americans and we are here to help build the future of this country and we are LULAC."
Cisneros, who was the city's first Latino mayor since Texas became a state, told those assembled that because of the "law of numbers," Latinos are a shaping force of the country.
"If our people are left behind, marginalized, (are) economically at the edges of society, the American future will feel that, but if our ambitions and opportunities are unleashed, the raw energies of our talent is unleashed, the American future will be a bright one indeed," Cisneros said.
"If America is gonna have a strong economic future, a strong middle class, it is going to be because Latinos are integrated into the mainstream of American life. Why cannot more Americans see that basic reality about who we are and what we contribute to the American future?" he asked.