LOS ANGELES — Josefina Lopez has an amazing story: she grew up in a modest neighborhood in the heart of the city's east side and went on to co-write a hit movie that made America Ferrera a star. Since then, she has harnessed her success to give Latino youth a space to explore - and succeed - in the performing arts.
Recently at her Casa 0101 Theater, a group of actors were rehearsing for a special 30th anniversary production of her acclaimed play, Simply Maria, or the American Dream.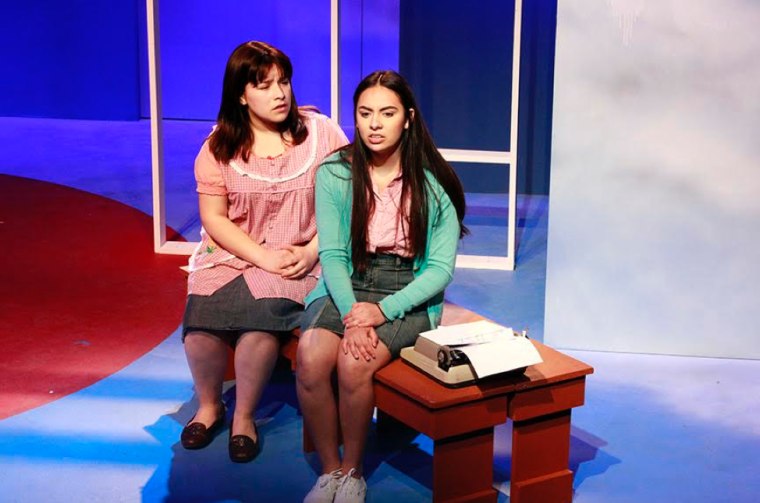 In varying states of focus and creative chaos, the performers milled about a brightly-lit stage.
"I can't find my costume, that blue sweater!" an actress wailed. Two young men practiced dance steps, mirroring each other's moves and making jazz hands, as a stage manager stacked several large puppets on a nearby prop table. "Where is Erick V.?" the director shouted from the audience. "We need Erick V. for the transition from the wedding to the soap opera scene!"
For Lopez, the co-author of the hit film Real Women Have Curves, presenting Simply Maria at her nonprofit theater is her latest way of giving back to her community.
Simply Maria tells the story of Maria, living in what she calls 'the little house in the ghetto,' and how she rebels against her conservative parents by pursuing her dream of attending college. When her parents insist that she become a secretary or get married "to survive," Maria snaps back, "Surviving isn't living!"
Aside from being the original "J-Lo," Lopez was, in a sense, one of the first DREAMers. Her parents brought her to the U.S. from Mexico when she was a child and she was undocumented for 13 years.
RELATED: In L.A.'s Boyle Heights, Latino Teens Draw National Praise for Community Journalism
While Lopez was waiting to adjust her status under the 1986 amnesty program, she spent one year working in her sister's sewing factory. This experience was her inspiration for Real Women Have Curves; Lopez later co-authored the screenplay of the film that gave America Ferrera her breakout role.
Lopez founded Casa 0101 in 2000.
"When I was growing up on Boyle Heights, I wanted a place like my theater to exist, but it didn't exist," she told NBC Latino. "I wanted to give the community what I wish I had when I was a little girl."
In 2011, Casa 0101 Theater moved to its present location, and its original home was re-named Little Casa. The "0101" name comes from the fact that, when she founded the theater, Lopez intended to teach digital video and filmmaking. Though she moved on to a broader arts curriculum, the name stuck.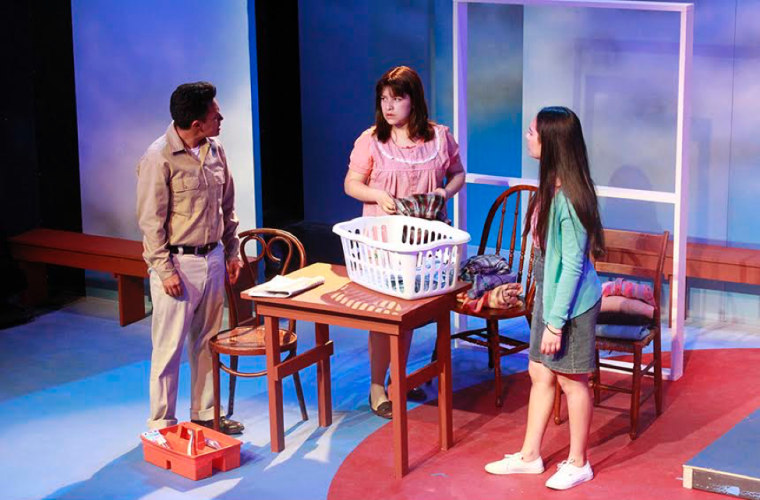 Casa 0101 offers year-round classes in acting and writing to young people and adults, and seasonal courses in improvisation, puppetry, filmmaking, and dance. The classes are free for young people, and inexpensively priced for adults.
Lopez sees Casa 0101 as a place where Latino actors have the chance to play more than stereotypes, and to train for future opportunities. "We are making a community here," she said. "We are showing that more than drive-bys (shootings) happen in Boyle Heights, which is usually what the media covers." At Casa 0101, she pointed out, Latinas can play parts other than maids or servants; they can study "substantial, meaty roles."
Angel Leonel Gutierrez, who plays Ricardo in Simply María, appreciates the opportunities that Casa 0101 has given him. "Casa 0101 allows for more Latinx stories to be told, for us to have more representation, he said. "To have our stories be told, to be performing in them, to be working crew in any of them is amazing."
Gutierrez added that he feels "blessed" that Casa exists, "because it really helps Latinos break through, train, rehearse, and showcase a lot of the Latino works.
RELATED: The Complex Lives of Teens: Chicano Novelist Benjamin Alire Sáenz's Latest Triumph
Valeria Flores, who plays Carmen in Simply Maria, said that, "It's not your typical play." There are dream sequences and fantasy scenes, for example. "The message is that you shouldn't be restricted by the limits other people put on you."
East Los Angeles, home to Boyle Heights and Casa 0101, is overwhelmingly Latino, with 97 percent of its residents identified as Hispanic by the Census Bureau (a percentage surpassed only by Puerto Rico). Median household income is about $37,000, and only 3.7 percent of residents 25 and older have a four-year college degree.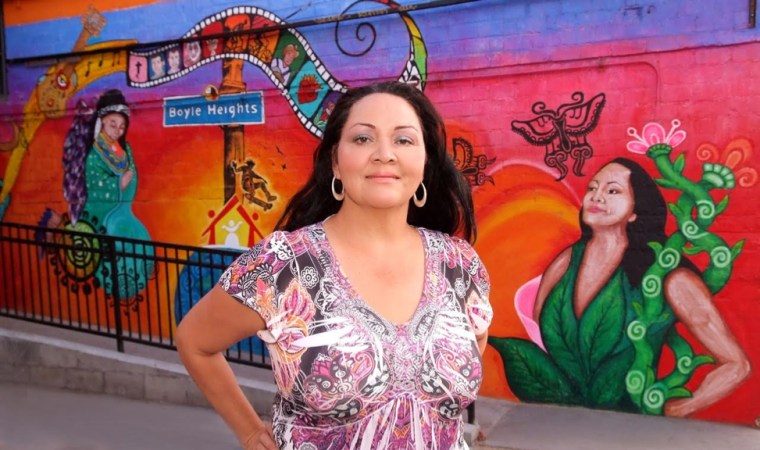 Given these realities, Emmanuel Deleage, executive director of Casa 0101, believes that the theater's mission is important. "We want to develop future storytellers who will someday transform the world – and we use a broad definition of storytellers," he said. "This includes actors, writers, set designers, and lighting directors. We are trying to expand the idea of the creative person, and show that everyone is creative and everyone has a potential contribution to make to the world."
Besides Simply Maria – which Josefina Lopez wrote when she was just 17 – other Casa 0101 productions have included a bilingual version of Aladdin, the original musical Eastside Heartbeats, and Shakespeare's classic Julius Caesar.
On May 5, Lopez fulfilled a long-held dream by opening Casa Fina Restaurant and Cantina nearby, which offers a family dining experience of "Mexican food with a modern twist."
And the lobby of Casa 0101 is home to art and photography exhibits on everything from Frida Kahlo to the 25th anniversary of the Los Angeles riots.
"We want to be a space that encourages and nurtures the arts. We want to be open to all, we do not want to be exclusive," Deleage said. "I am appalled when I hear that tickets to shows in New York like Hamilton and Hello Dolly cost $300 or $700. The arts need to be accessible, so that people can and will want to participate."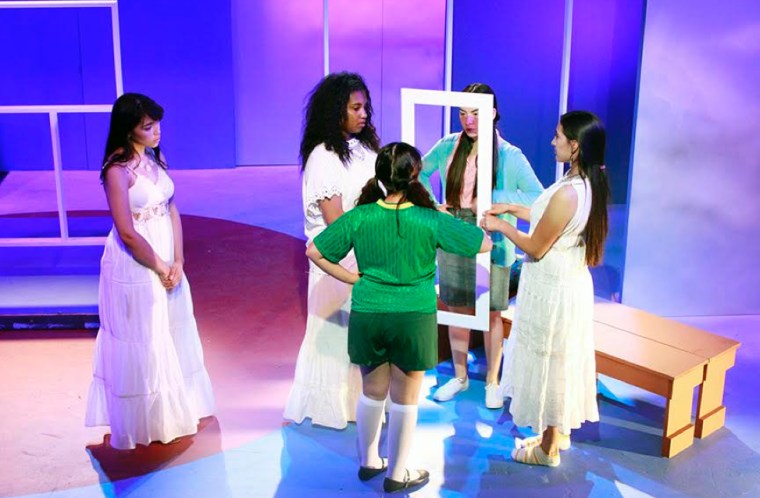 But the arts are increasingly out of reach for many of L.A.'s lower-income and working class students. An analysis in 2015 by the Los Angeles Times found that only 35 public schools in the Los Angeles Unified School District (out of over 700 schools) got an "A" grade for arts instruction. That same year, the L.A. Music Center – a performing arts complex similar to New York City's Lincoln Center – announced that it was scaling back its arts and education programs at area schools.
To Los Angeles City Councilmember Jose Huizar, this is unacceptable.
"We have so much talent on the eastside, but our kids don't always have the opportunity to grow that talent," he told NBC. "But what Casa does is reach out to those kids in public housing, to the quiet kids, to kids without the parental advocacy. Casa does outreach and finds young people and gives them a platform to learn and grow – and shine."
One actor who began his training at Casa 0101, Johnny Ortiz, has since gone on to roles in films like McFarland USA, Ali, and the TV series American Crime. Disney casting directors, in search of young talent, have attended talent showcases at Casa 0101.
Councilmember Huizar, whose district encompasses Boyle Heights, has been impressed by the shows he's seen at Casa 0101.
"The quality is there, plus they focus on stories not told elsewhere," he said. "I think it is one of the finest small theaters in the city. And what's really nice is that Josefina Lopez – and others like her– are part of a movement of people from this community who are coming back and reinvesting in it."
Lopez remains realistic about being a Latina producer, writer, and playwright. "I was working with Norman Lear in 1998 on a Latino sitcom – and we couldn't get it made."
Now, nearly 20 years later, Lear's all-Latino reboot of One Day At A Time (without Lopez' involvement) has been a hit on Netflix.
"So things are changing in this business, but it is taking a long time," Lopez said. "But just the fact that it got produced shows that progress has been made."
Simply Maria runs until May 14, and admission is "PWYC" - pay what you can.