President Barack Obama signed into law on Thursday the bill known by its acronym, PROMESA, to help Puerto Rico restructure its crushing $72 billion-dollar debt. Promesa means promise in Spanish.
Obama said it will provide "more stability, better services and greater prosperity over the long term for the people of Puerto Rico."
The Senate approved the bill 68-30 Wednesday evening, with the looming Friday deadline for the island to make a $2 billion payment to creditors that island officials have said they cannot pay. The island government defaulted on another payment last month.
The legislation won't prevent a default Friday, but does have a lineup of measures to begin getting the U.S. territory's financial house in order, keep it from getting sued, and set up plans for paying off creditors down the road.
Puerto Rico is a U.S. territory, but unlike the 50 states, it is not allowed to restructure any of its debt under Chapter 9 the way Detroit did. Though Obama, Treasury Sec. Jack Lew and Puerto Rico's governor had issues with many aspects of the bill, they exhorted Congress to pass it to avoid a spate of defaults and court battles with creditors.
The Puerto Rico Oversight, Management and Economic Stability Act, PROMESA, aims to tackle Puerto Rico's debt through the following:
It creates a fiscal control board comprised of seven members. The board would be not accountable to the island government and would have control over Puerto Rico's budget, laws, financial plans, and regulations.
The control board has the power to force the island government to balance its budget and force a restructuring with bondholders (about $65 billion of the island debt is in bonds) and other creditors if an agreement is not reached.
It allows for the federal minimum wage to be lowered to $4.25 an hour for island workers 24 and under. Additionally, the U.S. Labor Department's new rule on overtime pay for salaried workers would not apply to Puerto Rico.
Some of the provisions have been criticized as not being directly related to fiscal issues, such as allowing the control board to designate energy and infrastructure projects as "critical" and bypassing public review or environmental impact studies.
Sen. Robert Menéndez, D-N.J., the only Latino senator to vote against the Senate bill, condemned the bill during a four-hour filibuster, saying "PROMESA exacts a price far too high for relief that is far too uncertain."
Rep. Nydia Velázquez, D-N.Y., one of the Puerto Rican members of Congress, voted for the House version three weeks ago. Like others, she did so saying the legislation had shortfalls, but options were limited. Republicans had to take three stabs at writing a bill that could pass in the House. They needed Democratic support to pass it because many within the GOP opposed it.
"The stark reality we now face is that, other than PROMESA, there are simply no other politically feasible options left on the table," Velázquez said in a statement. "Am I angry that the bill contains labor provisions that are not only obnoxious, but counterintuitive? Yes. Do I believe that the creditors, who lent the island money and bought debt on the cheap, should wait in line behind retirees even though Puerto Rico's own constitution says otherwise? Yes, I do. Should the bill include incentives for economic growth and parity for health care? Of course it should. But, we do not live in a perfect world," stated the New York congresswoman.
Rep. Raul Labrador, R-Idaho, also supported the bill in the House. He helped draft it as a member of the House Natural Resources Committee and got conservative GOP support for it. Labrador was born in Puerto Rico.
"I don't like it but it was something that was necessary," Labrador told McClatchy news service. "It's a short legal stay so we can get the board working."
RELATED: Despite Some Issues, Democrats Get Behind Puerto Rico Bill
Carlos Mercader, a Puerto Rican lawyer and deputy director of the Latino Partnership for Conservative Principles, called the bill a "mediocre" one and "a tyranny," adding that it revokes the Puerto Rican people's basic, fundamental right to democratic self-governance by imposing the federally-appointed oversight board on the island. Puerto Rico is a commonwealth of the U.S.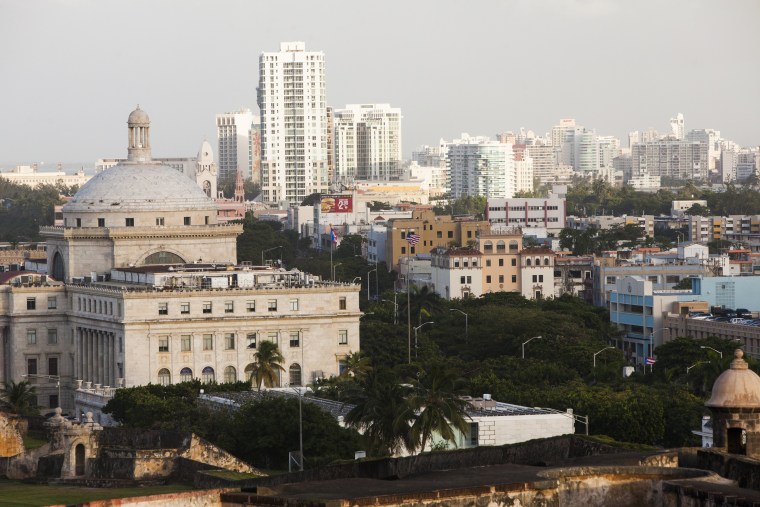 RELATED: Congress Passes PROMESA Act for Puerto Rico Debt Crisis
Puerto Rico's Gov. Alejandro García Padilla, who has been in the nation's capital in meetings with legislators to lobby for the bill, also saw the legislation as necessary but imperfect.
"Today we take back our country; with the approval of PROMESA we begin to take our island from creditors and return it to the people. Today, Puerto Ricans were given the chance they deserve to fight for their future," said the governor, who did not run for re-election and steps down in January.
During an interview Thursday morning on a radio station in Puerto Rico, García Padilla said he took issue with those who criticize the bill without looking at its positive aspects.
"If there is darkness, there is also light. We have to take the good with the bad, and while I may not agree with a control board, this is a way to restructure our debt and move our country forward," said the governor. "I could have stuck to my ideological and political guns and we would have been on a path to misery, or we could do this, and I chose to do the responsible thing."