LAS VEGAS – Democratic presidential hopeful Hillary Clinton aimed for the heart of the Latino community, touching on children, family, education, language and immigration at an annual gathering of Hispanic officeholders on Thursday.
Although she won her biggest applause when she promised to go beyond President Barack Obama on shielding immigrants here illegally from deportation, even the immigration issue she framed as a family issue, and did not raise the topic until later in her speech.
"I've spent my life standing up for children, families and our country and I'm not stopping now," Clinton said to the gathering of the National Association of Latino Elected and Appointed Officials (NALEO), which its president California Secretary of State Alex Padilla billed as the national Latino political convention.
Clinton's focus came as the nation reeled from news of another multiple shooting - a gunman shot and killed nine people at a historic black church in Charleston, S.C. who had gathered for a Bible study.
"Today is a day to hold each other closer," Clinton said, addressing the shootings at the start of her speech. She said the nation has to "face the hard truths" about race, violence, guns and divisions in the country.
Clinton's speech was preceded by a day by one from Housing and Urban Development Secretary Julián Castro, who is Mexican American and who has been considered a potential running mate to Clinton should she win her party's nomination. On Thursday, Democrat Bernie Sanders was to address the group. Ben Carson also spoke Wednesday, the only GOP candidate to make the conference.
"The more you talk in Spanish, the more those neurons and synapses start to fire and the more likely your child will be prepared to be bilingual." _ Hillary Clinton
Clinton, noting that more than one quarter of America's children under 5 years old are Latino, advocated for parents speaking to their "babies," even if in Spanish, as a way to close the "word gap" - knowing fewer words than their peers - that affects many primary lower-income children.
"The more you talk in Spanish, the more those neurons and synapses start to fire and the more likely your child will be prepared to be bilingual," Clinton said. She added that she sings and reads and talks so much to her granddaughter she's convinced her first words will be: "Enough!"
Related: Can You Be a Latino Politician If You Don't Speak Fluent Spanish?
Clinton said she is making early learning and child care top priorities in her campaign; she called for every four year old in America to have access to high quality preschool and a double investment in Early Head Start, which she began working on while First Lady when her husband Bill Clinton was president. She also said she wants to help families deal with rising child care costs.
She pitched her immigration platform as part of her "strengthening families" agenda saying to do so, the nation must "once and for all fix our broken immigration system."
As she had said in a previous campaign trip to Nevada, Clinton said she would do everything permissible under the law to go beyond President Barack Obama's immigration executive action that could shield millions of people illegally here from deportation and allow them to work. The action is tied up in court, challenged by 26 states. She promised to "stand up against any attempt" to deport Dreamers, the term used to describe immigrants who were brought as children to the country and are living here illegally.
"There are so many people with deep ties and contributions to our communities like many parents of Dreamers who deserve a chance to stay and I will fight for them too," she said.
She also raised the issue of hateful rhetoric used in the immigration debate.
"When I hear words of hatred and anger directed at any of our fellow human beings I ask myself, 'What is motivating that?'
Earlier this week, Donald Trump said Mexico was sending criminals, people with drugs and rapists to the U.S. when he declared his bid for the presidency.
Just prior to Clinton's speech, the Republican Party released a Spanish-language ad titled Hipocre$ia (Hipocri$y) on Clinton's immigration record and her previous statements on immigrants here illegally. Included in the ad were statements she made last year amidst the arrival of tens of thousands of migrant children from Central America that those arriving who didn't have a legitimate claim for asylum should be sent back.
"Latinos deserve to know how Hillary Clinton is looking out for her own political ambition instead of their interests," RNC Chairman Reince Priebus said in a statement.
NALEO's gathering in Nevada, which began Wednesday and continues through Friday, underscores the growing Latino electorate and the fierce battle going on in the swing state to lock in the Latino vote. Democrats and Republicans and groups that lean conservative and liberal are working in the state to woo voters to their agendas.
Related: NALEO Meets in Nevada With Focus on 2016 Latino Vote
Alicia Romero, vice mayor of the Los Angeles suburb of Bell, Calif., said to get that vote, candidates like Clinton need to enlist Latino officeholders like her and those at the conference "who have already been through those campaign trails' and "who speak the vernacular, speak to the community, really effectively communicate" to mobilize Latino voters who turned out in record numbers in 2012, but did not turn out in the numbers they could.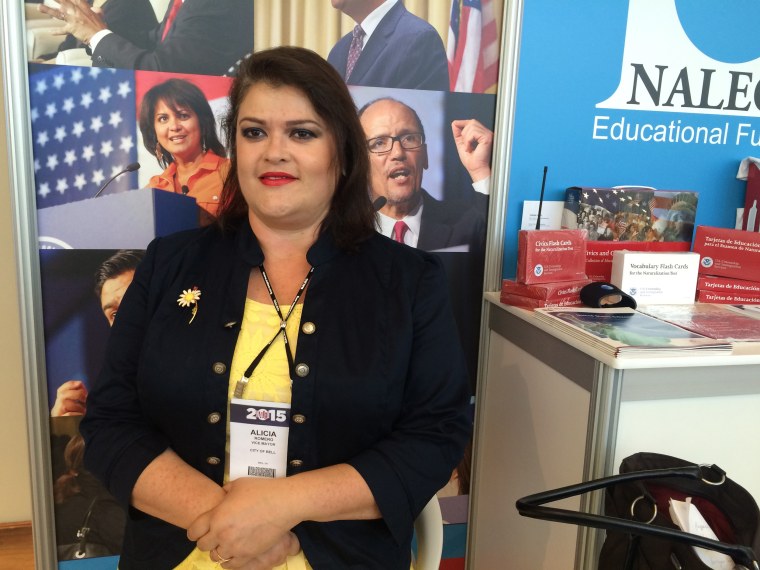 "Talk to all the demographics of the Latino community from the aging immigrant to the 20-year-old who's going to college. You really have to understand the multi-generations of the Latino community and the socioeconomics ... and they need a lot of encouragement to show how much they are needed at the polls."
Sergio De Leon, a justice of the peace in Tarrant County, Texas, said performing as well as Obama did requires a strong message that resonates to every community, particularly the Latino community.
He said along with issues of family, immigration, the economy, Clinton should adopt a page from Castro who expanded preschool in the city of San Antonio with a sales tax increase.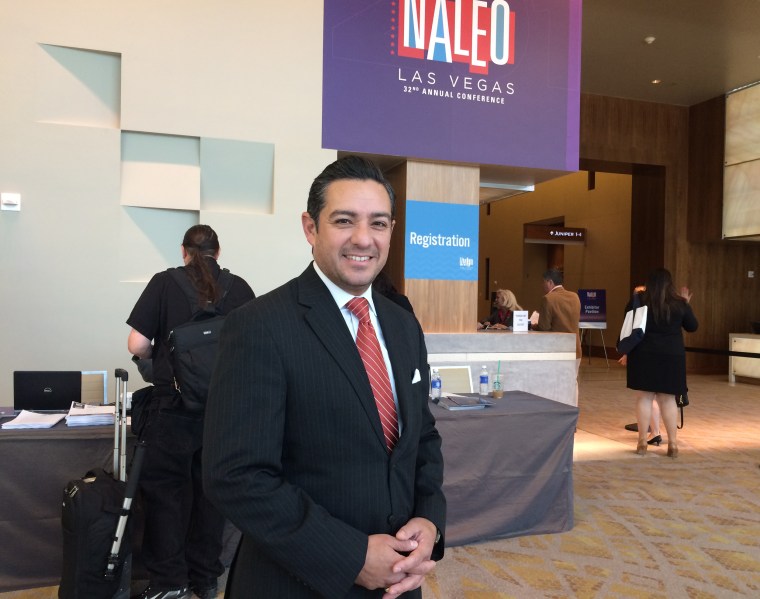 "I think Hillary is there with her announcement," said Cesar Blanco, a Texas state representative from El Paso, Texas. "What we need is for Latinos to turn out. That's going to be our biggest challenge."