Democratic presidential hopeful Hillary Clinton has named prominent DREAMer and immigration activist Lorella Praeli as Latino Outreach Director, a Clinton campaign official told NBC News. Praeli, who was undocumented for almost 13 years and became an outspoken advocate during that time, will be the Clinton campaign's main point person with Latino communities around the country. She will also be one of the campaign's surrogates with the press on Latino issues, including immigration.
Praeli's appointment sends a strong signal that the Clinton campaign recognizes immigration reform as a key issue for many of the nation's Hispanic voters. It also sends a message to Republican candidates to take a clearer position on immigration – a contentious issue for the GOP - as they court Latino votes. Recently Clinton said she supported full and equal citizenship for undocumented immigrants, saying that anything less is "code for second-class status."
In a statement obtained by NBC News, Hillary for America National Political Director Amanda Renteria stated "We are thrilled to have Lorella Praeli, a DREAMer, join our team because of her courage and perspective in the fight for Latino families across the country."
"Bringing Lorella into our campaign is the next step in making sure families aren't living in fear of deportation, all students have the chance to go to college, and that any comprehensive immigration reform ensures full and equal citizenship," stated Renteria.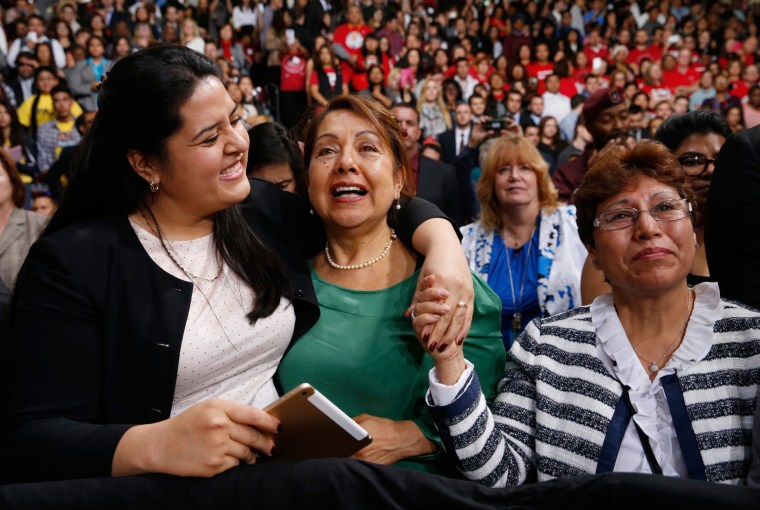 Praeli has been Advocacy and Policy Director for United We Dream, one of the country's largest immigrant youth organizations, pushing the Obama administration and both parties to take action on immigration issues and legislation.
Born in Peru, Praeli was brought to the U.S. by her family at age 10 to provide her with better opportunities; Praeli lost a leg in an accident when she was 2. The family moved to Connecticut and her mother, who was a psychiatrist in Peru, worked as a housekeeper. Praeli attended Quinnipiac University, where she graduated summa cum laude and where she also came out as undocumented and became active as a young DREAMer.
Though Praeli obtained a green card in 2012, members of her family still lack legal status, as is the case with many immigrant families. Praeli's mother is currently undocumented, while her younger sister Maria obtained deferred action status through DACA and made headlines after confronting President and Mrs. Obama on immigration, also stating DREAMers were looking at the positions of potential candidates, including Hillary Clinton.
Praeli's new role as Latino outreach director - she starts in mid-June - is one of several high-profile Latino appointments in the Clinton campaign, including Amanda Renteria as national political director and Jose Villarreal as campaign treasurer. Clinton also named two Latinos in Nevada, Emmy Ruiz and Jorge Neri, as state director and organizing director.
--NBC News senior writer Suzanne Gamboa contributed to this report.