For his first HBO comedy special, "My Favorite Shapes," Julio Torres does not opt for the conventional. For a stand-up routine, Torres stands very little. In fact, he sits behind an elaborately designed conveyor belt, dressed in shiny chrome, his skin lathered in glitter. He takes a deep breath and addresses the audience with a distressed urgency: "I have a lot of shapes, but not a lot of time, so we have to start immediately."
One by one, objects stream before him on the conveyor belt and Torres proceeds to imbue each one with narratives and histories, favoring personification over punchlines. It's a style that many may find esoteric or niche, but Torres says he never intends for his work to be confusing.
"I'm always surprised when I'm called niche," he told NBC News, "because I'm only communicating in the way that I know how to communicate."
In many ways, Torres is unlike any other comic on television. The comedy industry has long been dominated by straight white male comedians, and television continues to fall short when it comes to Latino representation.
Torres identifies himself in many ways. He's queer, he's an immigrant, and he often resigns to an alter-ego, "Space Prince," but, he said, "the label that has felt the most true has been 'foreign,' because it has informed so much of my life here in the States."
In spite of his foreignness, and maybe even because of it, Torres and his weirdo style have propelled him into the mainstream.
Most recently, Torres has co-created and starred in "Los Espookys," an off-kilter Spanish and English language comedy series, which was recently renewed for a second season on HBO.
Torres's comedic style is perhaps best characterized by the way in which he takes hyper-specificity of the banal and slides it under a microscope. It is no wonder, then, that for his first HBO comedy special, Torres quite literally puts everyday objects under a magnifying lens and lets the audience into the minutiae of each object's life, imbuing them with narratives that are simultaneously pointless and to the point.
After moving from El Salvador to New York to study literature a decade ago, Torres began his comedy career, garnering buzz around his sets on late-night shows, eventually becoming known for his work on NBC's "Saturday Night Live," on which he wrote scripts for some of the show's most memorable recent skits: "Papyrus," and "Wells for Boys."
While Torres is an example of the growing number of multicultural comics and creators, he's doubtful that his success has been the simple consequence of diversity.
"I have been placed in situations early on where I felt like, 'Am I checking a box?' But I don't think that the work that I've done — and that I'm proud of — checks any boxes," he said.
He attributes a lot of his success to support from mentors and collaborators who have worked with him throughout his career. The executive producers of his HBO special are SNL creator Lorne Michaels and "Los Espooky's" co-creator Fred Armisen, and it was directed by one of Torres's frequent SNL collaborators, Dave McCary.
While he's got a strong support system in the U.S., Torres said his biggest support comes from back home. In El Salvador, his mother, Tita, works as an architect and a fashion designer. With help from his sister, Marta, who is also a designer, Torres was able to bring his ethereal vision for "My Favorite Shapes" to life.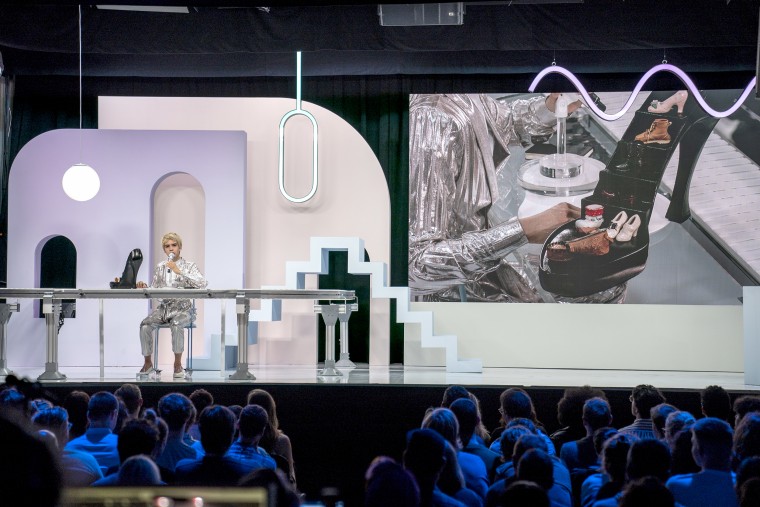 "I'm attracted to otherworldliness," he said of his aesthetic.
Most comedians stand on a bare stage, dressed casually in T-shirt and jeans, with a microphone in hand. But Torres had a specific vision for his comedy special.
"With the special in particular, I did not want to look leisurely. I wanted to look like I was going to go to work," he said, and go to work he did.
Follow NBC Latino on Facebook, Twitter and Instagram.