Ricardo Román woke up on Wednesday morning asking "God to give me the strength necessary to be able to see my father for the last time." That afternoon he attended his father's funeral.
Ramón Román, 52, died Sunday of complications from COVID-19 at a hospital in Brooklyn. For 10 years, he worked as an auxiliary police officer for the New York City Police Department. He is survived by his wife, Yngris Pagán, four children and two grandchildren.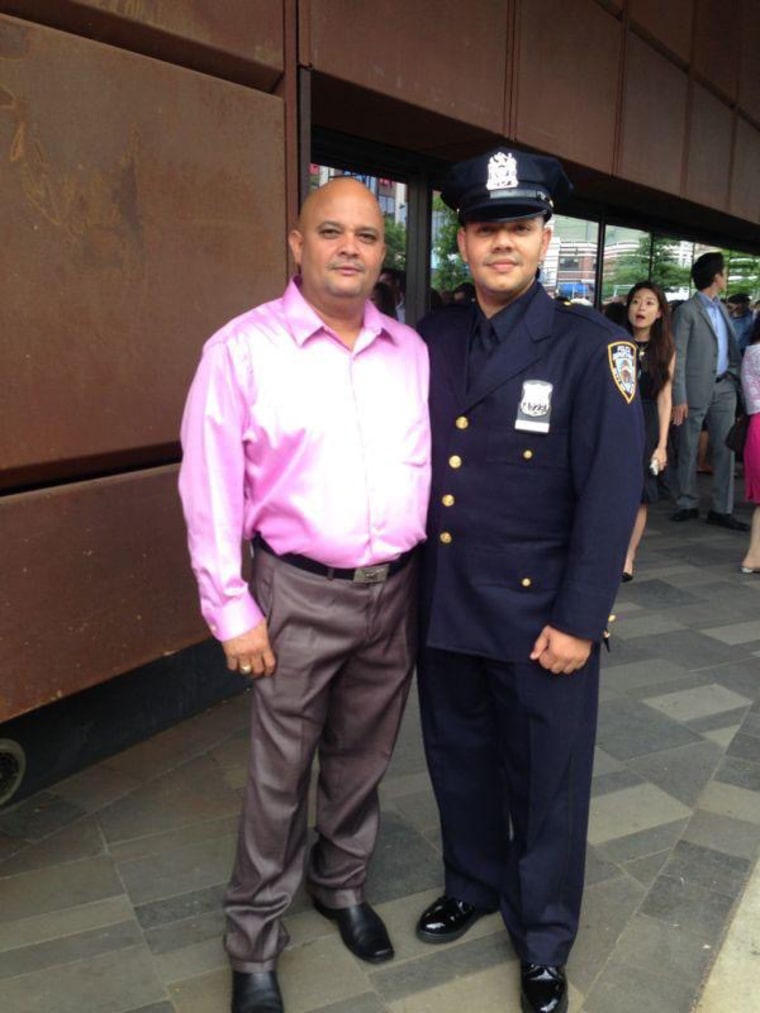 "It's been tough since I got the news," Ricardo, 30, also a police officer, told NBC News in Spanish. "I started crying, my two kids started crying because that was their grandfather. After that, I had to find the strength and bravery to tell my mother."
In addition to mourning, Latino families in New York are grappling with an eye-opening reality. The coronavirus outbreak is hitting Hispanics in the city harder than any other ethnic or racial group, according to officials: Latinos make up 34 percent of all coronavirus deaths in New York City, while making up 29 percent of the city's population. Put another way, the preliminary death rate for Hispanics in the city is about 22 people per 100,000; the rate is 10 per 100,000 for white residents.
Amid the grief, trying to bury loved ones
As Román comforted his mother, he called at least 10 funeral homes but several said they were too overwhelmed to help. A few others said they could pick up his father's remains and host a small service in 10 to 12 days.
Three days into his search, Román found a funeral home available near the precinct where his father used to work. The service on Wednesday was attended by about 10 people, all close relatives, with a few members of the police department showing up afterward.
"We were all apart from each other. We couldn't hug or kiss each other," Ricardo Román said, adding that more would have attended if it weren't for the pandemic.
Román said he last saw his father on March 14. He remembers having a long conversation with him at his aunt's house.
Ramón Román told his son he was looking forward to welcoming his third grandchild later this year, seeing Ricardo being promoted to sergeant and planning a family vacation for August.
"That was the last day he gave me a hug and a kiss, and the last thing he told me was: 'Oh my God, I love you. I just want you to know that,'" Ricardo Román said.
New York state has the most confirmed coronavirus cases and related deaths in the nation. About 55 percent of the state's cases are in New York City, and 68 percent of the state's coronavirus deaths have been in the city as well.
Full coverage of the coronavirus outbreak
Gov. Andrew Cuomo announced Wednesday that Dr. Havidán Rodríguez, president of the State University of New York at Albany, will spearhead an effort to research why coronavirus deaths and infections are more prevalent in communities of color.
"Are more public workers Latino and African Americans who don't have a choice, frankly, but who go out there every day and drive the bus and drive the train and show up for work and wind up subjecting themselves to, in this case, the virus?" said Cuomo. "I think it's something that we have to understand."
"The text came in and said, 'Mommy is dead'"
After the rate of coronavirus deaths among Latinos was made public, Cuomo said New York is "going to do more testing in minority communities."
But the family of Caridad Santiago says it's too late.
Santiago, 43, was a station cleaner for the Metropolitan Transportation Authority for 13 years. Her teenage daughter found her dead at their Bronx home on March 29 after she had shown COVID-19 symptoms, her husband, Ernesto Salaam, told NBC News.
"I remember that day very vividly," he said, adding that he was carrying out an order when he missed a call from his daughter. "Then the text came in and said 'Mommy is dead.'"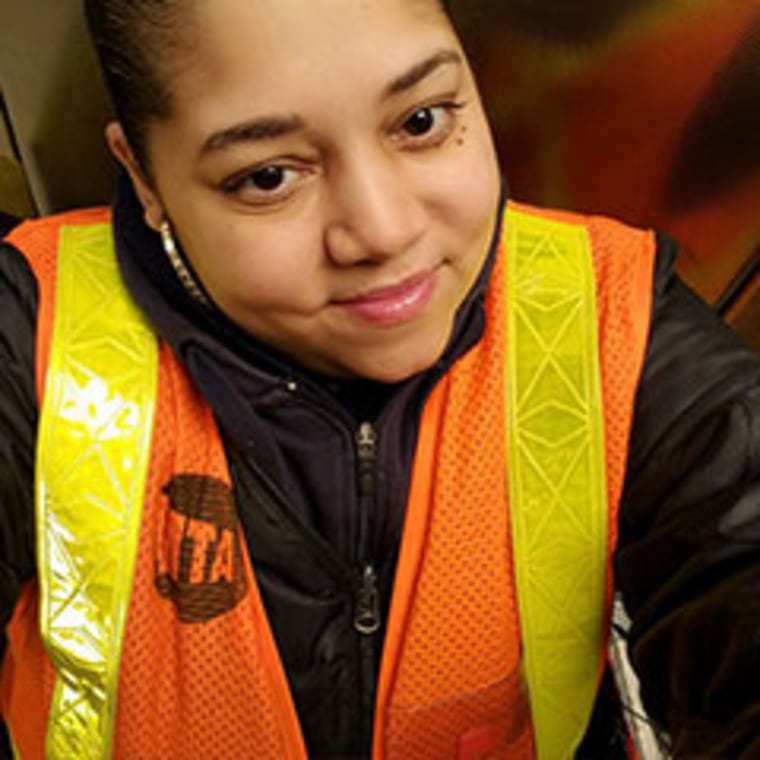 Salaam and his three children slept in their car as more than 24 hours went by before authorities came to certify Santiago's death and remove her body from the house. Salaam said detectives did not go in to the house and had the family take pictures of Santiago's body instead.
"For a person that served the city, who even put up a post on her Facebook days before dying saying she was an essential worker and couldn't stay home, they failed her, in my view," said Salaam.
"She didn't deserve that. She was making sure the trains were clean, so other people wouldn't get the virus, and she ended up catching it. They disrespected her when nobody was there to clean her body for 24 hours," Salaam added.
Detective Sophia Mason, a spokesperson at the Office of the Deputy Commissioner of Public Information, told NBC News in a statement that "NYPD procedure was not followed in this case and the matter is under internal review. We understand these are difficult times and we will continue to revisit our policies during this epidemic."
Santiago had called the city's coronavirus hotline and other services when she started showing symptoms but she didn't get answers quickly, according to Salaam. He said his daughter received a phone call from a coronavirus hotline on Thursday morning asking if Santiago was ready to get tested.
"We were shocked." Salaam said. "We couldn't believe they were that late."
As Salaam gets ready to receive his wife's ashes in the next few days, he continues to remember her as "a super strong woman and caring for people."
If a person didn't have a place to live, Santiago would let them stay at her house, her husband said. "She was that type of person."
Like the Santiagos, other Latino families are mourning loved ones who worked for the city.
Download the NBC News app for full coverage of the coronavirus outbreak
Victor Zapana, 61, a war veteran who was a night-shift supervisor for the MTA, died in a hospital in Queens on March 29. Ernesto Hernandez, 57, and Cesar Torres, 55, both bus operators, died around the same time. New York City Police Commissioner Dermot Shea said Sunday that Angel León, an auxiliary police sergeant who served in the Bronx since 1981, had died of coronavirus-related complications.
Sandra Santos-Vizcaino, 54, a public elementary school teacher in Brooklyn, died on March 31. She's believed to be the first teacher to die of the virus in city, according to reports. Rosa De Soto-Harrison, a friend, attended Santos-Vizcaino's small funeral service on Saturday.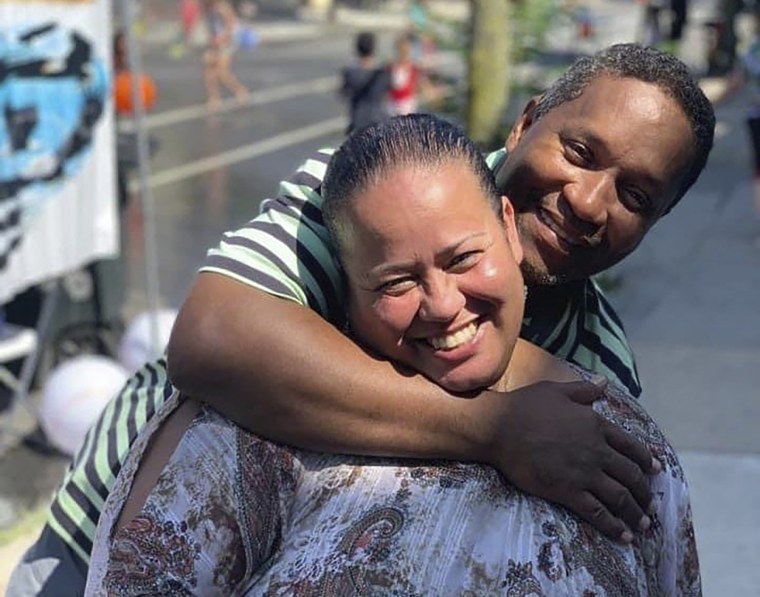 "She was the backbone to her family. She was a very loving, giving person. She always cooked for us and she always went up and beyond her call of duty," De Soto-Harrison told NBC News.
Ricardo Román expects to be able to pick up his father's ashes sometime in the next week.
Once the coronavirus pandemic ends, he plans to fulfill one of his father's last wishes.
The family will take the ashes to Santo Domingo, Dominican Republic, where Ramón was born and where his mother's ashes lay.
"The way I'll remember him is as a man who was willing to help everyone out," said Román. "He didn't care about their flaws or their problems. He was always there to help, not waiting for anything in return."
Follow NBC Latino on Facebook, Twitter and Instagram.