TEGUCIGALPA, Honduras -- Honduran authorities arrested four people Monday in the killing of environmental activist Berta Caceres, including an active duty army officer and three men who worked for a hydroelectric project she opposed.
A spokesman for the public prosecutor's office, Yuri Mora, said the three did work for or were direct employees of Desarrollos Energeticos SA, which was developing the project that Caceres' organization successfully stopped.
The Goldman Environmental Prize-winning activist was shot dead March 3 by gunmen who invaded her home. Caceres had reported death threats from security personnel for the company, which is known as DESA.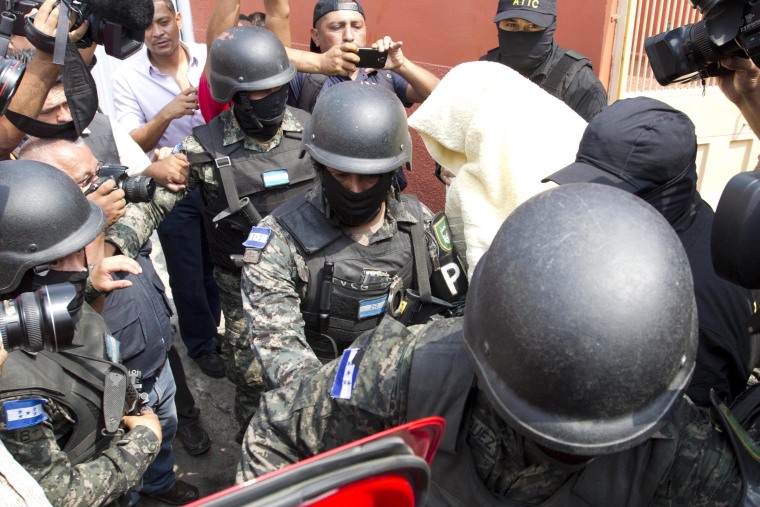 DESA did not immediately respond to a request for comment on Monday's arrests. In the past it has denied involvement in Caceres' killing.
Mora identified those arrested as Douglas Geovanny Bustillo, Mariano Diaz Chavez, Sergio Rodriguez Orellana and Edilson Duarte Meza.
RELATED: Gunmen Kill Indigenous Environmental Activist Berta Cáceres
Orellana was described as an environmental technician for DESA's hydroelectric project.
In a December 2013 video interview, Caceres told the Swedish journalist Dick Emanuelsson that she had text messages in her phone from Bustillo, who she identified as the hydroelectric project's security chief, threatening her with sexual assault.
Lenin Gonzalez, a spokesman for the armed forces, said at a news conference that Diaz Chavez is an active infantry major and Duarte Meza is a retired infantry captain.
The U.S. Embassy in Honduras said in a statement that it welcomed the arrests.
Caceres led the defense of the Gualcarque River in western Honduras through the Council of Indigenous and Popular Organizations of Honduras, which she founded. The river is considered sacred by the Lenca people, who successfully fought to halt the proposed Agua Zarca dam.