WASHINGTON — House Speaker Paul Ryan is heading to Puerto Rico at week's end, a day after the House is expected to consider a disaster relief spending package and as the death toll has risen.
His visit will take place more than three weeks after Hurricane Maria left millions on the island without electricity and water and with many still unreached by disaster supplies or without sustained supplies.
On Tuesday, Puerto Rico Gov. Ricardo Rosselló raised the death toll to 43.
Republican Reps. Rodney Frelinghuysen of New Jersey, chairman of the House Appropriations Committee, and Cathy McMorris Rodgers of Washington will accompany Ryan.
Rep. Nita Lowey of New York, the ranking member of the House Appropriations Committee, will be the lone Democrat on the trip. Joining them is Rep. Jenniffer González, Puerto Rico's resident commissioner who caucuses with Republicans but has no vote in Congress.
The package is expected to include another $12.77 billion to pay for Federal Emergency Management Agency disaster relief and $16 billion for flood insurance. The funding will pay for responses to Hurricane Harvey, Irma and Maria.
RELATED: Some Puerto Ricans Feel 'It's Not The Time to Bail Out' From Island
"Most Democrats will be voting for it, if not all, if there are no extraneous matters included in it with which we don't agree," said Rep. Steny Hoyer of Maryland, the second-ranking Democrat in the House.
FEMA said that as of Tuesday, 21 days since Maria made landfall, 63 percent of Puerto Ricans have potable water. Others are being provided bottled and bulk water. But 84 percent remain without electricity.
The administration assigned Lt. Gen. Jeffrey Buchanan more than two weeks ago to step up the response. But there was some high-profile criticism on Tuesday from renowned Chef José Andrés of how things are going on the island. He's been moving about the island cooking thousands of meals to feed people in various communities.
In a letter to NBC News, FEMA Information Center director Dan Stoneking wrote that Andrés "worked with FEMA, and spoke well of FEMA," and then stated: "We invited Chef Andrés to submit a proposal for a new contract. We have yet to receive that as I write this."
Meanwhile, Hoyer said Tuesday he backed a call for ill people in Puerto Rico to be evacuated, a proposal made by a group of lawmakers last week.
Democrats who are from Puerto Rico or children of people born on the island and those with large Puerto Rican communities called on the federal government on Friday to evacuate vulnerable, elderly and ill Puerto Ricans so they can be cared for by on the mainland.
"I feel so impotent when people call my office and say, Congressman, can you help me bring my brother, can you help me bring my mother?" Gutierrez said on Friday. "We can't drive to the island and rescue our loved ones."
RELATED: NBC News Think: Puerto Rico, Where Millions of Citizens Are Rationing Food
Until then, Gutierrez said he and others at least want to see the federal government send aircraft and vessels to Puerto Rico and ferry people out people who want to leave.
"Should it be that only if you are wealthy and can afford to hire a private jet that you can put your family in a safe place, or should all of those who want to be in a safe place be able to do it," he said.
Hoyer said Tuesday he agrees with Gutierrez that people at risk and not able to access health care on the island should be brought out.
"I agree with Congressman Gutierrez on that point," he said.
"In Texas and Florida there was greater access by people ... to both food, water, medical services. That has not been true by far in Puerto Rico and the Virgin Islands," Hoyer said. "We have the resources to get the job done we need to do it now."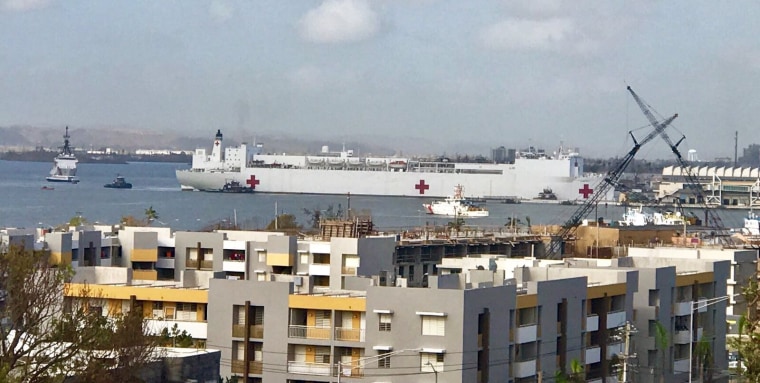 President Donald Trump's suspension of the the Jones Act, a law that restricts delivery of goods to Puerto Rico to U.S. ships and crews, expired over the weekend. Trump suspended it after a heavy outcry over his initial refusal to waive the act.
Rep. Nydia Velazquez, D-N.Y., asked Trump in a letter to extend the suspension and keep it in place for a year. But DHS said in a statement Sunday that the Jones Act suspension would not be renewed.
RELATED: Power Shuts Down Again in Puerto Rico Capital, Setting Back Repairs
"If the Jones Act is reinstated, building supplies will cost significantly more in Puerto Rico, compared to costs on the mainland" complicating rebuilding, Velazquez said.
FEMA is holding job fairs over the next two days in Puerto Rico to get temporary help for assessments on the ground. The job fairs are at the ferry complex in Ponce and the Bacardi complex in Palo Seco. FEMA said applicants in Puerto Rico and the Virgin Islands can email their resumes to fema-workforce-carribean@fema.dhs.gov with Puerto Rico in the subject line. Those without Internet access should submit their resumes in sealed envelopes marked "FEMA Jobs" at any post office, FEMA said.
Hiring is going on for Texas and Florida, too with information available on FEMA's website. In a news release, FEMA said 85 percent of its workforce is in the field supporting 28 disasters nationally.