Hurricane Harvey has caused massive destruction and displacement, but it has also brought out the kindness and energy of volunteers like Beto Cárdenas.
A fifth-generation Texan born in Laredo, Cárdenas, 44, has lived in Houston for the past decade. As an attorney, he often does pro bono work and outreach for the Hispanic community; more than 40 percent of the residents in the nation's fourth largest city are Latino.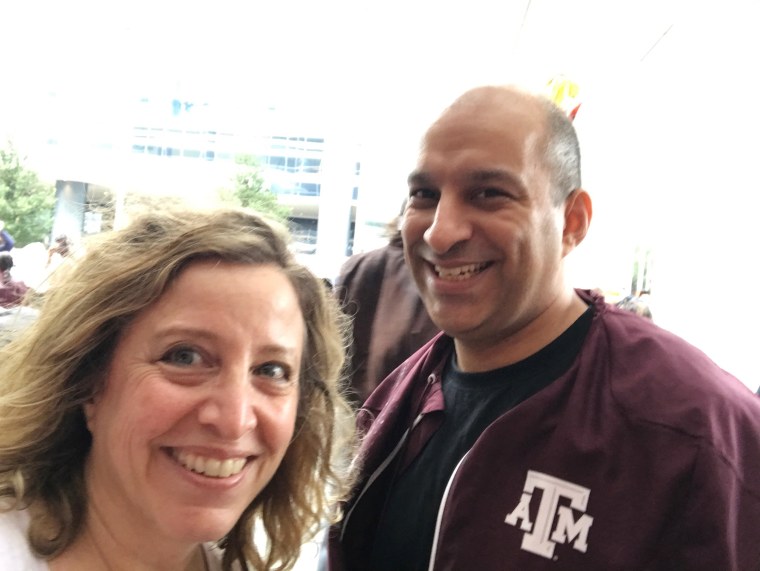 This week, Cárdenas has been volunteering at the George R. Brown Convention Center as it houses thousands of people. "It's about seven blocks from where I live. I happen to have friends from the UK — Manchester — visiting, and they're helping too."
The downtown area where Cárdenas lives is a little higher in elevation, so it wasn't as affected in terms of flooding.
"My wife [Norma Bustamante Cárdenas] is a registered nurse and has been taking multiple shifts at Texas Medical Center, the largest hospital in Houston, making sure the staffing levels are intact, because people are having trouble getting out of their homes," Cárdenas explained.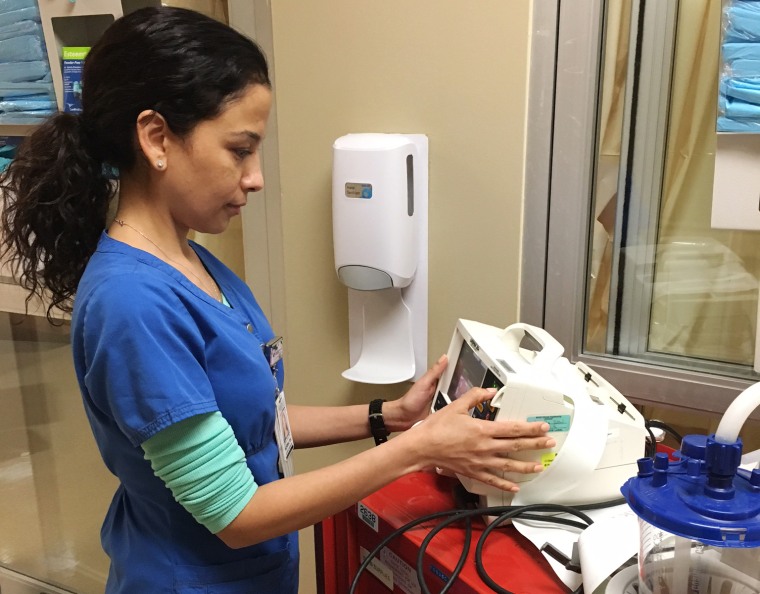 He said he's been helping get medical supplies to the convention center and helping unload contributions — everything from diapers to clothing to board games.
"You see the force of nature, and that's something that strikes you — then you see the force of the humanity, and you are obviously going to be moved by it," Cárdenas said. "There is something to be said about Texas. It's about rescue and recovery and looking out for each other —all the discussion about what could have been done better, that's secondary."
Cárdenas said there is a need for medical supplies such as sickness bags, urinals, bed pans, oximeters, gloves, masks, catheters, chucks, saline, saniwipes and bandages. Houston's food banks are also collecting donations.
Marc Martinez, 51, is an Army veteran who retired in 2014 after serving 22 years. In 2012, he joined the non-profit Team Rubicon, which unites the skills of military veterans and first responders to form rapid response teams in emergency situations; Martinez volunteers there six to eight hours a week, while working at the Department of Defense in the U.S. Army full-time as a civilian conducting environmental health inspections in Fort Carson, Colorado - where he resides.
Team Rubicon is collecting donations for Harvey and lending a hand.
"They called me on Sunday evening," said Martinez. "Luckily I have great bosses, and I was able to take a seven-day leave."
He's currently serving as the second in command in the disaster area as the deputy incident commander.
He is still in shock at the magnitude of the storm saying it is about three times more rain than Hurricane Katrina. He's also grateful for the amount of volunteers at hand.
"The Cajun Navy showed up, and pretty much everyone with a boat showed up," said Martinez. "The number of people helping complete strangers is outstanding. They dropped what they were doing and came to help. It's nice to see people actually have a good side - especially after the incidents recently at Charlottesville."
He said one of their biggest challenges have been the flooded roads, but the boat crews have successfully conducted over 41 rescues.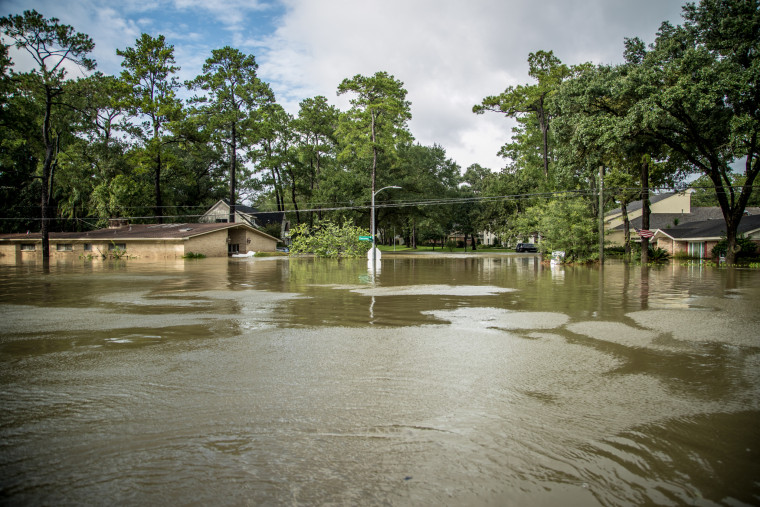 According to Martinez, military veterans thrive in chaos.
"Most of us have been deployed multiple times, so sleeping two nights in a hammock I have no problem with," Martinez said. "I'm used to not eating for multiple hours. Our brains are focused on the job at hand."
What he has seen people in need of is diapers and formula. "Without diapers, it puts stress on the child and family members."
Regina Garcia resides in Corpus Christi, where she was born and raised, and she suffered minimal damage to her home there. Hurricane Harvey started on Friday, the 25th, the day of her 46th birthday.
She is an employee at H-E-B Grocery Stores, a Texas supermarket chain, and has been spearheading a mobile kitchen effort serving free meals to hurricane victims since Tuesday evening.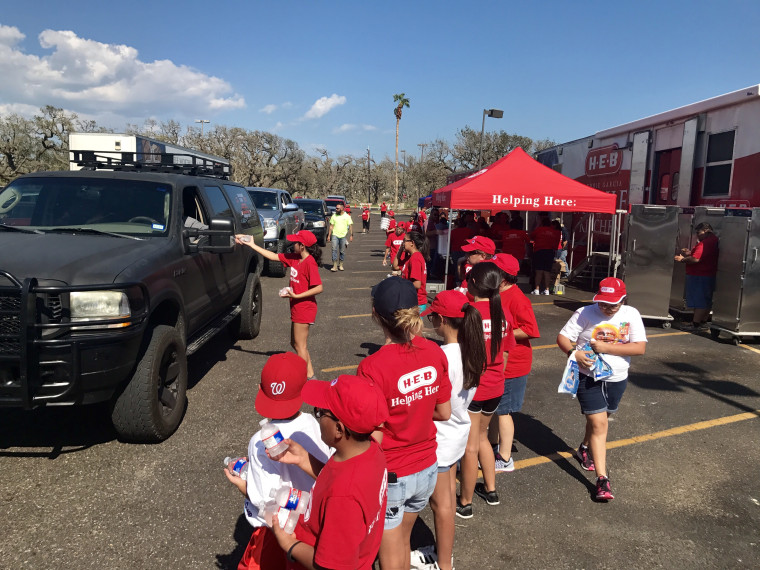 "Last night we served over 1,000 meals," said Garcia on Wednesday, from where she and the rest of the team are currently based in Rockport. "We are using social media outlets to get the word out."
She said they served 1,200 meals for breakfast, another 1,200 for lunch, and they were getting ready for dinner. They were giving away ice water and bread, and they setting up a pharmacy.
The area was still under strict curfew from 7 a.m. to 7 p.m. "We are here to help out as much as we can. Everyone's worried about each other."
Richard Garza was born and raised in Laredo and moved to Houston in 1986. For the past 11 years, he has been the director of Houston Gateway Schools — three open-enrollment charter schools serving 2,400 students. Affiliated with UnidosUS, the charter schools also provide a myriad of community services like ESL classes, immigration services, citizenship classes, and home buyer education classes. Ninety-eight percent of the students are Latino and 92 percent are low-income, at risk students.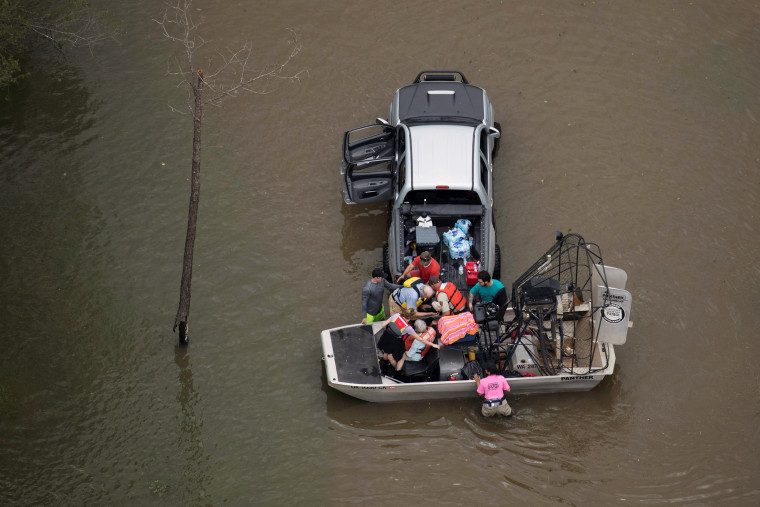 "We have 200 employees, and 31 staff members were rescued," said Garza on Wednesday. "Where the three schools are, it was all flooded within a 10-mile radius...I have not been able to go to the other two campuses because the streets are impassable...To put a dollar amount it's quite a bit. Maybe $300,000 - including computers."
The past few days he's been making sure to keep in constant contact with his staff and families.
RELATED: 'Worst Fears Realized': Six Family Members Found Submerged in a Van
"I've been telling everyone to apply to FEMA — I tell them to do that first, then to follow up with their insurance and to let me know where they are short, so I can try to help," said Garza, who was preparing to meet with the staff on Friday.
"I want to make sure we are going to be ready before Tuesday and make sure we have food for the kids," he said. "I want to make sure our facilities are ready for breakfast lunch and dinner. The sooner I can help my staff return to work, the sooner the kids can have a normal day-to-day life."
He's also reaching out to extra counselors for his students, as he only has three on staff.
"If adults get stressed out and get anxiety attacks, I can only imagine how children feel," said Garza. "On Tuesday, I want to hear from the kids and parents and see how I can help them."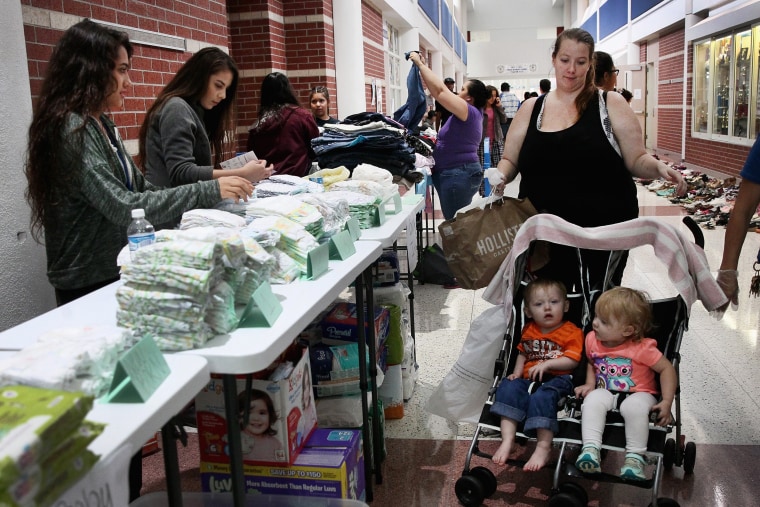 Pastor Hernán Castaño is the senior pastor of Ríos De Aceite Church, which is part of the U.S. Pastor Council. He has two Hispanic congregations — one in Houston, made up of 900 members, and one in Katy, made up of 150 members. He has served the local community as a pastor for more than 15 years, helping counsel individuals and families in everyday issues.
"We are already coordinating efforts to gather donations at our church building, cooking food for the homeless and hungry and distributing all donations to those that have lost everything," said Castaño on Wednesday. "Working with other churches, we will give 100 percent of ourselves to save lives, help people, and rebuild this city."
On Friday, Sept. 1st, the church is planning to open its doors from 9 a.m. to 5 p.m. to receive donations of clothing and shoes in good condition for both adults and children, baby wipes, baby formula and food, new blankets and pillows, water, nonperishable food, towels, deodorant, toothbrushes and toothpaste, razors and shaving cream.
The pastor said it was "noticeable" that amid political divisions and controversy, including the issue of the SB4 immigration law, "many Latinos are out there helping regardless of color, race, immigration status and background."