WASHINGTON - The Houston school district is under fire after a student without legal status ended up in immigration detention following his arrest by a school police officer for an altercation with a female student.
A lawyer for Dennis Rivera Sarmiento, 19, said his client was bullied by the 15-year-old girl and retaliated only after she taunted him with racial slurs, threw a full bottle of Gatorade at him and confronted him.
"He's very fearful of being deported to Honduras," said Rivera's attorney, Brandon Roché.
On Wednesday, students at Stephen F. Austin High School in Houston staged a lunch hour walkout to protest Rivera's detention and the school's action, chanting "Free Dennis."
The case has drawn the attention of actress Alyssa Milano who tweeted that she signed a United We Dream petition calling for Rivera's release.
Outrage over the youth's detention has forced the Houston Independent School District to make clear that it did not turn Rivera over to Immigration and Customs Enforcement or call ICE.
The district said in a written statement Wednesday it does not use district resources "to assist in deportation actions and we do not report students to ICE."
"Our superintendent and administration remain steadfast in the district's commitment to educating every student regardless of their immigration status. Students are and will continue to be safe in our classroom," the district stated.
But advocates say the campus officer went too far in arresting Rivera. They said the district did not investigate Rivera's claims of bullying before arresting him and didn't consider that Rivera would end up in the county jail where ICE has access to people in custody there.
"Whether HISD knows it or not, anytime HISD refers one of their students to the criminal justice system, that student is at risk for deportation," said Jay Jenkins, Harris County Project Attorney for the Texas Criminal Justice Coalition.
Court records say Rivera pushed down a girl and then struck her in the head with his fists, according to the Houston Chronicle. The Houston Independent School District said in a statement the girl was taken to a hospital and released but would not provide details of her injuries.
Roché said the girl had harassed Rivera repeatedly before their altercation. On Jan. 30, the girl had taunted Rivera about his undocumented status, and yelled "You f***ing wetback, come here," Roché said.
Rivera was on his phone and tried to walk away, but the girl kept screaming at him, followed him, got closer and threw the Gatorade at him, said Roché. Rivera grabbed her at the hips, pushed her away and walked away. Roché said Rivera denies hitting the girl in the head.
Roché said his client reported the bullying and altercation to a campus officer. But when he did, the officer cuffed him and took him to the principal's office. The school then turned him over to Harris County Sheriff's Office.
In a statement issued last week, HISD said its officer "responded" to a reported assault of a female student. Asked by NBC News about the bullying and who had reported the fight, district spokesman Tracy Clemons said he could not comment because of the ongoing investigation.
Rivera paid a $2,000 bond and was scheduled for a hearing to face misdemeanor assault charges on Feb. 1. But because he was immediately put in immigration custody after paying the bond, he was unable to attend the hearing, so a bench warrant has been issued for him and officials have filed charges on him for bail forfeiture, Roché said.
Angie Junck, supervising attorney for the Immigrant Legal Resource Center, said her group's data shows Harris County "is a deportation capital and has the second highest number of ICE arrests in the country."
"Dennis' case illustrates how multiple agencies in this county are involved in the deportation pipeline," Junck said. "Any school district that uses police to resolve incidents like this involving students like Dennis, without seeking other routes to resolve them, is making a choice to be complicit and exposing non-citizen students to the very likely danger of deportation."
Rivera entered the country without legal permission in 2013. Because he was arrested within the two weeks after he entered and within 100 miles of the border, he is subject to expedited removal, which can mean quick deportation without a hearing. He was instead released under ICE supervision and last checked in with ICE on Oct. 7, 2013, according to ICE. He was supposed to leave the country by March 4, 2014.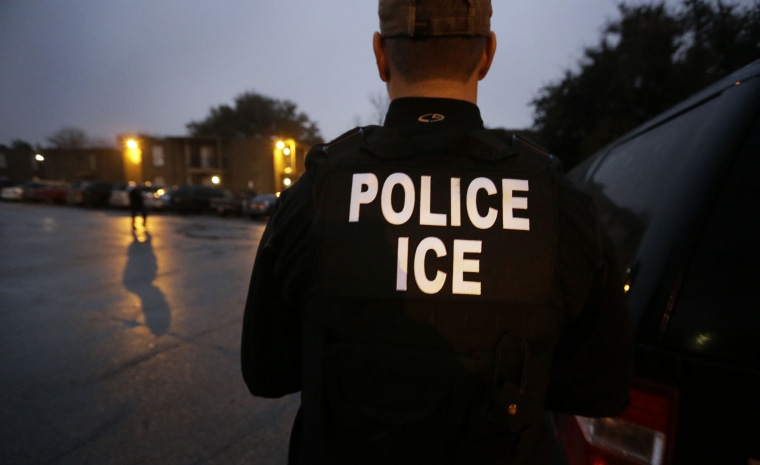 But once he was booked into the Harris County Jail on a misdemeanor assault charge, ICE learned he was there and issued a "hold" or "detainer" on him. ICE issues "holds" or "detainers" when it wants law officers to hold an immigrant in their jail until agents transfer the person to a detention facility.
Some jurisdictions refuse to cooperate with ICE, which has angered the Trump administration and led it to threaten retaliation against the communities, often referred to as sanctuary cities.
Harris County Sheriff's Office spokesman Jason Spencer told NBC News that Texas' new immigration policing law, known as SB4, requires cooperation with immigration officials, so if they ask for access to the jail "we feel we are obligated." SB4 allows the state to remove from office any officials, including campus police chiefs and sheriffs, if they don't cooperate or prohibit officers from cooperating.
The sheriff's office has no authority to investigate the school altercation that led to the charges against Rivera, Spencer said.
Stephen F. Austin student Brandon Salinas, 16, participated in the walkout for Rivera and said he was a soccer teammate. He said he left class to "stand up" for his friend.
"They took somebody they shouldn't have taken and they took him away from his family and his friends. He had scholarships to play soccer everywhere," Salinas said.
At the walkout, students read letters from teachers who said that Rivera was respectful, a campus leader through his soccer team and helpful to other students.
"Not only has the criminal justice system failed us and our students but HISD procedures have as well," the student read from the letter of one teacher.
A letter from a coach read by Damaris Gonzalez, lead organizer for United We Dream Houston, in a conference call with reporters Thursday, said Rivera was the "kind of student who you look forward to seeing walk into your classroom or office every day." Organizers of the call would not provide the name of the educator.
Roché, Rivera's lawyer, said a guidance counselor told him that Rivera has a 3.6 GPA, no disciplinary problems, is a model student and is on the soccer team. United We Dream, an immigration advocacy group which helped organize the walkout, said Rivera had been accepted to Texas A&M University and Lamar University in Texas.
The district declined to provide information about the girl involved in the altercation, comment on her achievement or discipline record or on whether she had been bullying Rivera.
The district's bullying policy prohibits harassment and racial or offensive slurs, among other things. It also requires immediate reporting of bullying so the allegations can be investigated.
Roché said he is applying for legal relief that would allow Rivera to remain in the country, but he fears Rivera could be deported before the application can be done. For some relief, such as a U-visa for a victim of a crime, officials would have to investigate Rivera's allegations.
"ICE does not care that he was a good student or a a well-liked member of his community," Roché said." HISD does not care that he was a victim."