For music lovers in Houston, Texas, Hispanic Heritage Month is starting a few days early. With a free concert on Friday, the city is welcoming world-renowned conductor Andrés Orozco-Estrada, the Houston Symphony's first Latino Music Director.
"I hope that with the Houston Symphony we will be able to do our part to elevate the name of Houston even further," said Orozco-Estrada, whose life and career has been devoted to music.
Born and raised in Medellín, Colombia, Orozco-Estrada attended a school devoted to classical music and was just 15 when he began conducting a youth orchestra. At 19, he made the bold move - literally - of going to Austria to attend the Vienna Music Academy despite not speaking a word of German.
Since 2009, the internationally acclaimed conductor has been the Music Director of The Tonkünstler Orchestra in Vienna, a city known for its centuries of rich classical music tradition. The musical virtuoso has also worked with the Vienna Philharmonic and the Mahler Chamber Orchestra.
As he did years before, Orozco-Estrada finds himself in a new continent, at least for part of the year. When he first traveled to Houston, he said he was impressed with the level of the arts in general. In addition to the Symphony, Houston boasts an Opera, Ballet and the Museum of Fine Arts.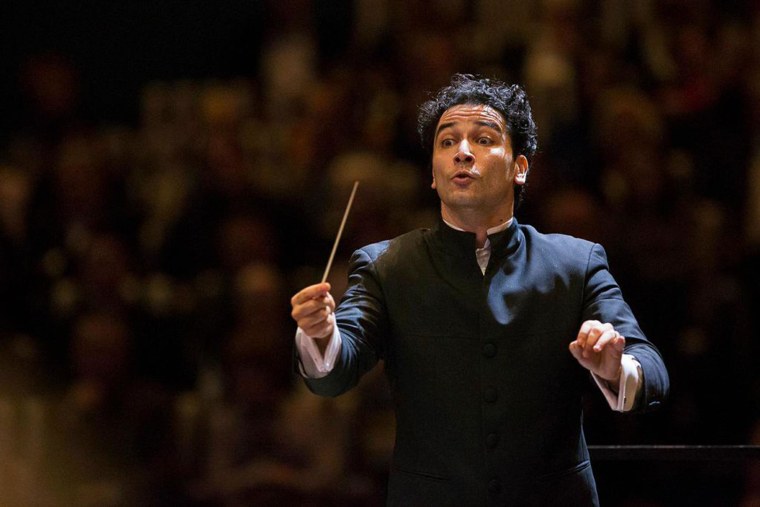 As the symphony's first Latino Music Director, Orozco-Estrada recognizes his unique role. In terms of increasing awareness of the Symphony for everyone in the city, the famous conductor recognizes the significance of seeing someone who "speaks the same language."
This weekend the Houston Symphony will be putting on a series of festivities in conjunction with Hispanic Heritage Month they are calling "¡Bienvenido, Andrés!" Orozco-Estrada stressed the event goes both ways, since he said it was his chance to "say hi" to the city of Houston.
In his free performance on Friday, September 12 at Miller Outdoor Theater, Orozco-Estrada will conduct music of Colombia and America, accompanied by folk dancing and fireworks. The following evening the Symphony returns to its home at Jones Hall for an Opening Night Concert and Gala. Rounding out the weekend is another free concert at Jones Hall, Fiesta Sinfónica con Andrés.
Joining Orozco-Estrada will be the celebrated Venezuelan pianist Gabriela Montero. As a musician, Montero gained her current iconic status through her ability to improvise any melody from Bach to Beethoven on stage.
"She can make the craziest and most interesting improvisations in all different styles; it's just unique," said Orozco-Estrada.
Beyond opening weekend, the Colombian conductor has high goals for connecting with audience members. He gets his start the following weekend with the opening of the 18-concert Classical Season.
At a concert at Rice University in November, Orozco-Estrada will present Spanish-language commentary throughout Beethoven's Fifth Symphony. And online and on social media, the Symphony will encourage interaction and discussion in multiple languages.
For Houston Symphony's first Latino musical director, these steps represent a chance to make one more person "discover the beautiful world of classical music."