As Hollywood blockbusters go, the epic "Giant" was a behemoth befitting the grandeur of the Texas plains.
Shot in 1955 in the dusty West Texas hamlet of Marfa and riding the megastar power of Rock Hudson, Elizabeth Taylor and James Dean, "Giant" was the sweeping, epic drama about three generations of a Texas ranching dynasty. Based on Edna Ferber's controversial novel, the movie's release in 1956 was a monster hit at the box office and garnered 10 Academy Award nominations.
But as the new film "Children of Giant" tenderly documents, "Giant" was a new kind of Western, one which explored themes of prejudice and racial intolerance in Texas and the Southwest. "Giant" director George Stevens exposed something never before seen on the big screen – the systemic segregation and isolation of Mexican Americans.
"I think the majority of the American people then didn't realize this was going on in the Southwest," "Children of Giant" director Hector Galán told NBC News. "Everybody was aware of the Jim Crow laws against African Americans and what they had to endure. But those same laws applied to Mexican Americans."
"Children of Giant" premieres April 17 on PBS. It is the season opener for VOCES, Latino Public Broadcasting's arts and culture series on PBS.
A veteran, award-winning filmmaker based in Austin, Texas, Galán has produced and directed a number of documentaries for PBS, Frontline and others, including the critically acclaimed "Chicano! History of the Mexican American Civil Rights Movement." He said "Children of Giant" is an ode to the Mexican American families, much like his own, who endured prejudice in the 1950s and beyond and overcame it.
In returning to Marfa 60 years after the making of "Giant," Galán explores the story behind the making of the film and its enduring legacy. He deftly weaves clips from "Giant" with interviews with the townspeople who witnessed this extraordinary confluence of fantasy and real life. Many were kids at the time and some found screen time as extras, their lives mirroring the controversial themes in the film.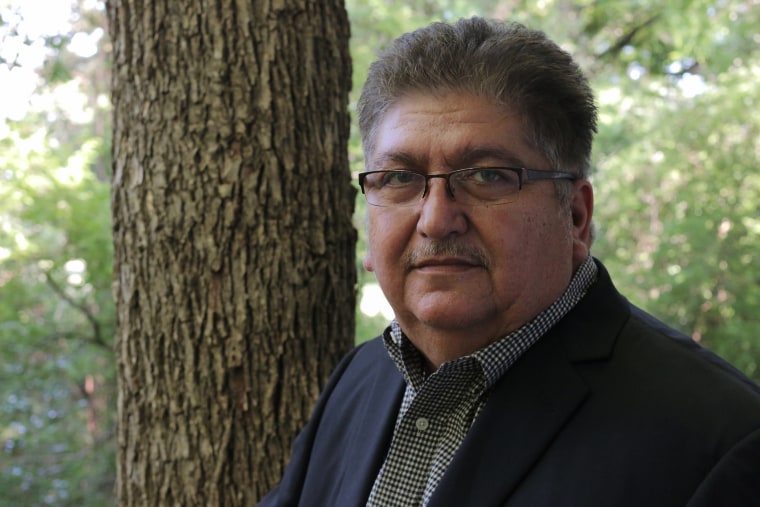 In "Giant," Stevens depicted how Mexican Americans were critical to the success of the ranching industry in Texas in the 1950s and were valued for their skills and work ethic. Outside the ranches, however, they were not treated as equals, forced to attend separate schools and unable to get into restaurants.
Even in death they were treated as others. "Children of Giant" dwells on a barbed wire fence which is still a line of demarcation for burials at the cemetery. Whites on one side, Mexican Americans on the other.
Ironically, the movie was an open set, and whites and Mexican Americans intermingled during filmmaking.
"The movie was way ahead of its time," Galán, who was born and raised in West Texas, told NBC. "Those are the stories my parents would tell me, the things they had to endure when they were kids. That's what attracted me to this."
"There's a lot of young people who are actually unaware," says documentary filmmaker Hector Galán. "This is a history lesson (for them). It's not really an advocacy film, or hitting people over the head. It's something that happened and let's not repeat it."
His father attended one of the so-called Mexican schools that were common at the time. "I can't imagine what he had to go through, the separateness," Galán said.
Not surprisingly, power brokers in Texas weren't happy with "Giant" upon its release, objecting vigorously to the depiction of bigotry and class divisions. Boycotts were threatened, but never materialized.
"In the end, star power overtook (the complaints)," Galán laughed.
Conversely, Mexican American audiences were stunned and overjoyed to see those portrayals. "Giant" reflected their experience.
A key scene in the film unfolds when Rock Hudson's character Bick Benedict stands up for Mexican Americans who are denied service at a diner. It is a turning point, a journey of transformation for Benedict, who brawls with the owner but ultimately loses the fight.
"But it didn't matter to us as Mexican Americans. Somebody did something. Somebody finally stood up and fought against this thing," Charles Ramirez Berg, a media studies professor at the University of Texas, says in "Children of Giant."
"He is humiliated by this racist, because he ends up on the floor, but he has towered over him because he's freed himself," author Marilyn Ann Moss adds.
A toddler when "Giant" was filmed, Galán is 61 now and says he hopes his documentary opens a window for younger Mexican Americans to learn what their ancestors endured.
"There's a lot of young people who are actually unaware," Galán said. "This is a history lesson (for them). It's not really an advocacy film, or hitting people over the head. It's something that happened and let's not repeat it."