California Secretary of State Alex Padilla had just graduated with an engineering degree from the Massachusetts Institute of Technology, when he returned home in 1994 to an acrimonious political struggle over Proposition 187 — the ballot initiative that helped turn the state Democratic and served as a political awakening for many Latinos.
Friday marks the day 25 years ago that California voters approved by a vote of 59 percent to 41 percent the "Save Our State" proposition, known as Prop 187, that would have denied health care, education and other services to anyone believed to be illegally in the country.
The state was in a recession as the federal government cut defense spending and aerospace contracts. California's then Gov. Pete Wilson waged his re-election campaign on the anti-immigrant ballot initiative.
Court challenges kept the proposition from ever being implemented and it essentially was put to rest in a settlement several years later.
But the proposition changed the political makeup of California. It mobilized Latinos to vote and galvanized voters in the immigrant, Latino, Asian American and African American communities. It also served as a pivotal moment in the lives of Latinos who saw its approval as a call to action and to public service.
"It was painful and it was cruel and it was difficult to live through, but it did wake up millions of Californians," Padilla said. California, a solidly blue state with a large Latino electorate and many Latinos in elected office, wouldn't be what it is today without Proposition 187, he said.
A rally was scheduled for Saturday and other events have been staged to remind the country of the lasting and unintended legacy of Proposition 187.
A 'defining moment' personally, then politically
The proposition struck fear and anger in Latino and immigrant communities.
Julián Castro, the 2020 presidential candidate, was in a Stanford University dorm lounge in 1994 when a television commercial narrator said in a grave voice, "They keep coming," over grainy images of people running up a California highway at a U.S. border checkpoint.
The grandson of a Mexican immigrant who cleaned houses, Castro, then 20, said the political ad touched a nerve. It made him "embarrassed" because the message it sent to the larger Latino population was unmistakable.
"That's how I felt and I believe that's how a lot of people felt," Castro told NBC News. "Their words say illegal immigrants, but there was a wink behind that, just like there is today behind (President Donald) Trump."
Although he was already influenced by his mother who was a Chicana activist and he had done an internship in the Clinton White House the summer of 1994, Castro said the Proposition 187 fight "helped prompt me to say, 'I can be part of doing something good in public service instead of this divisive backward stuff."
Castro went on to be the youngest person elected to San Antonio's City Council, to serve as the city's mayor and become Housing and Urban Development secretary under President Barack Obama. His twin brother, Joaquín Castro, who also was at Stanford at the time, is a U.S. congressman.
Children of immigrants like Padilla, whose parents were from Mexico and legal permanent residents, saw the proposition as racist backlash amid the state's economic crisis. It led to school walkouts across the state and a massive protest in downtown Los Angeles.
"There was this huge march from the east side of Los Angeles to the steps of City Hall, which was 75,000 to 100,000 people … we were in that march. My mom, my sister. I had my nephew on my shoulders the whole route," he said.
"I couldn't help but take it personally and push back against it," said Padilla, whose father, from Jalisco, worked as a short-order cook and whose mother, from Chihuahua, cleaned houses.
Padilla quit looking for work as an engineer and a year later was managing the political campaign of another former engineer who was running a long shot congressional campaign, U.S. Rep. Tony Cardenas, D-Calif. Padilla then worked on several other campaigns, served on the Los Angeles City Council and in the California Senate before he was elected in 2015 as secretary of state.
Proposition 187 "changed everything," Padilla said. After it passed, his father surprised the family by coming home and announcing he'd begun the naturalization process and asking for their help to study. His father became a citizen in 1998 and his mother became one in 1999.
"That's just my parents," he said. "I know that happened to millions of other parents across the state at the time."
The Proposition 187 effect was just as profound for Arturo Vargas, executive director of the Los Angeles-based National Association of Latino and Elected Officials, NALEO.
Vargas said Proposition 187 was a defining moment in his career and "my own identity as a Latino."
Vargas' mother, who immigrated from Mexico, became a citizen in 1994, deciding on her own to go to a citizenship workshop.
"On her swearing-in day at the Los Angeles Convention Center, when I asked her why she became a citizen after living as a legal permanent resident for 44 years, she said it was so she could vote against Pete Wilson," Vargas said.
About a month after the vote, Vargas began his job at NALEO where he has worked since to improve the citizenship process and for Congress to pass immigration reform, on voter registration and get-out-the-Latino-vote campaigns and to ensure that Latinos are fully counted on the decennial census. The group also helps to elect Latinos to public office and assists them once they are elected.
"It's a short-term strategy to be anti-Latino," he said. "It will help you win an election and win a ballot initiative, but you are going to lose a war."
Prop 187's legacy
Since Proposition 187 was approved, the Latino electorate has grown. In 1994, 1.4 million Latinos were registered to vote in California. Today, there are more than 4 million, Padilla said.
Four of the seven of California's constitutionally created offices are held by Latinos, along with a fifth state position, also held by a Latino. Twenty-nine of the state's legislators are Latino. Once a competitive state, the Republican presence in California is all but absent.
Nearly as many Latinos voted in the 2018 midterm election in California as in the previous presidential election, Vargas said. "The last time we saw that happen was in 1994," Vargas said.
California was the first state to declare itself a sanctuary state for immigrants and the now solidly Democratic state is considered the leader in the resistance against Trump administration policies. Attorney General Xavier Becerra, who is Latino, is steering the state's court challenges against the president.
Padilla, as secretary of state, oversees elections and has taken several steps to make voting easier.
"Marching through the streets in 1994, I could see what the future looked like," Padilla said. "I could see what the future looked like if people who were eligible, became citizens and ... cast their ballot. I could see a different political environment in California."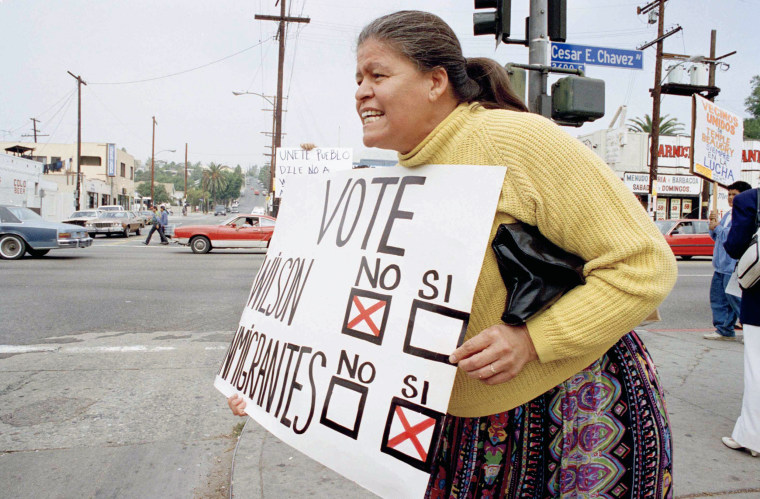 Wilson has faded from the political landscape. His 1996 campaign was short-lived and he was a death knell for Meg Whitman's 2010 gubernatorial campaign that he co-chaired.
A Tomás Rivera Policy Institute survey during the 2000 election found 53 percent of Latino voters in California associated the Republican party with Wilson, according to Latino Decisions, a Democratic polling firm. By 2010, 80 percent of Latino voters expressed concern about Whitman's decision to appoint Wilson, Latino Decisions found.
"He is just an anathema for Latino voters, even Latino voters who were not even alive," said Thomas Saenz, president and general counsel for the Mexican American Legal Defense and Educational Fund. "Pete Wilson's name has become a bad word for too many communities."
Saenz was part of the legal team that challenged Proposition 187. He was a young MALDEF attorney at the time who found himself thrust into arguing part of the case after a judge chose to focus on the aspect of the case that he had researched for the team.
"It was very formative for my legal career as a civil rights lawyer," he said.
Collectively and individually, Latinos and others who had opposed the proposition realized "we could never let this happen again," Padilla said. Communities organized to educate Latinos on voting, to get them more politically engaged and to get more Latinos and others in office.
"When I started at NALEO, we did not have the kind of representation in Congress that we do today or in the legislatures across the country," Vargas said. "And there is no going back."
Echoes of Prop. 187 today?
Mayra Macías, executive director of the Latino Victory Fund, was 5 years old when voters approved Prop 187, too young to understand what was going on.
But she remembers when she was 12 and her father was mistreated because of his accented English when he tried to get service at a Chicago city office.
She also vividly remembers Arizona's passage of its SB1070 law that gave police more power to stop people and question them on their citizenship and the news around Sheriff Joe Arpaio, whose anti-immigrant tactics and racial profiling of Latinos led to a federal conviction, for which President Donald Trump later pardoned him.
Macías sees those moments as similar watershed moments that create a collective consciousness in Latinos, that stirs their anger and launches them into action. SB1070 and Arpaio served to mobilize young Latinos who, in turn, have worked to turn out voters to defeat him and Jan Brewer, the state's former governor who signed SB1070.
Ten years after feeling helpless against Arpaio, Macías was celebrating the election of Regina Romero as the first Latina mayor of Tucson, Arizona, whom the Latino Victory Fund endorsed.
"All these moments, these attacks against our community ... are forcing Latinos to pay attention," Macías said.
"I clearly see parallels to what happened in California 25 years ago and what we are going through today at a national level," Vargas said. "Pete Wilson has been replaced by Donald Trump in terms of his role today as being the poster child of anti-Latino and anti-immigrant sentiment."
For years since 1994, Latinos have underperformed at the polls nationally.
But in 2018, against the backdrop of a Trump administration that separated children at the border, imposed a Muslim ban and implemented other measures to severely restrict new immigration and reduce the immigrant population in the U.S., Latino voter turnout surged.
According to the U.S. Census, Latino turnout rose to 40.4 percent, up from 27 percent in the 2014 midterms.
"As painful as the political environment is nationally, not just because of Trump, the Prop 187 story is a story of hope," Padilla said.
"If instead of keeping our head down and weathering the storm, we choose to engage," he said, "we can change the political environment across the country for the better."
Follow NBC Latino on Facebook, Twitter and Instagram.