It was in 2009, while hiking the hills of Kenya and coming across "amazing spiders" and other creatures, that Stephen Baca rediscovered his childhood love for bugs. Sitting around a campfire later one night, he decided to concentrate his studies on just that.
Baca would go on to pursue entomology, the branch of zoology that is concerned with insects and then earn a prestigious National Science Foundation Graduate Research Fellowship. It was a choice well made, because in the past few years, the 31-year-old has become a world authority on the evolutionary history of a family of burrowing water beetles known as Noteridae. While conducting his research, he also has helped to clear a path for underrepresented minorities in the STEM fields.
RELATED: Latin American Girls Hack Man's World of Tech, Science
"When I was younger I didn't realize you could do this for a living," Baca told NBC Latino.
Turning an obsession with crawling things into a career
As a kid growing up a part of a proud Hispanic-American family in New Mexico, Baca had always been interested in anything that crawled. He would even host lizard catching competitions with his cousins as a kid. "I suppose I was always the one who wanted to learn more about them," Baca recalled.
When he was in middle school, one of his teachers happened to be an entomologist who would bring his bug collections to class. Fascinated, Baca began collecting insects himself.
"In middle school, I was this weird guy. I like to think endearingly weird guy, but I don't know for sure," Baca said, laughing. "I used to carry around a jar and forceps in my backpack, in case I saw anything cool."
High school, on the other hand, was boring for Baca and he eventually lost track of his passion for insects.
When he got to college, he decided to major in business, figuring he would set himself up for a "decent career." He ended up leaving school after only one year.
"I just didn't have the patience for school at all," he said.
After that year, Baca worked several jobs, from delivering pizza to waiting tables and bartending. After spending a summer working on a ranch in Montana, he decided he would go back to school. This time, he stuck with it.
Baca started out at a local community college, and eventually transferred to the University of New Mexico where he earned his bachelor's degree in biology.
It was around this time that he traveled to Kenya and experienced his career-altering epiphany. The things that crawled, such as the marching army ants, were what excited him. "I was just like, man this stuff is amazing, I used to love this as a kid!"
When he got back, he connected with a professor who allowed him to volunteer at his lab conducting research on aquatic beetles. After six months, Baca visited Peru to conduct fieldwork and that's when he got hooked. "It kind of snowballed from there," he said.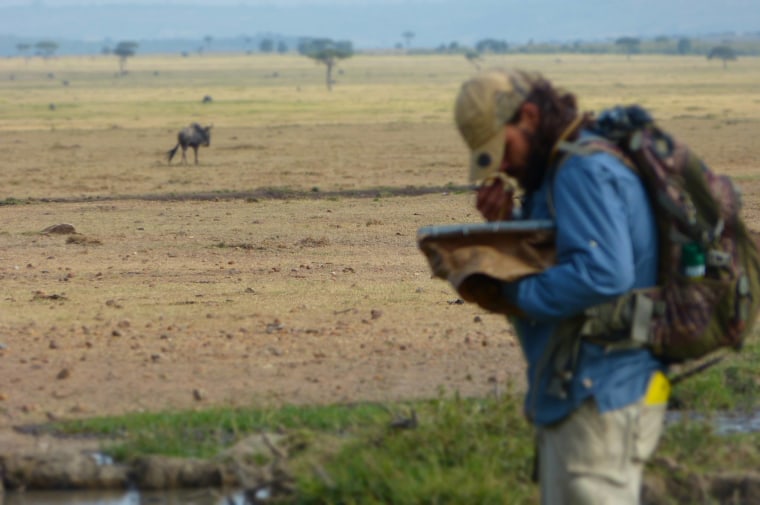 Now, Baca is living out his childhood dream. Having earned his master's in entomology, he is now working towards his doctorate in the same field at the University of Kansas. Or as he puts it, "getting to play with bugs all the time."
RELATED: Bloomberg-backed Group to Help Poorer Students Graduate From College
Overturning a water beetle world
Recently, Baca was the lead author of a study that delineated the evolutionary history of Noteridae. His work was published in the peer-reviewed journal Molecular Phylogenetics and Evolution.
Working with co-authors Emmanuel Toussaint and Andrew Short of University of Kansas and Kelly Miller of University of New Mexico, Baca was able to determine the relationships of 53 species of Noteridae. His study completely overhauled the classification within the family of aquatic beetles.
"It's important to note that papers like this, that especially when they result in large changes in the classification, have a lot of downstream impact," Floyd Shockley, an entomologist at the Smithsonian National Museum of Natural History told NBC Latino. "Especially on the large community of amateur collectors that just enjoy collecting beetles," he said. The impact on museums, and other places that house insect collections will also be major, according to Shockley.

While conducting the study, Baca and his team discovered faults in a computational method for partitioning genetic data—the "k-means" method. The researchers sent their results to the developer of the computational method, who decided the model should be discontinued.
The method was just gaining traction, but the discovery by Baca will prevent other biologists from getting inaccurate results by using it. "The developer had already realized there were issues with it," Baca said. "We were kind of the last nail in the coffin."
RELATED: Robo-Bees May Bring New Fix for Pollination Problem
Passing on the STEM "bug"
Baca is also passionate about the work he does as the president of University of Kansas' chapter of the Society for Advancement of Chicanos/Hispanics and Native Americans in Science (SACNAS).
He became involved in the group back when he was an undergraduate at University of New Mexico through one of the school's biology professors, Maggie Werner-Washburne. When Baca asked her for a recommendation letter to help him get into grad school and the National Science Foundation, "she agreed, but only on the condition that I go to a SACNAS meeting."
Though he didn't really know what SACNAS was at the time, he agreed to attend. "I loved it because the whole time, they were just kind of talking about the things that I felt were sort of lacking in my life before," Baca said.
In high school, no one had asked him what he liked or was interested in. "I didn't know that I could make a career out of this stuff," said Baca. "And that's kind of the fun thing about sitting here now, is that I had no idea this was ever possible."
"And that's kind of one the reasons that I like to get into some of these outreach groups," Baca explained.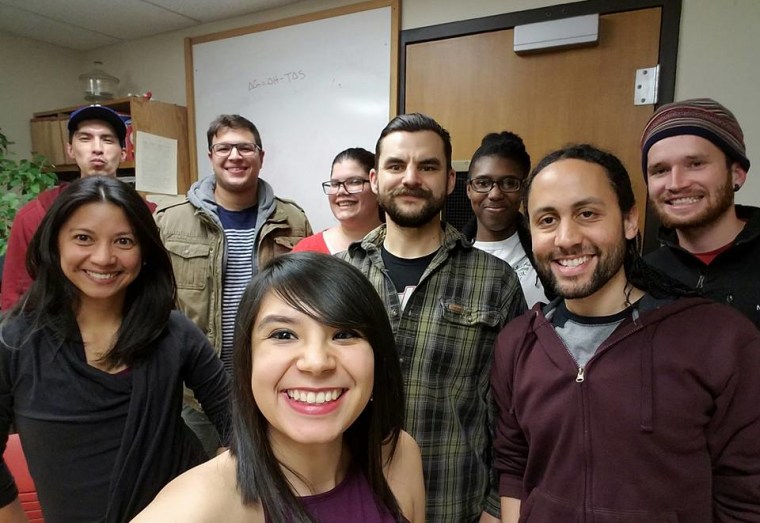 He was nominated to become the president of University of Kansas chapter shortly after deciding with a group of students that he should lead because he was the oldest of the group. "We've been pretty ambitious about it," said Baca. They just celebrated their one year anniversary and recently became recognized as an official chapter. Baca's goal is to continue to do more outreach work, to undergraduates and especially to high school students.
"One of the things I've learned more than anything in doing this" said Baca, "is that putting yourself in a position where you can talk to people or sharing your story and giving them a little bit of advice, letting them know that there are resources out there for them, and people advocating for them, is where the most profound effect comes from."