Harlyn Pacheco and Ricardo Rodriguez, both one-time ELL (English language learners) students, understand how language proficiency and a mastery of basic core subjects is crucial to academic success, yet hard to reach for many students. They both started their educations in Spanish-speaking countries and had to catch up when they came to school in the U.S.
"We've been very fortunate to be the beneficiaries of very targeted instruction and be two ELL kids that were able to successfully pick up a new language and a new set of skills," said Pacheco.
After obtaining graduate degrees and working in the digital and technical space, they teamed up with another friend, Stephen Ahn, to create an educational tool aimed at helping ESL and low-income students improve their literacy skills and help close the achievement gap.
Qlovi, a personalized eReader, is being used by more than 2,000 schools since it became available in January. It is designed to help K-12 students summarize their skills and proficiency in Common Core State Standards, and is available for students at no cost. The essays, lessons and quizzes are public domain, and the founders have partnered with different publishing companies so they can charge minimal subscription to schools and districts for access to a certain number of e-books per year.
The company chose a digital platform because as more schools close libraries, access to books is only available digitally. Yet some low-income students do not have technology access at home.
The Qlovi founders were the winners of the Bill & Melinda Gates Foundation Literacy Courseware Challenge, and were finalists LAUNCHedu 2014 finalists at the South by Southwest Education conference (SXSWedu).
Only a quarter of students graduate high school with the appropriate skills. Among English-language learners, the statistics point to a sobering gap starting in elementary school. In 2011, there was a 36-point gap between ELL and non-ELL students in the NAEP reading assessment at the fourth-grade level and a 44-point gap at the 8th-grade level. It is these disparities that the Qlovis founders want to help tackle.
Pacheco was in third grade when his family moved to Dallas from Colombia in 1991. He grew up in the very same schools that Qlovi is now targeting -- schools with lots of low-income students, lots of ELL kids, and children of color.
Rodriguez grew up and went to public school in Puerto Rico, which is the third-largest school district in the U.S. He said he knows what it's like to go through the system as a low-income student. But he was fortunate to have learned how to code and program at an early age. For a while, Ricardo lived in Orlando, Fla., experiencing ELL education firsthand and seeing the challenges these programs faced.
Using digital platforms to reach low-income students makes sense, they said, because as device costs continue to drop, more schools are using tablets and other tools. For many Latino students, schools are the only place where they gain access to technology.
One of the schools using Qlovis is the Kingsley Elementary School, part of the Los Angeles Unified School District. Omar Gomez is a technology instructor who works with students in kindergarten through fifth grade. Ninety percent of Kingsley students are Latino, and the remaining ten percent are Armenian, Asian, Caucasian and African-American.
The school closed its library due to lack of funding. Gomez says Qlovi's platform has been "amazing" at filling the gap, making it possible for students to read more assignments according to their individual reading abilities.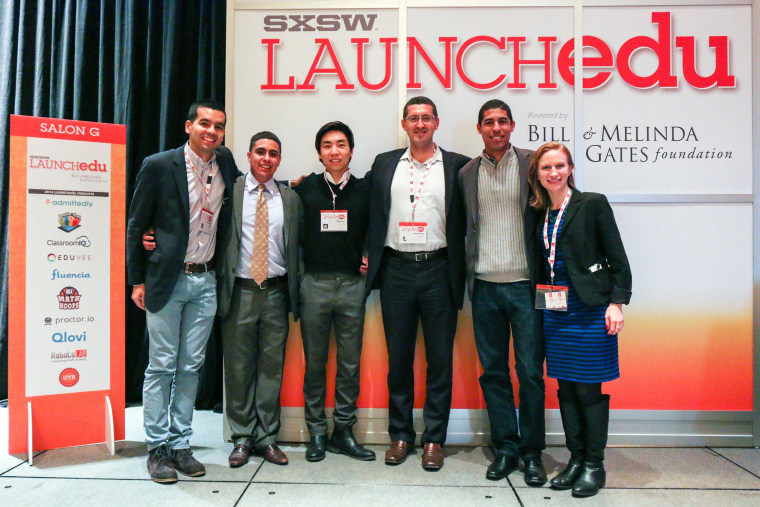 Still, with only one computer lab and a limited number of computers in the classrooms, not all students have access to a device. Gomez is hopeful that the district will continue their iPad roll-outs, and he also is seeking technology grants.
Apart from the issue of resources, schools wrestle with how to teach students at different levels of language proficiency. For children who are not in an English-only immersion experience, there needs to be adequate Spanish-language content. Older students who are dominant in another language need to learn complex English-language content but at a lower reading level. Pacheco said they have begun to carry materials to address these needs.
Low-income students are now the majority in 17 states across the country, according to recent figures, and ELL learners comprise at least 10 percent of the nation's students. Their circumstances, Pacheco explained, are not dissimilar to what he and Ramirez experienced. They hope their program can help.
"Educators continue to need assistance to educate students with different needs."