Immigrant rights activist Hugo Castro was reported alive in Mexico City Tuesday, five days after he took to Facebook Live to say he feared for his safety, then went missing.
Castro's co-workers at the non-profit Border Angels said Castro had been visited by his partner, who confirmed that the 45-year-old was well, though receiving medical attention before returning to the United States.
A U.S. government official confirmed the reports that Castro had been located, but provided no additional details.
The long-time human rights worker had traveled to Mexico on April 8 to join a caravan accompanying migrants making the challenging trek from Central America to the U.S. border. Last Thursday afternoon, he posted a video on Facebook, saying that unidentified marauders had threatened him.
"They want to kill me," Castro said in Spanish, during the 20-minute video, adding: "I need help. I need help." His long-time partner, Gaba Cortes, reported him missing to both Mexican and American officials.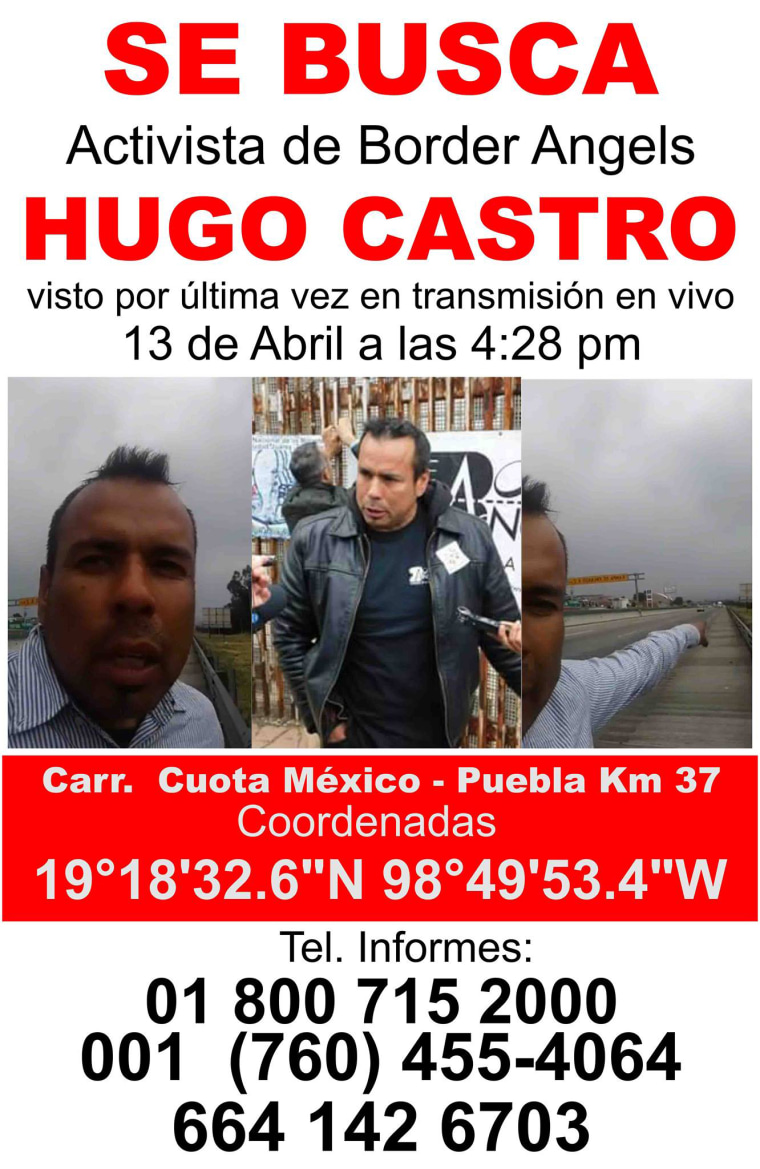 She had been scheduled to meet with the Mexican federal prosecutors office Tuesday morning. By midday, Cortes had posted a Facebook notice, saying: "We inform our friends that Hugo was found alive. That is all we can share." She thanked those who tried to help in locating Castro.
"He is alive and we are so happy and relieved," said Enrique Morones, founder of Border Angels. "We hope he comes home soon, so we can have a big party and celebrate him."
U.S. consular officials said they do not provide details about missing Americans without the permission of the individuals. They earlier confirmed receiving reports of Castro being reported missing.
Castro has been a well known figure around Tijuana and other border communities for the many programs he has helped lead for the non-profit Border Angels, including the SOS Migrante program to help support the 32 shelters that care for migrants in Tijuana.
San Diego's public radio station, KPBS, recently featured Castro for his work supporting thousands of Haitian refugees who have been trapped along the border, after the U.S. tightened its rules on humanitarian entries from the Caribbean nation.
His sister, Angie Velazquez, said via email that her brother helped hundreds of people without any expectation of being repaid or credited with the work. "He has the kindest heart," she said. "He helps, whether he knows you or not; he helps with no strings attached."
For more than a decade, Border Angels has led or supported marches in support of immigrant rights. continuing in that tradition, Castro was headed to the town of Querétaro, about 130 miles northwest of the capital, to support a group of Central American migrants.
Neither the activist's co-workers nor the U.S. sources — who discussed the case on condition of anonymity — could provide any additional information about what had become of Castro or whether he had ever been in serious danger.
"He is in Mexico City getting a check up," said Morones. "I don't know if he has any physical wounds. I just know [Cortes] is with him and the family is overjoyed and excited."
Morones said Border Angels would soon be expanding a shelter in Imperial Beach, on the California-Mexico border. He said he intends to name the new room the "Hugo Castro Wing."