For six days after being detained and separated from their mother at the border, Franklin, an 11-year-old Honduran boy, and his 7-year-old brother Byron slept very little and were constantly cold as they huddled under foil-sheet blankets.
"They would wake us up at 3 in the morning and we were so tired," he said, adding that he didn't know why they would wake all the children up. The ham they gave the children was cold and raw, he said.
Franklin, whose mother Maria Gloria asked that their last name not be used out of concern for her family's privacy, said the worst parts of the ordeal were the icy temperatures and not knowing when they'd ever see their mother again.
"We would pray together and ask God that everything would be OK," he told NBC News.
The two were separated from their mother on June 2 after crossing the border on May 31. They were seeking asylum after the family faced repeated death threats in Honduras.
Franklin and Byron were among the thousands of children separated from their parents under President Donald Trump's immigration policies. As the court-ordered deadline for reunifying those families passed Thursday, interviews and court filings have revealed a wide range of allegations of mistreatment by migrant adolescents and teens, including inedible food, brutally cold temperatures with no blankets for all the children, not being informed of their rights, bullying, guards who kick their feet to wake them up and verbal abuse. They also show the emotional toll of family separations.
Franklin and his brother were eventually sent to live with a foster family in New York, but were not reunited with their mother until July 13.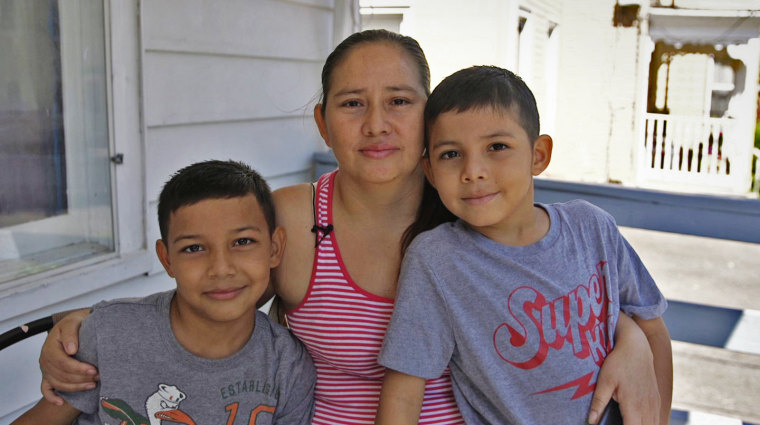 "My heart was beating so fast when they told me my mom was going to be with us again," he said. "When they told my brother, he started to cry."
His family is now living in Kingston, New York, as they fight their asylum claim.
"We can be a family again. We're together again and we're very happy," he said.
"The way I have been treated makes me feel ... like I am trash."
New court filings this month from the Center for Human Rights and Constitutional Law gave firsthand accounts by more than 200 migrant children and their parents from detention facilities run by Customs and Border Protection and Immigration and Customs Enforcement, as well as shelters run by the Office of Refugee Resettlement.
The filings, which list the migrants' first name and last initial, are part of the ongoing battle between advocates and the government over the treatment of migrant children, based on a set of protections known as the Flores settlement and subsequent court decisions.
Peter Schey, the executive editor of the Center for Human Rights and Constitutional Law Foundation, said the issues the group was seeing at facilities run by Customs and Border Protection were very different than those at locations run by the Office of Refugee Resettlement.
With regards to CBP, he said his group has seen "a substantial increase in detained children having inadequate access to potable drinking water, edible food, mats and blankets to sleep and access to basic toiletries" as well as overcrowding.
In terms of the Office of Refugee Resettlement, Schey said the concerns were increases in psychotropic drugs being given to children without parental consent, children being sent to higher security facilities without a hearing or appeal process, and lengthy detention without steps being taken to release children to parents or other sponsors.
On Friday, a federal judge in Los Angeles said she would order an independent monitor to assess the conditions for children at detention centers and border processing centers under the Flores agreement, saying there was a "disconnect" between the administration's own monitors and the accounts from migrants on the ground.
The center and its partnering organizations are also asking the judge to block the facilities from administering psychotropic drugs, which they have alleged in previous court filings.
In the recent court filing, one 16-year-old boy named Sergio C. said during a mid-July interview that he had been separated from his father for about 45 days.
Authorities apprehended Sergio and his father and took away all of their belongings before separating them into two groups, he said in his statement.
The groups were then put into vehicles to be driven away, he said.
"When I left, and my dad wasn't with me, they told me not to worry that he would be coming in a moment," he said, according to testimony given in Spanish and translated into English. "I went in the car and felt very relieved and happy that he would follow. But it wasn't like that. He didn't come. I haven't seen him since then."
He was not able to speak to his father until after he had been at Casa Padre, a shelter for migrant children in Texas, for more than a month.
"I worry about him every day and every night," he said. "I can't sleep well at all because I worry so much about my family. I have only spoken with my father a total of 20 minutes in these 45 days."
Sergio said one night he was crying in the bathroom because he did not know where his father was or how he was doing.
"A staff member here at Casa Padre came in and asked me why I was being such a crybaby," he said in Spanish, according to the filing. "Then he said some words in English that I didn't understand but other young men who were there told me he said swear words. It made me feel very bad and very ashamed."
Sergio said the last time he spoke to his father, he said his immigration case had not gone well and he was told he would have to leave the country. The two want to leave together but Sergio hasn't received any more information, he said.
"I do not want to be here anymore, especially since I know how much my father is suffering," he said. "The way I have been treated makes me feel like I don't matter, like I am trash."
Dixiana S., a 10-year-old from Honduras, said she was separated from her mother after being apprehended by authorities. The first night, there were so many young girls at the facility that they had to sleep sitting up on the concrete floor because there was no room.
"For breakfast, they gave me a frozen ham sandwich. The ham was black. I took one bite, but did not eat the rest because of the taste," she said in her statement.
"I was very scared that I would never see my mother again," she said.
She and her mother were taken to another facility known as the "dog house" for its large fenced enclosures and separated again. She and other children in the filing described getting kicked by guards to wake them up.
"I was half asleep and they were calling a girl who had a similar first name as me," she said. "A male officer kicked me to wake me up to confirm whether or not I was the person they were looking for. I was not. The kick scared me and hurt, although I did not get a bruise."
Dixiana said she could see her mother far away in another cell.
"I didn't cry the first day when I was at this facility, but I began crying all of the time on the second and third day because I missed my mother," she said. "The majority of the other girls in my cell were also crying the whole time I was there."
Dixiana said that, according to her mother, they left that facility on May 28 and have been at ICE's South Texas Family Residential Center in Dilley, Texas, since. At the facility she contracted chicken pox and was treated for that and an infection she had in a molar, according to her statement.
Schey said many of the children his team and other partnering organizations have interviewed showed signs of trauma and emotional distress.
"Many of them have cried, some children break down crying when conveying their stories to us," he said. "They're all suffering from anxiety, sleeplessness, nightmares many report feeling high levels of anxiety, depression, breaking out in sweats in the middle of the day."
When asked about the allegations in the filing, CBP provided a statement Thursday saying that as a matter of policy, the agency does not comment on pending litigation.
"However, lack of comment should not be construed as agreement or stipulation with any of the allegations. CBP takes all allegations seriously, and investigates all formal complaints," the statement said.
Coordinators for CBP and ICE tasked with assessing compliance under Flores at the facilities said in a June filing that they had found both agencies compliant with the Flores agreement after their assessments.
Immigration and Customs Enforcement referred comment to the Department of Homeland Security, which did not immediately respond to request for comment. The Office of Refugee Resettlement also did not immediately respond to request for comment.
Michelle Brané, director of the migrant rights and justice program at the Women's Refugee Commission, who had interviewed a number of children for the filing, said another issue for the youngest children is that the children are not allowed to touch to comfort each other, and their toys or personal belongings are often taken from them upon apprehension.
"I talked to a 6-year-old little girl, they took her away from her mother and then as she sat there crying they took her doll," she said.
She said that while ORR shelters are "vast improvements" in what they provide over CBP detention facilities, the shelters were still not equipped to deal with young children separated from their parents versus children who actually came unaccompanied.
"We're not in this crisis in terms of number of arrivals, but they created a crisis by separating all these children," she said.
"I saw my mom and she was chained..."
In another case, Alexander Asig-Putul, 11, was separated from his mother for 45 days after coming to the U.S. from Guatemala to seek asylum, according to the boy and his mother Otilia Asig-Putul. They were apprehended at the border in May.
"They sent me to a room with other children. I saw my mom and she was chained at her feet, her waist and her hands, and I was crying," Alexander said in Spanish from his aunt's home in Florida.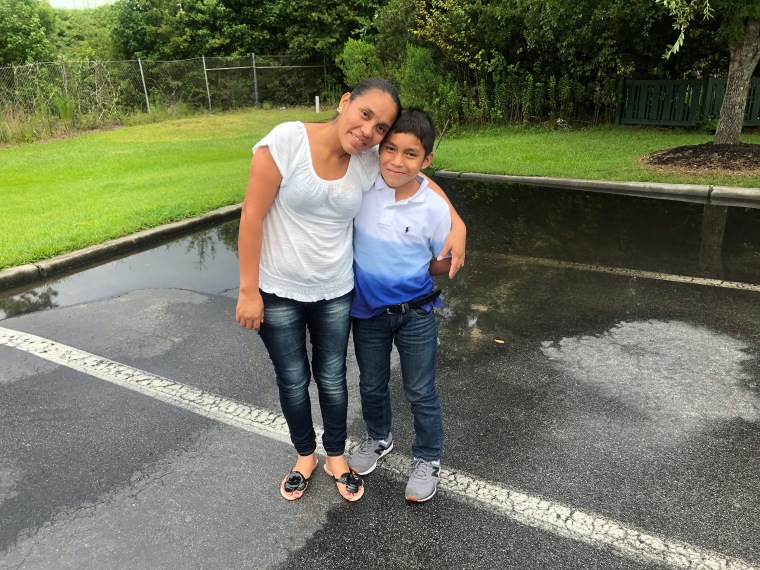 "There was another little boy who was 6 years old and he was crying because his dad was also chained. He was crying and ran to hug his dad and didn't want to let him go," he said.
Alexander, whose mother asked that his middle name be used out of concern for his privacy, said he was taken to a shelter for migrant children in Illinois run by the nonprofit Heartland Alliance.
He was placed in a room with two friends and a 14-year-old boy who frequently bullied him, he said. Alexander said he told shelter staff about the ongoing bullying, but they told him to stop complaining.
"I told them many times but they ignored me. They didn't listen to me," he said.
One night, the 14-year-old boy grabbed his foot to trip him as he was leaving the room, causing him to hit his head on a metal bed frame, causing a severe laceration and heavy bleeding, according to Alexander and a complaint filed by his mother.
"I had my hand on my head and it felt like water was falling on me and when I looked at my hand I saw it was full of blood," he said. "I was dizzy."
Heartland Alliance said in a statement to NBC News that the allegations "are troubling as they do not reflect our values or the quality of care we strive to provide."
"We immediately initiated our own investigation upon learning of these allegations over the weekend, and are reviewing any incident reports, medical records, staff disciplinary reports, examining our policies and protocols, and more," Heartland Alliance said.
Alexander was taken to the hospital and his wound was treated with three staples.The boy's mother said she was never called by the shelter and informed her son had been taken to the hospital. The two are receiving pro bono legal help and have filed a lawsuit alleging negligence against the shelter and three of its staff members.
"I was crying and my head burned," he said.
"I was desperate, I was in the hospital for four hours. I wanted my mom but I couldn't talk to her," he said.