WASHINGTON – For activist Greisa Martinez the orders Wednesday from President Donald Trump for stepped-up immigration enforcement were a haunting reminder of the fearful days of her family's past.
Her family, with several members lacking status, lived through the immigration raids of the Bush administration. She recalls being picked up at school when raids were going on in Colorado and Arizona and her father, a Baptist minister, holding services to bring comfort to families. But then, he was later deported after he was stopped in Texas for driving without a license.
"I feel like I'm under siege," said Martinez, who leads the United We Dream immigrant advocacy group. "I feel like I'm in the fight for my life and for my safety and my sanity. I feel like every day that I wake up there's some anxiety for what will happen for me, for my mother, for my sister."
Trump's immigration pledges – once campaign chants such as "build the wall" and strong rhetoric – became a frightening reality for many immigrants and their supporters with his signings of executive orders on immigration.
Trump signed executive orders that called for the immediate construction of a physical wall on the southern border, for stripping cities that limit their immigration enforcement for non-criminals – so-called sanctuary cities – of federal funding, for construction of more detention centers on the southern border and reinstating a program that required law enforcement to send fingerprints of anyone they arrested to DHS for citizenship status checks and potential detention and deportation.
Related: Trump Signs Executive Orders Aimed At Cracking Down on Illegal Immigration
"This is a law enforcement agency, but for too long your officers and agents haven't been allowed to properly do their jobs," Trump said. "But that's about to change."
Those comments drew applause from the audience for his speech at DHS, which included border and immigration officers and activists for people who have been victims of crimes committed by people not legally here.
Martinez said that as the news of Trump's executive orders on immigration filtered out late Tuesday, "there was a moment I broke down because it was so much."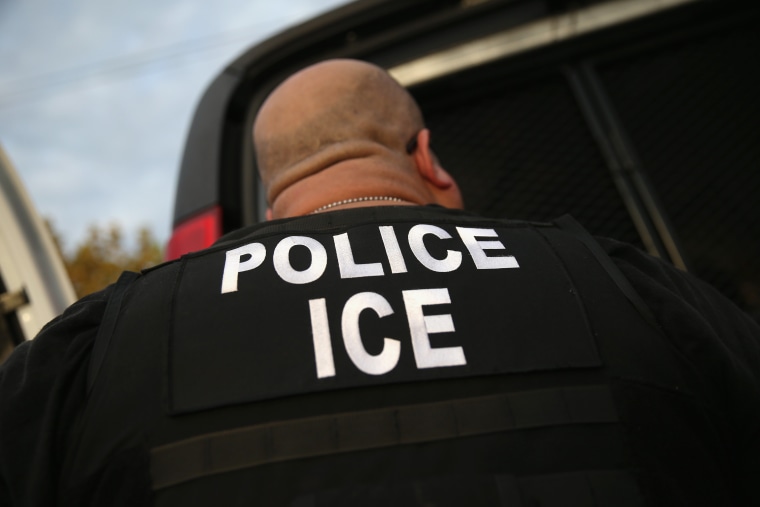 But by Wednesday morning, she arrived at the offices of her organization – a place she said she feels "safe and supported."
"I survived that complete breakdown of my family ... I know what it was like to feel utter heartbreak and joy and winning (when Obama issued his executive orders) ... I'm not ever going to let go of that feeling and that is something we are going to continue to chase," she said.
Trump's action Wednesday heightened the worry that many immigrants have been feeling since the election and that has lead to spikes in calls to immigration attorneys and immigration groups and hotlines as people dig for information on what more is ahead for them.
Mary Moreno Montejano, a spokeswoman for Texas Organizing Project, said Trump is recycling what were bad ideas before and were ended because they were bad ideas.
"It's like he's unaware of what's already there and he's bought into this misguided rhetoric" about the border, she said. The border already is "militarized and to spend more money on that, that is something that is not needed and doesn't make sense," she said.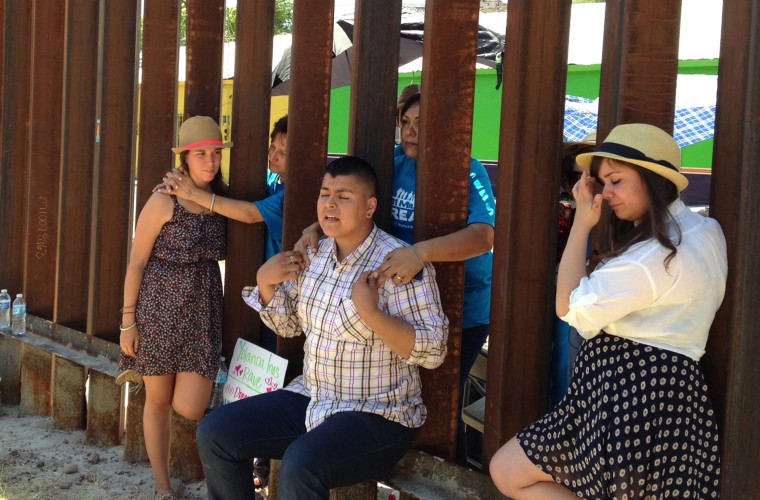 Fernando Garcia, founding director of Border Network for Human Rights, said some already are dubbing what Trump will build the "wall of infamy."
"Painting the border as violent and chaotic sends a xenophobic message especially to Mexico," García told NBC Latino. "The wall is not going to stop immigration. Previous fencing has not stopped immigration. This is not a solution … and they are not dealing with root causes."
"This is something we never expected to happen and now it's happening," he said. "The persecution of immigrants has become a major part of this administration's agenda."
Immigration from Mexico has reached net zero in recent years as more Mexicans leave the U.S. than are coming.
Much of the migration to the border today comes from Central America and many of those arriving are children or families requesting asylum as they flee that violence-wracked region.
Trump, who will meet with Mexican President Enrique Peña Nieto later this month, seemed to shift some of this rhetoric of the campaign, in which he focused on migration from Mexico and said Mexico was sending rapists and people bringing drugs and crime.
In his speech Wednesday, Trump said the southern border is the middle of a crisis and the U.S. and Mexico are being harmed by the "unprecedented surge of illegal migrants from Central America."
Related: Adults, Children Try to Cross the Border Ahead of Trump's Inauguration
His orders didn't specify where the money would come from but Trump continues to insist that Mexico will play for the border wall.
"One way or another, Mexico will pay for it," White House Press Secretary Sean Spicer said in the daily media briefing.
José Escobedo, a resident of the border city of El Paso, Texas, any money spent on a border wall will be a waste and is emblematic of Washington making decisions independent of the local community.
"Instead of federal dollars going for miles of walls, we need federal dollars to go for healthcare, for schools ... There's business that happens, local organizations, commerce, they will tell you a wall is not going to facilitate trade ... (it) will hurt the people doing business on either side of border," said Escobedo, an activist in a local immigration advocacy group.
As he did during his party's convention, Trump emphasized crimes committed by immigrants here illegally and their victims. One of the orders he signed Wednesday includes creating an office in DHS for such victims and their families.
Rep. Luis Gutierrez, D-Ill., countered that data show that immigrants commit fewer crimes than people born in the U.S. and referred to Trump's view as "alternative facts."
"Trump's executive orders are more about sending a signal to his voters that the new president will act on fears of Muslims and Latinos rather than put forward actual, thoughtful security policy," Gutierrez said.
In a statement, Rep. Raúl Labrador, R-Idaho, said he was pleased with Trump's immigration executive orders.
"The president understands the problems we face and his orders provide an important start to protect America and uphold the law," Labrador said. He said public safety and national security must come first in fixing the "broken immigration system."
Rep. Carlos Curbelo, R-Fla., said while most Americans share the goal of removing from the country people who have committed serious crimes, "immigration reform must include a fair and permanent solution for millions of undocumented immigrants who have been contributing to our economy and improving quality of life for all Americans - in some cases for decades."
Tony Suarez, executive vice president of the National Hispanic Christian Leadership Conference, said his group doesn't oppose a wall on the southern border.
"Any immigration policy has to include border security. If this is the first step to getting immigration reform, so be it, but it can't be the end all. It doesn't resolve the 11 million living in the country" without legal status.
Additional reporting by Marissa Armas.