Brenda Tello-Perez was worried, frustrated and upset. Her 18-year-old son was stranded in Peru for weeks amid a global pandemic and she did not know when he would return home.
"I just wanted my son back. That's all I wanted. I wanted my son back," Tello-Perez, 45, of Bridgeport, Connecticut, said. "This is the United States, and if we're struggling the way we're struggling, you can only imagine what's going on in Peru."
Her son, Fernando Perez, was on vacation with his girlfriend's family near Lima when the country closed its borders and suspended international travel on March 17 as a part of an emergency declaration. The group of nine were among several thousands of Americans who were desperately seeking a way to return home.
More than 7,000 American citizens have been repatriated from Peru as of April 13, according to the U.S. Embassy in Lima.
Julie Chung, a State Department official who recently spent two weeks working with the U.S. Embassy in Lima, said that after the Peruvian government closed its borders, the department saw a dramatic increase in the number of people in Peru signing up for its Smart Traveler Enrollment Program (STEP), which is how it keeps record of Americans in foreign countries.
Chung, at a news briefing on April 10, said that embassy officials didn't realize Peru would have such a large number of repatriations. "The unparalleled scale of this was not expected by either the Peruvian government or by the embassy," she said.
Peru has said that more than 10,300 positive cases of COVID-19 and 230 people have died, as of Tuesday, April 14. The U.S. Embassy has announced that no more government-organized charter flights are scheduled. It is coordinating with a commercial airline that is offering private charter flights from Lima to Miami but is urging citizens who desire to return to use any viable option. To add to the pressure for these stranded Americans, Peru's Ministry of Foreign Affairs announced that regularly scheduled repatriation flights will end on Tuesday, April 21.
The State Department estimates that there are around 15,000 Americans in foreign countries looking for help returning to the United States as of April 14. With so many people seeking the government's assistance, some stranded Americans have turned to activists and intermediaries in the states for help.
Tello-Perez said she tried several times to communicate with the embassy about her son's situation but grew frustrated after weeks went by without a response.
"I understood clearly that there were just so many people in the same situation. I wasn't the only one," she said.
A Puerto Rican uses her experience after Hurricane Maria
Tello-Perez eventually reached out to a group she read about on social media called Warrior Angels Rescue. The California-based organization started in 2017, when a group of volunteers chartered planes to evacuate people out of Puerto Rico after Hurricane Maria. The group became involved in Peru after being contacted by a former volunteer who was stranded.
Valerie Edmondson Bolaños, the group's founder and a native of Puerto Rico, said their experiences in 2017 equipped them for the situation in Peru.
"In Puerto Rico, there was no power and no cellphone service, no functioning commercial airports," she said. "It's hard to believe, but it was even more challenging."
Warrior Angels has been coordinating with the U.S. Embassy to locate, communicate and gather information on those trying to leave Peru. Edmondson Bolaños has also pitched potential flight paths, charter options and ground transportation solutions.
Tello-Perez sees Edmondson Bolaños as a lifeline who eased her anxieties by regularly responding to her messages and communicating with the embassy on her behalf. Her son and the eight other people he was with returned to the U.S. on a repatriation flight on April 9.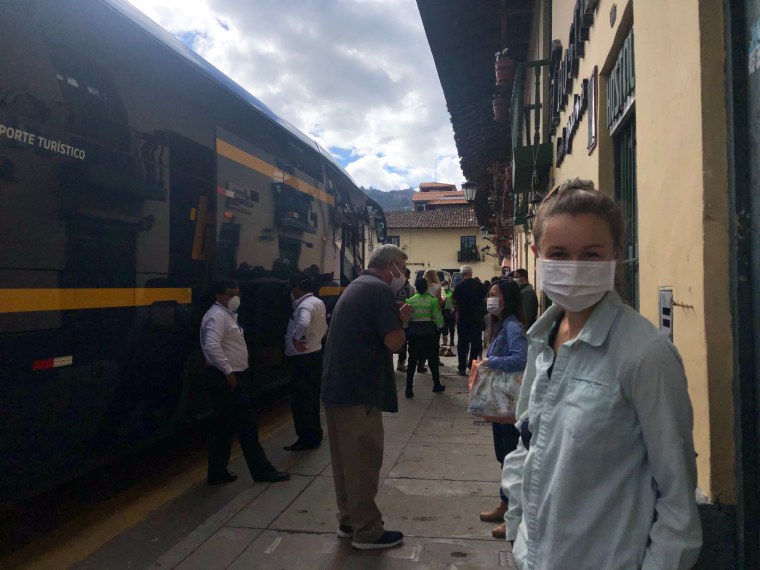 Zoe Parham, 22, credits Sen. Michael Bennet, D-Col., with aiding her return to the United States. The Missouri resident was stuck in Cajamarca, a Peruvian city in the Andes Mountains, and was contacted by Bennet's office after her boyfriend, who is from Colorado, asked for help.
"I received a phone call from Senator Bennet on his cellphone and I don't even live in Colorado. I'm not even his constituent," Parham said.
Parham said that she received messages from Margaret Mullins, a staffer in the senator's office, almost daily and that Mullins put her in direct communication with the State Department. She returned to the United States on April 6.
In Bridgeport, Tello-Perez recalls the family's ordeal — and how it felt to finally get the good news about her son return.
"We had just finished eating dinner when I saw the email come through and I screamed at the top of my lungs," said Tello-Perez. "You have no idea. I almost fell off my chair."