Hector Barajas-Varela has proudly worn his U.S. military uniform many times before, but on Friday it took on a new meaning.
The Mexico-born U.S. veteran, who waged a decade-long fight to return to the U.S. after his deportation in 2010, traveled from Tijuana, Mexico to San Diego, California and officially became a U.S. citizen.
"I'm home today," said Barajas-Varela to cheers from family, supporters and veterans groups outside the city's Department of Homeland Security building.
Barajas-Varela, who enlisted in the Army in 1995, was honorably discharged in 2001 after receiving numerous accolades and awards, including the Army Commendation Medal and Humanitarian Service Medal. Following his service, he had difficulty adjusting to civilian life. His struggles with substance abuse, plus a no-contest plea to shooting at an occupied vehicle, resulted in his deportation in 2002.
After being unable to adapt to life in Mexico, a country that he found unfamiliar, he made his way back into the U.S. before being deported again in 2010, Barajas-Varela said in an interview with the Associated Press.
Supporters of deported veterans' rights say former soldiers who face difficulties adjusting to civilian life, including substance abuse or other mental health or physical issues, should receive treatment instead of deportation orders.
As he fought his deportation, Barajas-Varela founded the Deported Veterans Support House in Tijuana, known as the "Bunker," with the help of the U.S. Department of Veteran's Affairs in San Diego. Last year a congressional delegation, including Rep. Joaquín Castro, (D-TX), visited the center and advocated for the deported veterans. "Many of us believe that they should be allowed to become citizens," said Rep. Castro.
Barajas-Varela received a full pardon from Gov. Jerry Brown last year.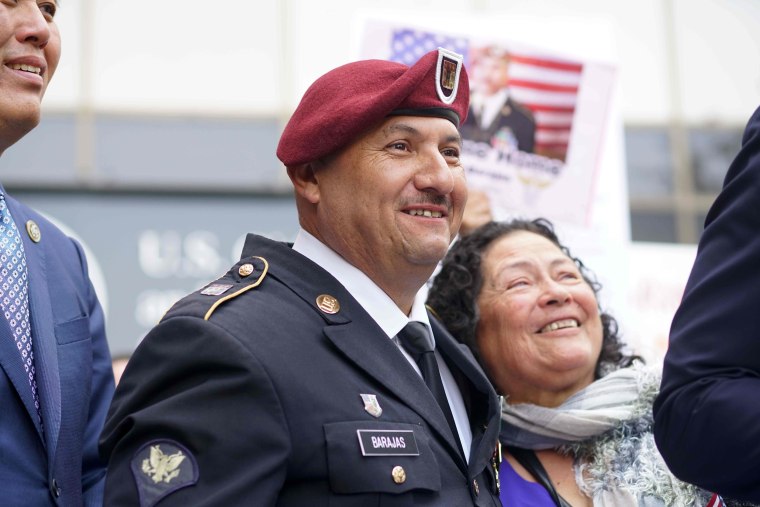 In his statement, Gov. Brown said Barajas "has shown that since his release from custody, he has lived an honest and upright life, exhibited good moral character and conducted himself as a law-abiding citizen."
According to the ACLU, Barajas-Varela is one of the more than 230 U.S. Armed Forces war veterans who have been deported. In 2016, there were more than 300,000 veterans living in the U.S. who were not born in the country, a third of whom had not processed their citizenship — one of the benefits they are promised when they enlist.
Barajas-Varela's story is bringing hope to veterans like Manuel Valenzuela, who is facing deportation proceedings.
"On this important day we get to see Hector hug his daughter and tell her 'I'm here,'" Valenzuela told Telemundo 20.
Now that Barajas-Varela is able to freely travel between the U.S. and Mexico, he wants to spend more time with his family and continue to help deported veterans in Mexico.
"My dream is to put my child through college and to see veterans come home," said Barajas-Varela, who emphasized this commitment to continue his work at the Deported Veterans Support House in Tijuana. "I have a chance to be a new person."