Things seemed to be going so well for Veronica Ortiz Rivera one rainy morning in November 2010. She'd awakened before her alarm went off, allowing her to fall back into the most peaceful sleep she'd had in years. Later she was wrapping Christmas presents to mail to her husband, who was serving in Afghanistan, when there was a knock at the door. Glancing out, she saw marines in dress uniforms.
"Instantly, my heart dropped. I went into shock," Ortiz Rivera said. She yelled at the men, insisting that they had the wrong house. When they asked if they could come in, she said no. The last thing she remembers hearing clearly was, "On behalf of the president and the United States Marine Corps, we are sorry to inform you…"
Ortiz Rivera's husband, Marine Staff Sergeant Javier Ortiz Rivera, had been killed by a roadside bomb.
That's how she found herself a member of a Gold Star family, a term referring to those who have lost immediate family members in combat or in support of certain military operations. Like all Gold Star families, Latino Gold Star families share a bond of grief, loss, and pride on Memorial Day — and their struggles are both unique and universal.
It is difficult to calculate the number of Latino Gold Star families. According to the Pew Research Center, in 2015 Hispanics comprised 12 percent of active-duty military personnel. The Department of Defense tallies casualties by war or conflict, and breaks down the demographics of casualties, yet these statistics do not give the precise number of Latino Gold Star families, which can include spouses of non-Hispanic service members.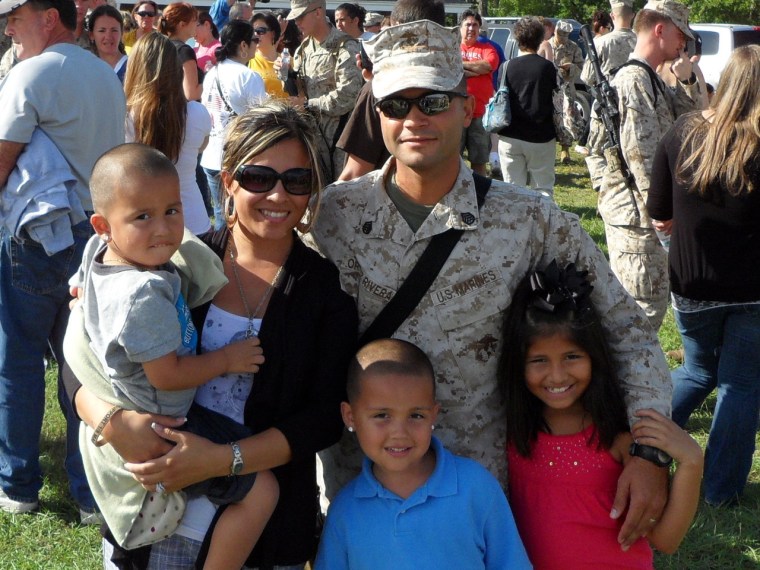 For Ortiz Rivera, losing her husband was overwhelming. "It was hard explaining the concept of death and heaven to my kids, who were 8, 5, and 3. My son used to say he wanted to die for one day and come back, so he could visit papi in heaven." She credits her faith with getting her through her darkest moments.
Ortiz Rivera cherishes the memory of her last call with her husband.
"Where he was in Afghanistan, he had to call on a satellite phone; the service was always terrible, and the calls would constantly drop out," she remembered. "But that last time he called, the call did not drop."
They were able to speak for 56 minutes, which had never happened before. Before she hung up, Ortiz Rivera told her husband that she loved him. He responded, "I love you more. So I win."
That was the last time she would hear his voice. The next day, she was informed of his death.
Frederick P. Aguirre, a retired Superior Court judge in California and president of Latino Advocates for Education, believes it is important to recognize the contributions and sacrifices of Latinos in the U.S. military.
"It is not well known that Hispanics have served our country from the Revolutionary War to the present," he said. "Latinos also served in the Civil War, World Wars I and II, and every conflict since." Military conflicts before Vietnam, he pointed out, did not keep statistics for Hispanic servicemen. In World War II, for example, the thousands of Mexican-Americans who served were classified as white.
During World War II and the Korean War, a segregated unit of Puerto Ricans served in the 65th Infantry Regiment, known as The Borinqueneers. Among them were Army Private First Class Emiliano Andino Perez. He was captured while fighting in Korea and died a prisoner of war in 1951 at age 32.
"I was just starting to walk when my father re-enlisted," said Zaida Andino of the Bronx, New York. "What I know of him, really, comes from asking my mother about him."
Although POW Andino was declared dead by the Army, his remains were never found, which for years gave his daughter faint hope that he could be alive. "Before, I used to say, mami, he could be alive in Korea, with amnesia, right?"
It wasn't until a few years ago that Andino obtained her father's medals and military records, which included testimony from three eyewitnesses that he had died. "I've always had that void in my life of not knowing — and now I've accepted that he is gone."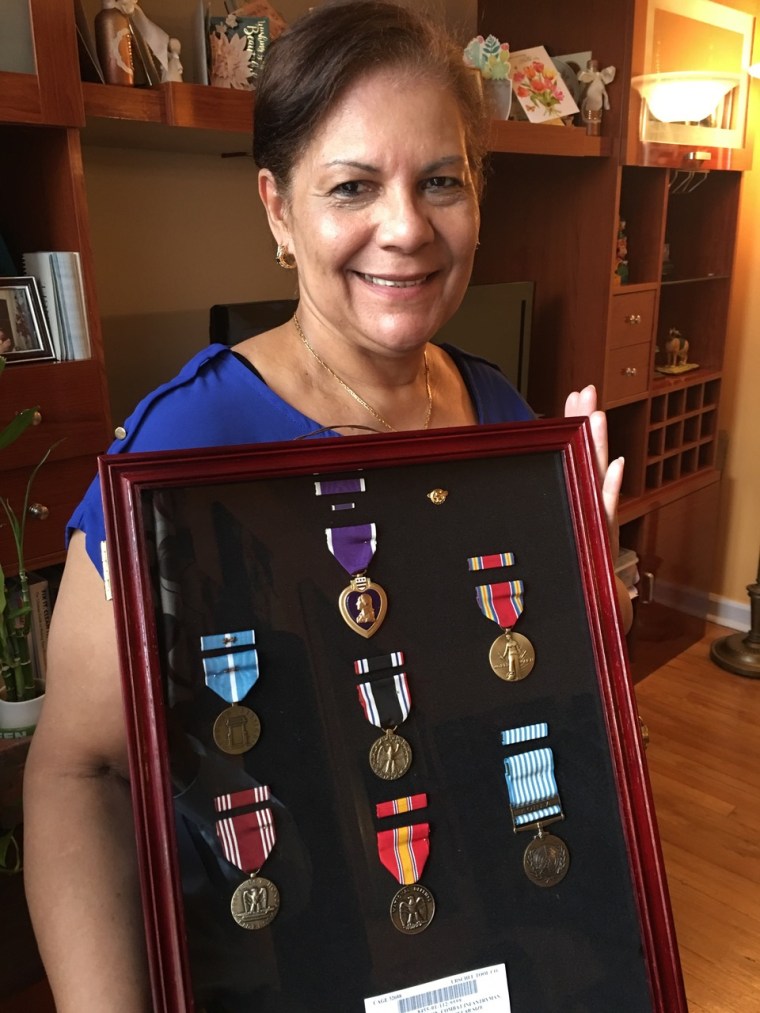 In 2016, Andino accepted a Congressional Gold Medal on her father's behalf at a ceremony in New York City.
Andino's mother coped with losing her husband on her own. "There weren't support groups or therapy back then," she said. "Some of the military widows used to send around like a chain letter to each other, but it was in English and my mother couldn't read it."
The Department of Defense, Department of Veterans Affairs, and groups like Tragedy Assistance Program for Survivors (TAPS) now offer support to Gold Star families. Several states also offer programs for Gold Star families as well.
However, Latinos often lag behind other groups in accessing mental health care, and there can be real or perceived barriers that prevent Hispanic families from seeking out resources available to them. Until 2005, American Gold Star Mothers did not allow non-citizens to join. It changed its policy following a backlash after the group denied membership to a Filipino woman in New York whose son was killed in Afghanistan.
Some families of mixed immigration status, wary of attracting the government's attention, may not seek survivor benefits.
"When we go to Gold Star family events, we do not see a lot of African-American or Latino families participating, said Carlos Arredondo. His son Marine Lance Corporal Alexander Arredondo, 20, was killed in Iraq in 2004. "Maybe some of that is our culture, because we don't want grief or bad things to go out of the house."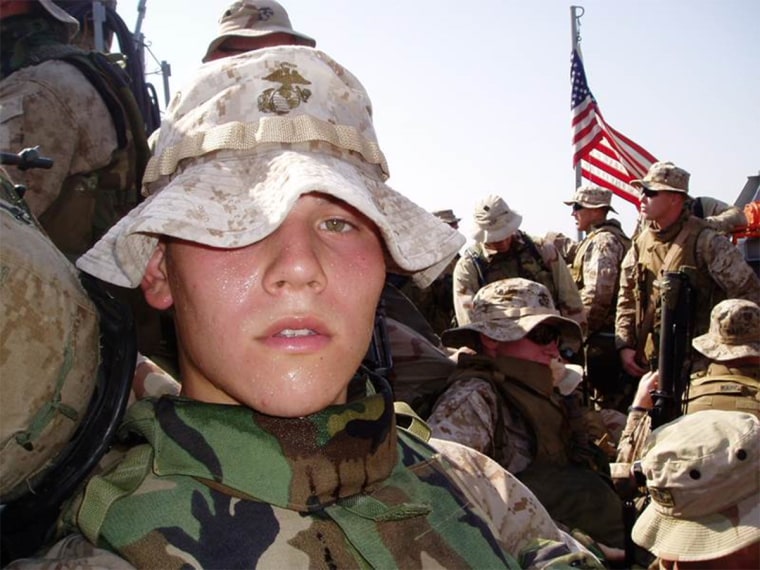 In 2012, Arredondo's son Brian committed suicide at 24, which his father believes was largely because he struggled after his brother's death. Today, Arredondo and his wife Melida run the Arredondo Family Foundation, whose mission is to empower Massachusetts military families in the prevention of military-related suicides and to provide other support services.
"The average person doesn't really know what the term Gold Star family means," said Melida Arredondo. "Memorial Day, along with Veterans Day and other holidays, is difficult, because your loss and what you're going through doesn't end. It's ongoing."
For Latino Gold Star families, holding on to the memories of their loved ones allows them face the future. Yet while helping others, receiving counseling, and finding a supportive community can aid the grieving process, the pain does not go away.
"I miss my boy," said Carlos Arredondo. "I miss having him at my side. I miss not seeing him, not talking to him, not loving him."
"That saying that time heals all wounds? It is not true," offered Veronica Ortiz Rivera, who has written a book honoring her husband. "But if you can find a way to accept that the loss will always be there, then you are better equipped to face the future."
Well-meaning people sometimes ask Ortiz Rivera if she is moving on. "No, I am not moving on," she said. "Javier will always be a part of my life. But I am moving forward because I have no choice. I am not moving on — I am moving forward."
Raul A. Reyes is an NBC Latino contributor. Follow him on Twitter at @RaulAReyes, and on Instagram at @raulareyes1.