For Jessica Azua, Pope Francis had articulated the very message that she and other immigration activists were taking that afternoon to Texas Gov. Greg Abbott.
The pope had implored lawmakers and politicians to see immigrants as persons, to see their faces and hear their stories. Thursday afternoon, Azua was leading a protest at an appearance by Abbott in San Antonio, where the activists asked Abbott to meet with immigrants.
"We want to take this message to Gregg Abbott to appeal to his faith and humanity and we want to ask him to meet him with immigrant families," said Jessica Azua, 24, an organizer with the Texas Organizing Project.
"Like the pope said, we want him to see our faces and listen to our stories and we want him to be reminded that he should be welcoming the stranger too," Azua said.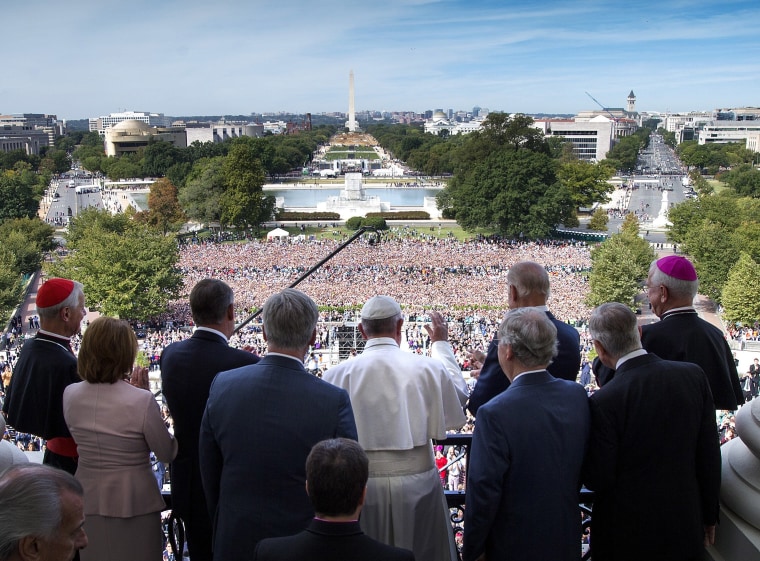 The immigration protesters also asked Abbott, who is Catholic, to drop the lawsuit in which his state has taken the lead.
A ruling in the suit filed with 25 other states has blocked the implementation of an executive action of President Barack Obama that would have shielded millions of immigrants here illegally from deportation and allowed them to work. The ruling is on appeal.
Azua said Abbott told her he would meet with immigrants and drop the lawsuit when President Barack Obama stops messing with the U.S. Constitution.
RELATED: Clash Over Immigration Goes Before Appeals Judges
A similar request was made of Abbott in Dallas by immigration activists, but he declined the meeting and did not give up the lawsuit.
Abbott's office did not respond to a request for comment from NBC News Latino.
Azua, 24, has been in the U.S. since she was 14 when she traveled with a group of people, none of them family but some of them friends of family, from her home of Tampico in the state of Tamaulipas, Mexico. She crossed the border into the U.S. illegally to join her father who had walked from Nuevo Laredo, Mexico to San Antonio three years earlier.
She has since graduated from Texas A&M with a bachelor's degree in business management and remains and works in the U.S. with a deportation deferral and permit through the Deferred Action for Childhood Arrivals program, DACA, that Obama authorized in 2012.
She said her parents and several family members would be eligible for Deferred Action for Parents of Americans, a program Obama authorized in an executive action last year that defers deportation for parents of U.S. citizen and legal resident children. That program also is on hold.
"We need to avoid a common temptation nowadays: to discard whatever proves troublesome." -- Pope Francis
A Catholic and regular church-goer, Azua said the pope's message delivered in Congress gave her hope, particularly his invoking of the Golden Rule.
"Like the pope said, 'We should not be tempted to discard the troublesome,'" she said, reciting an abbreviated version of a line from the pope's speech. The pope's full sentence was: "We need to avoid a common temptation nowadays: to discard whatever proves troublesome."
RELATED: Trump Announces Presidential Bid By Trashing Mexico, Mexicans
Rep. Raul Grijalva, D-Ariz., said he the pope's visit and speech raised the level of discussion on immigration, climate change and other issues that have been polarizing the nation and sending Congress into gridlock.
"Sometimes those of us in politics forget there is a moral imperative to what we do," Grijalva told NBC News Latino after the speech. "He told us we can't allow polarization to divide us into two camps. Common good. He said that more than once."
A Catholic but not a regular attendee at Mass, Grijalva said the pope inspired him as a Catholic to do more inside and outside the church.
"It fortifies the purpose I have and adds to that purpose, realizing the struggle, at the end, is going to turn out okay," he said.
Rep. Joaquín Castro, D-Texas, also Catholic, said though Pope Francis talked about the most daunting challenges facing the U.S., he also "reminded us of our nation's capacity to address these issues and do so with compassion."
However, the words of the pope on migrants looking for a better life were deemed naive and contradictory by Roy Beck, president of Numbers USA, a group that pushes for strict limits on immigration of all kinds. Beck said the U.S. would react differently if only a hundred of migrants were at the border "rather than tens of thousands" and "hundreds of thousands more who can be enticed. Numbers matter."
As important as the words on immigration were to listeners, several were electrified when the pope, from a Capitol balcony connected to the office of the Speaker of the U.S. House, addressed the crowd in Spanish.
"¡Buenos días!" the pope said to cheers, signaling his shift from speaking English in the House chamber. "Estoy agradecido por su acogida y su presencia." (I am so grateful for your welcome and presence here.)"
Surrounded by some of the most powerful people in U.S. politics, he then extended a blessing to the people he said were the most important there – children. He asked everyone to pray for him and to non-believers or who can't pray, to send him good wishes. He concluded in English saying "God Bless America."
He continued using Spanish with his next stop at St. Patrick's Catholic Church where he blessed a meal served by Catholic Charities. There, he told homeless people and workers at the chairity that their faces remind him of St. Joseph, who he said he goes to when he is in a "fix."
The son of God came into this world as a homeless person and knew what it was to start life without a roof over his head, the pope said.
"We can imagine what Joseph must have been thinking. How is it that the son of God has no home?" he said. He said the question may be the same that many of the homeless also ask.
"There are no social or moral justifications whatsovever for the lack of housing," the pontiff said at the lunch adding that God is "suffering with us" and "does not abandon us."
The pope got a thumbs up from Housing Secretary Julián Castro who saw the pope's remarks on television:
The use of Spanish has been a flashpoint in the 2016 Republican primary. GOP contenders Jeb Bush and Sen. Marco Rubio, R-Florida, are Spanish speakers and have used it in their campaigning, to the dislike of GOP front-runner Donald Trump, who has mostly criticized Bush about using it.
Duly Fernandez, a Mexican American from California who lives in Rockville, Maryland, saw a larger point in the pope's use of Spanish.
"I'm glad he spoke in Spanish because he acknowledged us (Latinos)," Fernandez said.
The number of Hispanics who speak Spanish at home, is a record 35.8 million in 2013 or 73 percent of Latinos ages 5 and older, according to Pew Research Center. At the same time, the number of Hispanics who are proficient in English, 33.2 million, is also a record and is growing. An estimated 54 million Hispanics live in the U.S.
"I liked that he spoke in Spanish," said Sergio Salinas of Seattle, originally from El Salvador, "in the language we Latinos understand."
At Catholic Chairities, the pontiff led those gathered in "The Lord's Prayer (Our Father)" in Spanish and attendees prayed along, reciting it simultaneously in English and Spanish.
This report includes material from NBC contributor Patricia Guadalupe.