Immigrant rights advocates and attorneys denounced President Donald Trump's latest move Monday to restrict asylum at the southern border as the "most egregious" and "extreme" policy targeting the form of protection by the administration yet.
"The administration has been trying to fight against asylum at the southern border for a long time now and if they are able to get away with this regulation, they have effectively ended it for the vast majority of the population that we see applying for asylum at the southern border," Sarah Pierce, a policy analyst at the Migration Policy Institute, told NBC News.
On Monday morning, the departments of Justice and Homeland Security announced that they would move to end asylum protections for most Central American migrants and other asylum-seekers coming to the southern border in the latest attempt to restrict the influx of migrant families coming to the United States.
The rule is set to publish in the Federal Register on Tuesday and would be effective immediately. It states that asylum-seekers who pass through another country before reaching the U.S. and do not attempt and fail to seek asylum there will not be eligible for the protection, according to a statement from the two departments.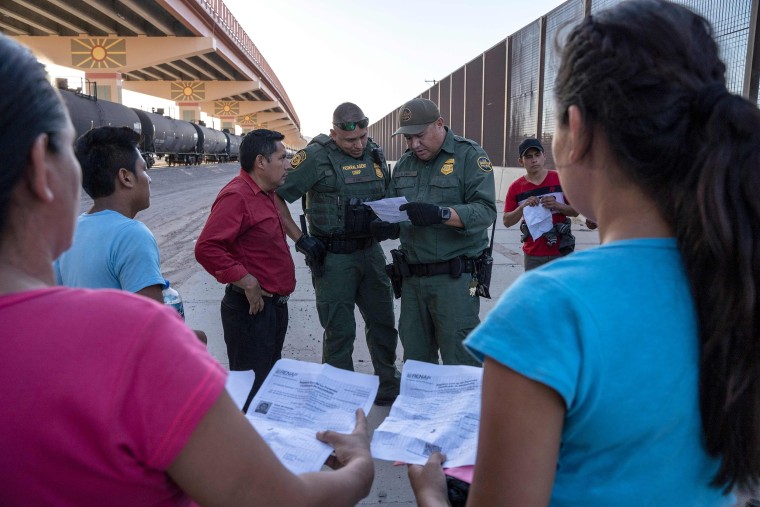 Keren Zwick, a litigator with the National Immigrant Justice Center, said in a news teleconference Monday afternoon that the rule was the administration's "most egregious attack on the asylum system" to date.
Charanya Krishnaswami, advocacy director for the Americas for Amnesty International, said on the call the rule would "fundamentally eviscerate the right to territorial asylum in the United States."
Meanwhile, Wendy Young, president of Kids in Need of Defense, told NBC News she believed the rule was the "most extreme" against asylum by the Trump administration.
Several advocacy organizations, including the American Civil Liberties Union, quickly vowed to challenge the rule in court. In the past, federal judges have blocked other attempts by the administration to change the asylum policy, most notably the president's effort to deny the protection to anyone who did not enter the U.S. through a legal port of entry.
Acting Homeland Security Secretary Kevin McAleenan said in the statement Monday morning that the rule "will help reduce a major 'pull' factor driving irregular migration to the United States and enable DHS and DOJ to more quickly and efficiently process cases originating from the southern border, leading to fewer individuals transiting through Mexico on a dangerous journey."
Attorney General William Barr called the interim final rule a "lawful exercise of authority provided by Congress to restrict eligibility for asylum."
The departments of Justice and Homeland Security did not immediately respond to requests for comment on criticism of the rule and threats to challenge it in court.
The rule has three limited exceptions, criteria which advocates said would be highly difficult for migrants to meet. The exceptions were for migrants who applied for protection in at least one other country before the U.S. and were denied, migrants who can show they meet the definition of a "victim of a severe form of trafficking in persons," or migrants who came to the U.S. through countries which are not parties to three international treaties regarding asylum and refugees.
Pierce said based on the language of the rule, "tens of thousands" of migrants already waiting in Mexico to legally seek asylum at a port of entry could be affected. The Trump administration's policy of restricting how many people can enter a port of entry to seek asylum in a day, known as "metering," has resulted in migrants waiting weeks or months in border cities across Mexico before they are allowed to make their claims.
"As of tomorrow, those individuals will likely no longer qualify if they haven't first applied for asylum in Mexico and been denied," she said.
The departments released the language of the rule Monday ahead of its publication.
The rule said that the new bar does not restrict the ability of migrants to seek two other forms of protection, withholding or deferral of removal and protection under the Convention against Torture.
But Pierce said that meant the migrants would be subjected to much more difficult standards "to get far less of a benefit" than asylum, such as not being able to petition for relatives to come to the U.S. She added that withholding of removal was a "very limited benefit" where while the U.S. says it will not deport you, "you don't actually have legal status."
Advocates also said the asylum processing system in countries such as Mexico and Guatemala were highly underresourced and unprepared to take on an influx of asylum claims.
Mexico was already expected to receive around 60,000 applications for asylum in 2019, much higher than the year before, Christopher Wilson, the deputy director of the Wilson Center's Mexico Institute, said.
"It is a system that has never been under anything of the type of stress it is under currently," he said, adding this was also occurring during a time of budget cuts for the agency.
He added that while some migrants may be able to have successful claims and build lives in Mexico, many of the border areas were incredibly unsafe and migrants are specifically targeted for extortion and kidnapping or other violence.
In Guatemala, theState Department's own human rights report in 2018 said "identification and referral mechanisms for potential asylum-seekers were inadequate."
"Both migration and police authorities lacked adequate training concerning the rules for establishing refugee status," the report said.
In its 2018 report on El Salvador, the department said as of July 31, only four asylum petitions had been submitted, three of which were denied and one was pending.
Young, of Kids in Need of Defense, said the system in Mexico was "grossly underresourced and understaffed." She said they also have a backlog of asylum cases and migrants may be held in "inappropriate or substandard conditions while they wait."
She said that while the rule affected all asylum-seekers at the border, children were left especially vulnerable.
"We spent 15 years slowly trying to set up a system that recognizes the unique vulnerabilities of unaccompanied children and in less than two years, they've decimated that system," she said.
Archi Pyati, chief of policy at the Tahirih Justice Center, said many women and children her group works with who faced violence or persecution in their home countries have experienced rape, sexual assault or domestic violence "during their journey or while waiting in Mexico."
"What we're going to see really is that a lot of individuals who really would merit protection are simply going to be turned away," she said.