WASHINGTON – Ismary Calderon was unwavering in calling for a government shutdown if Congress failed to find a way for immigrants like her to stay in the U.S. and work or study.
"They see the clock for the spending bill as a deadline. Well we have a deadline too. We have an expiration date for our lives," said Calderon, 25, a student at John Jay College.
She has been able to study and work in the U.S. without fear of deportation because of the Deferred Action for Childhood Arrivals program that President Donald Trump has scheduled to end on March 5. Calderon's DACA won't end until 2019 since she had renewed before Trump set the expiration date.
Although it was dark and temperatures were dropping again into the 20s, she had joined others in a vigil outside the Capitol Thursday night while the House was passing a bill that would keep the government open. It was uncertain early Friday whether the measure would pass the Senate, averting a shutdown at midnight.
Calderon had been part of days of protests by activists, both U.S. citizens and immigrants and many of them teenagers and young adults, who have been demonstrating at congressional members' offices.
"Once our DACA expires we can't work. We can't drive. We can't support a family. We can't go to school. I'm going to receive a full scholarship and I'll be losing that too, so they are taking literally everything away from us," Calderon said.
The protests continued Friday morning. Joseph Trujillo, a Texas A&M student, said at a news conference his trip to Washington this week was his first and his heart was broken by members of Congress who refused to hear his story and the struggles he and others faced. Other young people stood by holding up photos of their friends who are not documented or have DACA.
"We are not a bargaining chip or statistic or number," said Trujillo, who came to the U.S. from Lima when he was 5.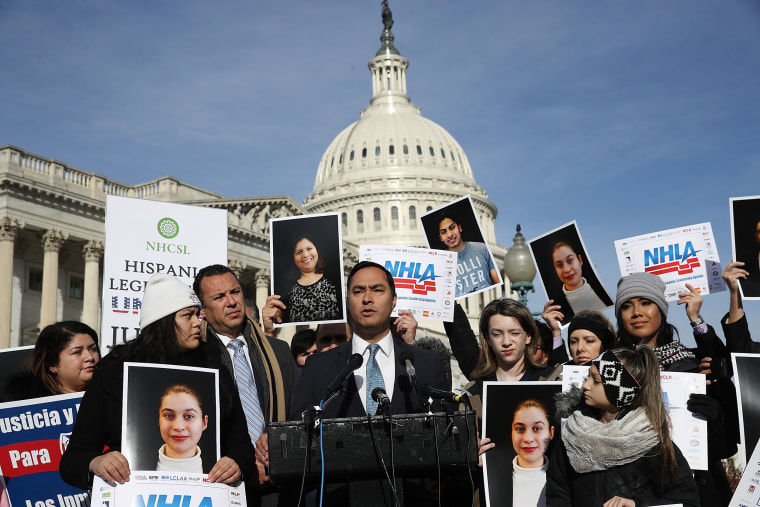 Monica, who did not give her last name and said she is undocumented, said at the news conferences that some member offices stopped talking to young activists and wouldn't even look at them.
"We are tired now. We came in happy and enthusiastic that we are going to do something and they are ignoring us," she said. "So what I am going to do next is bring 50, 200 and 250 more people."
Partisan division has brought the federal government to the brink of a shutdown, But activists have been instrumental in pushing Democratic leadership to refuse to keep government open if nothing was done for Dreamers.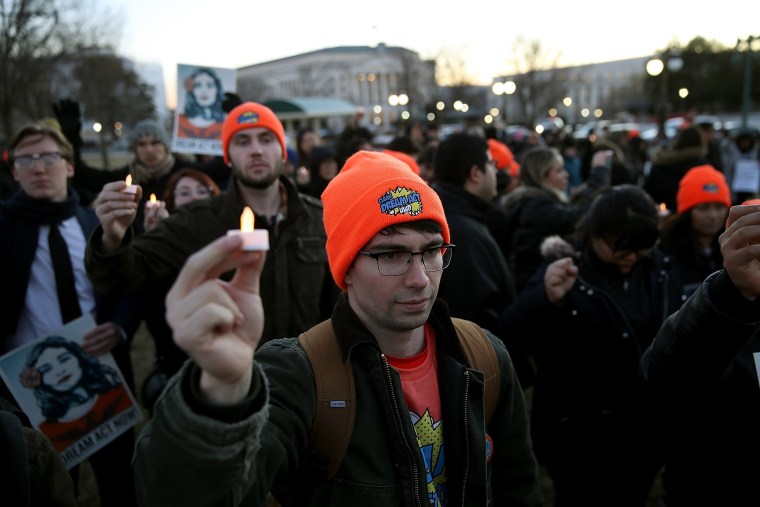 "They have to put their feet down," Calderon said. "Our communities are done taking the back burner. We are not going to allow this government to keep on burning our communities, keep terrorizing our communities."
Cristina Jimenez, United We Dream co-founder and executive director, said that the fact that the government is on the brink of a shutdown in part because it failed to come together on immigration, "speaks to the power of immigrant youth and our movement and the power of the progressive and labor movement that has coalesced together around this fight."
In addition, said Jimenez, the Democratic Caucus is staying together and is insisting that Dreamers, the Children's Health Insurance Program and other priorities are included in spending negotiations, "a testament to the power we have as a movement and a constituency that has gotten people to this point."
Some 200 people were participating in the latest round of protests, which also were held throughout last year. Organizers said they took their protests to all 435 House member offices and all 50 senators.
Calderon's support for Dreamers was shared by about 62 percent of Americans who wanted Congress to continue the DACA program, according to a December NBC/Wall Street Journal poll. Split by party, 39 percent of Republicans and 55 percent of Independents wanted it continued, the poll showed. Other polls showed support of over 80 percent.
Many activists have wanted Congress to go beyond DACA and provide a path to citizenship for thousands of other immigrants without status who were brought to the U.S. by their parents who also came to or stayed in the country illegally.
Among the supporters is Wendy Lerma Guerrero, 16, of Des Moines, a U.S. citizen, who also was outside the Capitol Thursday night with a group of other students. Their schools had allowed them to miss classes to participate in the democratic exercise. Guerrero said she was there on behalf of friends who she feared could be deported.
"They keep saying they are here for us but I don't think they are doing enough because we are still in the same position we were years ago and people have been fighting for over 20 years for this same thing and nothing has permanently changed," she said.
Carlos, who did not want to give his last name, previously had DACA but has been granted a U-visa because he was abandoned as a child. U-Visas are for crime victims. Although that visa allows him to eventually apply for legal residency, he said he was fighting for others. He said before he got the visa he was working 80 hour weeks to pay his community college tuition and continue his studies.
He said he'd rather not see the government shut down because he knows others will be affected, particularly those working in government.
"There's people who want to fight for DACA and shutting down the government will make them lose their jobs too," he said. "We have to be concerned about that too. We have to be concerned about each others' consequences."
Jimenez, however, said the shutdown may be what immigrants demanded, but she said Trump created the crisis.
"He did not have to terminate the DACA program," she said.