While President Donald Trump dedicated his inauguration speech last week to the "forgotten men and women" of the United States, another group of forgotten people in small towns and big cities across America prepared to defend their families, friends and neighbors from policy changes that could put them at high risk for deportation.
"Divide into two groups," instructs Ravi Ragbir, executive director of the New Sanctuary Movement Coalition—an immigrant rights group based in New York City. "Do you want to be an ICE agent? Or an immigrant?"
Every Thursday evening, a small group of undocumented immigrants gathers in a church in downtown Manhattan — which they call a "safe space" — to share their stories, get legal advice, and role-play real life detentions.
On this particular evening, the support group plays out the story of a green card holder who was detained by immigration agents outside of a New York City homeless shelter five days before his second son was born in 2014.
"We are preparing them to defend their rights against possible raids during the Trump administration," Ragbir told NBC Latino. "Role-playing is very important because it becomes automatic, it mentalizes people for when they are intercepted or accosted by agents. And unless you are doing this regularly, you become shocked and traumatized."
Trump signed an executive order on Wednesday that will direct federal funding to building a wall on the U.S.-Mexico border. It's one in a series of actions aimed at cracking down on immigration.
Related: 'I Feel Like I'm Under Siege': Reaction To Trump's Immigration Orders
On Inauguration Day, the president also got moral support from a Southern Baptist pastor, the Rev. Robert Jeffress, who compared Trump's intended immigration and infrastructure policies with the biblical story of the builder Nehemiah — chosen by God to build a wall around Jerusalem for the protection of its citizens.
But for other religious leaders, Jeffress' inauguration sermon contradicts the communal spirit of God.
"God characterizes our religious traditions with compassion," said Juan Carlos Ruiz, a Mexican priest and co-founder of the New Sanctuary Movement in New York. "God is welcoming and calls on us to build bridges, not walls."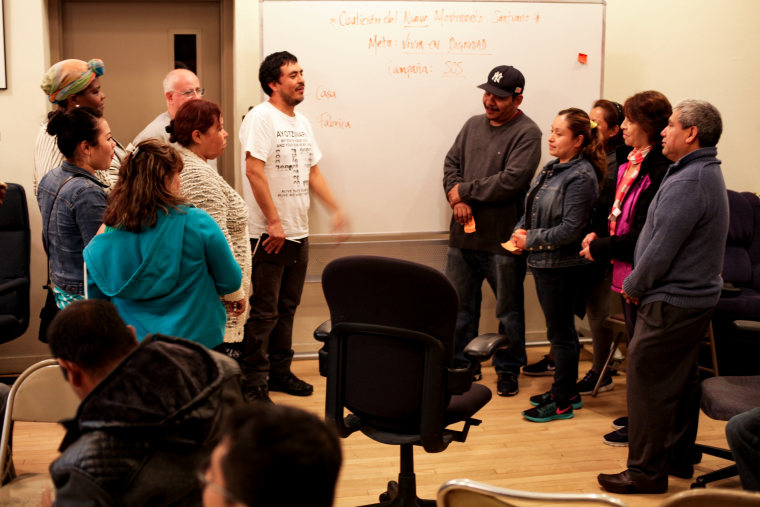 For Ruiz, and other immigration rights advocates, walls divide people into insiders and outsiders, natives and immigrants. And these divisions, the Mexican priest emphasized, can underpin hate and distrust.
"We cannot protect ourselves with an ideology of hatred towards others," Ruiz told NBC Latino. "We cannot confine ourselves with an us vs. them mentality because it denies humanity. And immigration is a global crisis that prevents us from seeing the humanity of others."
Related: Trump Signs Executive Orders Aimed At Cracking Down On Illegal Immigration
While immigrants are often characterized as loners, outsiders, who bounce from job to job and place to place like cowboys (and cowgirls) on a frontier, New Sanctuary Movement organizers remind immigrants that they are not alone, that immigrants are like trees with deep roots planted in American families, parishes and communities. And these roots can empower them to strengthen their faith and defend their rights.
"We cannot wait for politicians alone to decide our rights," said an undocumented Mexican mother with American-born children who attended a New Sanctuary meeting. "We are transnational families. We come here to work. We help build up our communities. And we need to work with our communities to become a solution."