WASHINGTON, D.C. -- Protesters marched to the White House Saturday with signs labeling President Barack Obama "Deporter In Chief" to pressure him to curb deportations of immigrants.
The protesters walked for about an hour from a park in the district's Mount Pleasant neighborhood to a park flanking the White House. It was one of several marches staged Saturday by groups hoping to force the president to use his powers to halt deportations of non-criminal immigrants.
"We are bringing the human suffering to the doorstep," said Marisa Franco, an organizer of the Ni Una Mas Deportación (Not One More Deportation) campaign of the National Day Labor Organizing Network.
But the Washington, D.C., protest of about 250 was small compared to other marches held in the years-long fight for immigration reform.
The national effort did not match the turnout seen in 2006, when millions marched in major cities and communities around the country, inspired by a harsh House-passed immigration bill. Those marches were largely aimed at Republicans, whereas Saturday's marches targeted the president, whom some in the rally said they had help vote into office.
"We are bringing the human suffering to the doorstep."
In Eloy, Ariz., numerous supporters converged at the front of a federal detention center, after traveling more than 60 miles from Phoenix, The Associated Press reported.
Hundreds of activists also marched through downtown Atlanta, the Atlanta Journal Constitution reported. Organizers had said events were planned in 70 cities.
In Washington, D.C., Gloria Ceros, 33, said she had marched other times in the past for the rights of immigrants, most recently in support of DREAMers, young immigrants who have grown up in the country after being brought to the U.S. illegally by their parents.
Despite the failures of Congress to pass immigration reform, Ceros said she was marching again because she was hopeful the government would one day listen to her pleas.
"We want reform for our children, that they don't deport them, that they stay with us or they stay here and they don't deport their parents," said Ceros, who is originally from Honduras.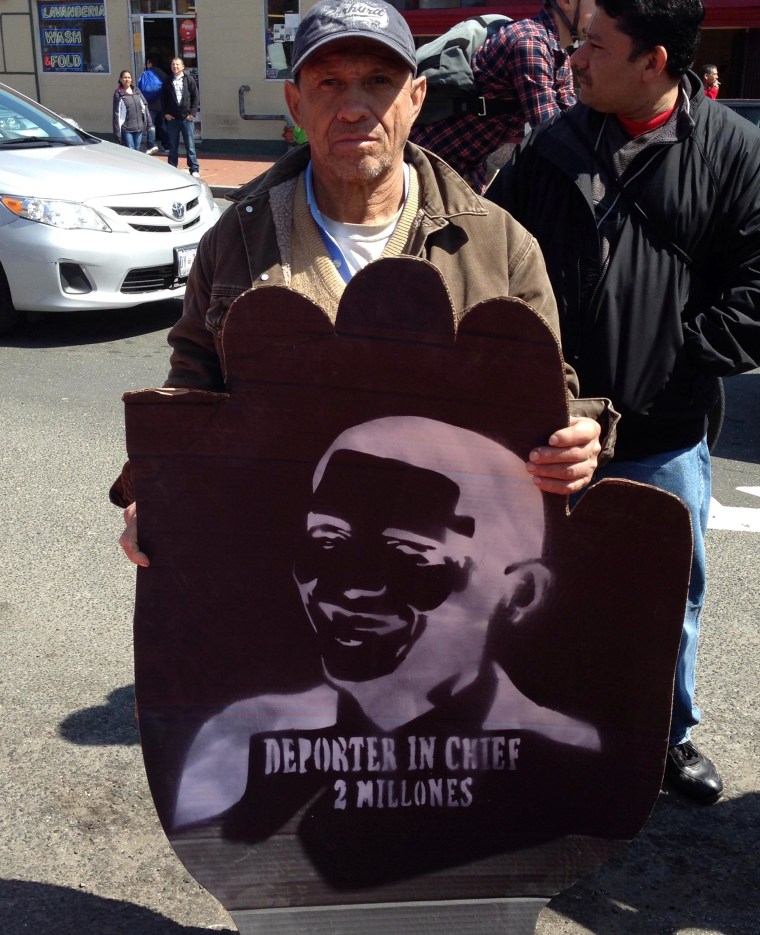 The protests, spearheaded by the National Day Labor Organizing Network, were held to mark the time advocates calculated the administration would hit a total of 2 million deportations under Obama.
The call for a slowdown of deportations has intensified since Republicans shelved efforts to pass immigration reform while they face competitive primary elections later this year.
The march was the first for Donna Huaman, 21, of Long Island, N.Y. A U.S. citizen, she said she was marching for her parents who arrived in the U.S. illegally 27 years ago from Peru in pursuit of jobs and a better life.
"Twenty-seven years of living in the shadows. They are about to reach retirement. They pay taxes. They abide by the law. They deserve papers," Huaman said.
Her message to Obama is to "stop making promises and do something," she said.
Participants in Saturday's march in Washington were largely members of grassroots groups. Although the demand for action on deportation by the president has been gaining support from moderate establishment groups, such as the National Council of La Raza, there was little evidence of their presence at this particular protest.
Obama has directed Homeland Security Secretary Jeh Johnson to scrutinize the agency's immigration enforcement tactics to ensure they are being applied humanely.
The Congressional Hispanic Caucus is to meet with Johnson Thursday to discuss possible options for curbing deportations.
"It is truly under his power to make an adjustment to the policy of focusing on the hard criminals," said J. Walter Tejeda, a member and former chairman of the Arlington County Board, who spoke to the crowd in both English and Spanish.
The protest also drew a handful of people demonstrating against the curbing of deportations, including Jim McDonald, who said he is with New Yorkers for Immigration Control and Enforcement. He stood near the park rally and held up a sign that read "No Amnesty."
"My belief is the majority of Americans are opposed to the rally going on now," McDonald said. He said the protesters' demand is the equivalent to wanting open borders. McDonald added that it was clear that's what the protesters wanted because they were delivering half of their speeches at the rally in Spanish.
"They demand legislation and don't even bother to learn English," he said.