Immigration bulldog Luis Gutierrez, Housing Secretary Julián Castro and other Latino heavyweights threw their support behind Hillary Clinton Thursday as the battle for Latino votes ahead of the Nevada caucuses has intensified.
Gutierrez and other supporters have been attacking Sanders as only recently becoming interested in the Latino community, saying he's the type of candidate who only comes around at election time.
"I have observed Sanders first in the House of Representatives and later in the Senate and I have to say, he was absent from most of the crucial immigration debates. And when he did show up, his record was troubling," Gutierrez said in an opinion article he wrote.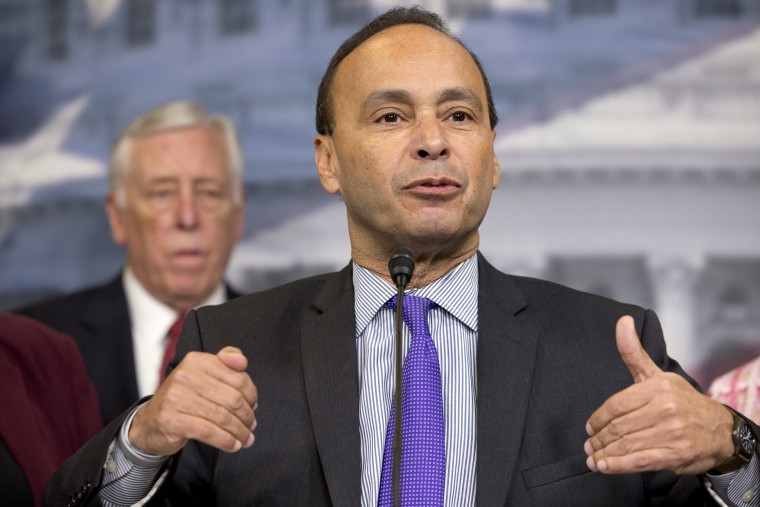 Nevada went strongly for Hillary Clinton in the 2008 primary, where she won the popular vote. Then candidate Barack Obama won the delegate count. But a recent poll showed she is now in a neck-and-neck race with Sanders, partly because of support from some young Latinos.
Clinton Nevada Director Emmy Ruiz: Hillary Built 'Vast' Latino Support
Gutierrez has been a longtime champion of immigration reform and carries heavy influence among Latinos because of his work on the issue as well as his willingness to stand against Obama - who he endorsed over Clinton in 2008 - regarding deportations.
Clinton supporters have cited Sanders' votes in 2007 and 2013 against immigration bills. Gutierrez wrote in his opinion piece about a House spending bill measure Sanders supported that prohibited the Department of Homeland Security from spending money on monitoring the Minutemen, a group of border vigilantes.
Civil rights icon Dolores Huerta added that Sanders' opposition to the 2007 immigration bill was "devastating."
Housing Secretary Castro, who joined Gutierrez on a conference call to herald the Latino leaders' support for Clinton, said Sanders "will continue to let us down and Hillary will be there for us and continue to fight for us." Castro has been considered a potential vice presidential candidate. He has not been in Las Vegas in the days leading up to the caucus because of scheduling issues.
Arturo Carmona, Sanders' Latino outreach director, bristled at suggestions that Sanders is a Johnny-Come-Lately to the Latino community when asked about it by NBC News Latino, saying it's rhetoric the Clinton campaign is relying on.
"I don't think the type of issues he's taken deal with immigration, but they deal with poverty, they deal with criminal justice reform. They deal with central issues that impact Latinos ... universal health care. These are systemic issues that disproportionately impact Latinos and I think the brand of politics the senator represents disproportionately represent us," Carmona said.
Related: Sanders' Latino Outreach Director: 'El Bernie' Has Strong Support
Sanders' supporters have complained that Clinton too is a latecomer to supporting immigrants and has flip-flopped on immigration reform, criticizing her boasting of voting for border fence while in a New Hampshire town hall.
Latino Victory Fund, a political group cofounded by actress Eva Longoria that seeks to expand Latino influence and presence in politics, endorsed Clinton. The others had done so earlier.
Henry Cisneros, who served as housing secretary under president Bill Clinton, arrived in Las Vegas Wednesday. Recognizing many of the Clinton canvassers may be too young to remember him and to know he was the second Latino mayor of a major U.S. city, he introduced himself to each person first.
He said the DNA in Hillary Clinton's campaign is to create prosperity for everyone and make sure it includes new populations.
"Every new political cause or faction has to have a way to denigrate what's come before, but that doesn't make what's come before wrong, when you consider that in Bill Clinton's era we had the longest economic expansion in American history that lowered poverty rates and lowered unemployment rates and increased small business formations and improved people's succession to college," Cisneros said.
"What's wrong with that? What's wrong with that picture? That's not old. That's what we need," he said.