Alexa, am I allowed to get a driver's license? Alexa, how long does it take to get a visa?
These are the kinds of questions immigrants are now able to ask the virtual Amazon assistant in Spanish and English, thanks to "Immigration Bonds," an Alexa Skill created by a 14-year-old Latina high school student at KIPP Brave High School in Austin, Texas.
Suguey Carmona first developed an interest in coding after taking a computer class in the sixth grade. She then joined Hello World, a K-12 computer science program based in Austin and San Francisco. She became exposed to different programming languages and discovered a way to meld her love of coding with an idea to help out immigrant families in her community.
"I chose to work on this technology because I see my own friends and family who have questions and who are struggling to make a living, and I thought maybe I should do something about it," Carmona, whose family is from Mexico, told NBC News.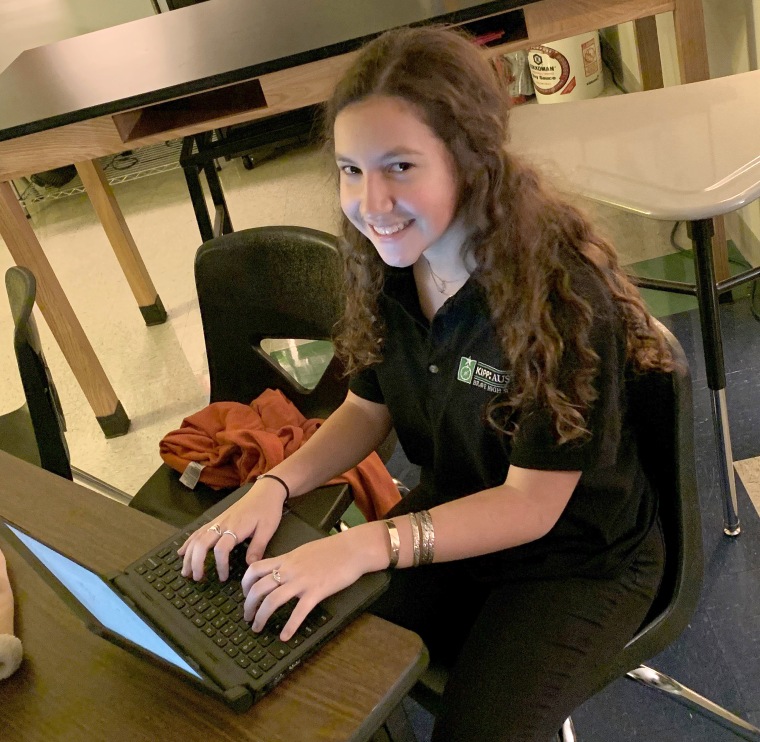 Language barriers and lack of access to information can be a major source of confusion for immigrants and can prevent them from accessing the services they need, according to numerous studies. Carmona's technology addresses those challenges by providing a judgment-free zone to ask questions at people's pace and in their own language.
After interviewing people about their most pressing immigration questions and conducting research on the logistics of obtaining paperwork, finding employment and navigating other areas of life as an immigrant, Carmona began working on the technology, which she named "Immigration Bonds." And so began a monthslong process paved with coding challenges.
"I'd work on it for hours each day," Carmona said. "I'd start a new paper and it would crash and break and I'd be like, 'Oh, shoot. Now I have to start over again."
Sabina Bharwani, the founder of Hello World, said that while she and her team assisted Carmona on her app, they let her struggle, which "made all the difference" when the teen was successful.
"Suguey struggled to use the Alexa interface, which is usually used by developers with 10-15 years of experience," Bharwani said. "It was a steep learning curve, but when she mastered it, it meant more."
Throughout this time, Carmona experimented with different ways to present the technology. She said she wasn't sure if she wanted it to be a video game for children or a phone app, but she ultimately decided on issuing it as an Alexa Skill because she liked "how you didn't need certain keywords for it to work."
"Alexa would reply no matter what you respond," Carmona said. "The problem with text boxes is that if you don't put in certain words or phrase things a certain way, it won't read it and that can make it really complicated for people who are trying to use it to get answers."
After developing a prototype, Carmona tested the technology with her friends and family and made adjustments as she saw fit.
Bharwani explains the app is available for Alexa users. Once they download it, they can ask Alexa questions directly, as they would for Apple's Siri or other voice-automated technology. For example, if a person wants to know whether they can apply for a driver's license depending on their immigration status, the app will respond by asking them where they live, for example, so that it can provide the user details based on their geographical location, as laws differs by state.
Those who are interested can download the "Immigration Bonds" app on the Alexa Skills store on the Amazon website.
Though the technology was published in the Amazon app store earlier this year, Carmona plans to keep adapting it and eventually publish it as an Apple app too.
More Latino coders needed
Latinos are vastly underrepresented in computer science and only make up 7 percent of the STEM workforce, according to a 2018 study from the Pew Research Center. And at Google — one of the largest tech companies — only 1.4 percent of its new tech hires in 2019 were Latina and less than 4 percent were Latino.
Stories like Carmona's therefore draw attention to the importance of endeavors like Hello World and Computer Science Education Week — which recently took place globally from Dec. 9-15 — which foster students' interest in computer science.
According to a 2007 College Board report, the benefits of being introduced to coding while young are immense, particularly for black and Latino students who are seven times more likely to major in it in college if they take a computer science class in high school.
"I want to continue coding and developing this app," Carmona said. "And then when I finish debugging this app and putting it in the Apple app store so people can use my creation, I'll move on to the next project."
"Suguey's story proved to us students are capable of achieving so much more than what our current K-12 education system thinks," Bharwani said. "As a former teacher, I saw how we tended not to overwhelm students by making things easier or dumbing them down, particularly in low-income schools, but Suguey shows that when we challenge students, we enable them to have a global voice."