LACKLAND AFB, TEXAS - On Thursday, I was among a group of journalists allowed to tour an emergency shelter recently set up in response to the rising numbers of children crossing the border alone. At first glance, the facility feels like a cross between a shelter for hurricane refugees and a typical kids' summer camp that you might see anywhere in the U.S. Yet everywhere there are reminders of the seriousness of this situation. For 957 children, mostly from Central America, this facility is now home, at least temporarily, as this crisis President Barack Obama declared a humanitarian crisis quickly expands.
Housed in a group of former military barracks, its official name is the Unaccompanied Children Temporary Shelter on Joint Base San Antonio-Lackland. Just since May 18th, the shelter has taken in 1,820 children, ages 12-17. Eight hundred and forty have been 'discharged' to vetted family members or other sponsors. The last official count made available to us was 957 children, as of June 3rd. But with a capacity of just 1,200, the pressure remains to find other safe places to relocate these children to, as quickly as possible.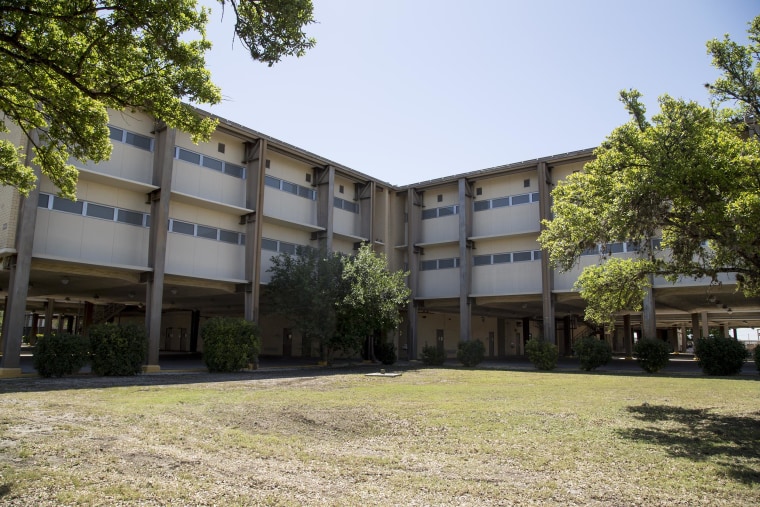 As we enter the base, we notice a definite security presence – we're told a number of state and local law enforcement officers patrol the perimeter of the shelter at all times. Once inside, we see a group of about 150 kids sitting on park benches, under the watchful eye of about a dozen staff members. A very enthusiastic staff member/DJ is on a microphone, encouraging the kids to sing along to international and Tejano music. Having lived in San Antonio for much of my life, it's the same music I've heard at several wedding receptions and parties. The kids seem shy and reserved at first, but quickly join in. In a few minutes, it's probably not unlike any other gathering the kids are used to, minus the obvious absences of their friends and family back home.
Just past this gathering, there is a makeshift outdoor lounge area of sorts; four clusters of chairs and couches, the kind of older dorm furniture you would see in a study lounge. Groups of boys are hanging out. So far, everything feels like summer camp and there's obviously a sincere effort to make these children feel at home.
We're taken into a case management area, where the challenging task of getting to know who these children are, where they're from, and where they have family is underway.
But the next stop on our tour does not have quite the same feeling. We're taken into a case management area, where the challenging task of getting to know who these children are, where they're from, and where they have family is underway.
In this room, about the size of a medium sized conference room, we see a ring of tables. Dozens of Spanish-speaking case managers with laptops are engaged in one-on-one conversations with refugee children. One boy seems upbeat, smiling, while another bites his lip, a serious look of concern on his face. Still another has his head in his hands as a case worker seems to be trying to reassure him.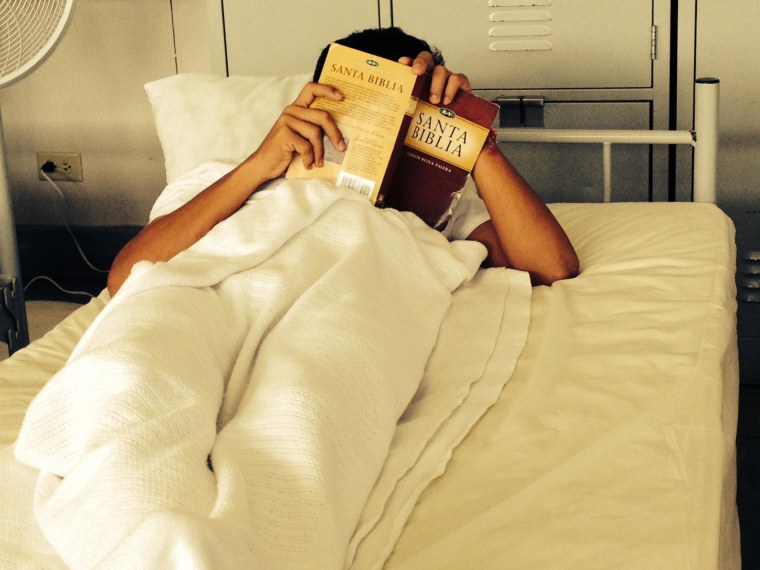 We're told that a total of 102 Spanish speaking case workers meet with 300 children in this room every day. Their primary task is to connect the kids with family. One key requirement - their family member or sponsor must agree to guarantee the children will show up at all of their immigration court appearances.
Next we're taken to a classroom where a group of 30 or so students are learning basic English. We're told the kids also are taught math, and that religious studies are available for those who are interested. Arts and crafts are also offered – and as a result, the walls of the classroom, just as in the dorm areas, have several drawings of flags of the children's home countries. I see one with the caption 'La Bandera De Guatemala'. Nearby are several flag drawings of Honduras, El Salvador, a few from Ecuador, and even one from Oaxaca, Mexico.
After that, we're shown a very elaborate medical clinic. A row of staff work busily at laptops, although we don't see anyone being treated. We're told that new arrivals are given medical check-ups, vaccinations, and treatments twice for scabies and lice. They are also given mental health assessments before being allowed into the shelter.
Arts and crafts are also offered. As a result, the walls of the classroom, just as in the dorm areas, have several drawings of flags of the children's home countries.
There are ample resources to ensure the children's health; 58 medical professionals are now on staff here, including an emergency room pediatric physician, nurse practitioners, registered nurses, LVNS, EMT paramedics and an advanced life support EMS unit. A pharmacy has been established on base and even a clinical psychiatrist is available. Sick children who may be contagious are taken first to a well-equipped mobile medical unit – and then to a hospital if necessary.
At the dormitories, there is literally a paramedic available on each floor. Here again, the feeling is more attuned to a summer camp experience. Seventeen 'House Rules' are posted, including 'No Bad Words, Please'. There is a staff member for every 12 kids in the dorms, which have open sleeping areas with rows of beds. We see boys hanging out, talking, playing board games. A few make eye contact and smile. Others seem very curious as to who we are, while one sits alone to the side, reading a Bible. We notice that the dorms are warmer than what we're typically used to as Americans. We're told that's because most of these child refugees are not used to air conditioning in Central America. Instead fans are used to cool areas of the large room.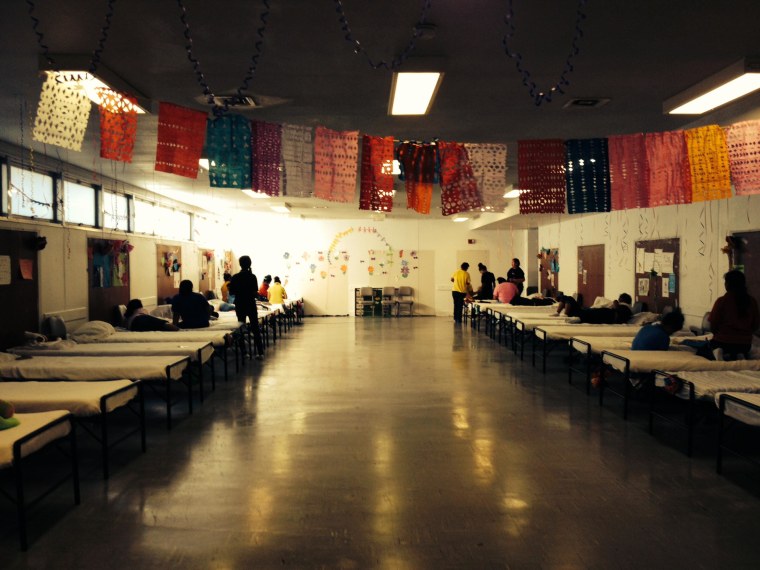 There are separate dorms for girls and boys. While the boys' dorm seemed more quiet and subdued, the girls' dormitory was more upbeat, energetic and social. We're met by several smiling faces and one girl who lets out a huge, "Hello!" as we walk by, getting a laugh from media and staff alike. We see one group of girls sitting in a circle on the floor with a staff member, talking. We can hear another group of girls just down the hallway laughing and giggling as music plays.
Next we're taken to a cafeteria area. As staff puts out apples, bananas and chicken strips, we're told the kids are served three meals a day and two snacks, and that cafeteria staff can feed a thousand children at one sitting. Wristbands and badges even alert the staff to which kids have food allergies.
As we're taken through storage areas and other parts of the shelter, we're shown several hand sanitizers and large containers filled with iced-down bottled water, both part of the effort to cut down on the potential spread of germs.
The shelter is necessary, according to Kenneth Wolfe of the Health and Human Services (HHS) Office of Public Affairs in Washington, because so many Central American children have flooded U.S. borders in recent weeks. Despite hundreds of successful relocations, the continuing waves of young refugees have prompted the opening of a second shelter for more 12 to 17 year-old unaccompanied children. It opens Friday at the Ventura County Naval Base in Port Hueneme, California.