NEW YORK, N.Y. — A dialogue and a plan of action to harness the Puerto Rican community on the island and the mainland is critical in order to pressure the U.S. to help lift the island from its current fiscal, economic and humanitarian crisis, the most dire in its 117-year-old history as a United States territory.
This was is the conclusion following a two-day conference that brought together administration and elected officials, policy makers, religious and community leaders and members of the Puerto Rican diaspora nationwide to discuss policy issues and articulate a response to the critical situation and begin to draft an agenda.
"We are in a period of crisis and people are seeking answers. Why are we here? Who is accountable for all this mess?" said Edwin Meléndez, Director for the Center of Puerto Rican Studies at Hunter College, who organized the Puerto Rico/Puerto Ricans Diaspora Summit held this past weekend. "The people of Puerto Rico, as much as the Puerto Ricans in the Diaspora, also want answers as to how we got here."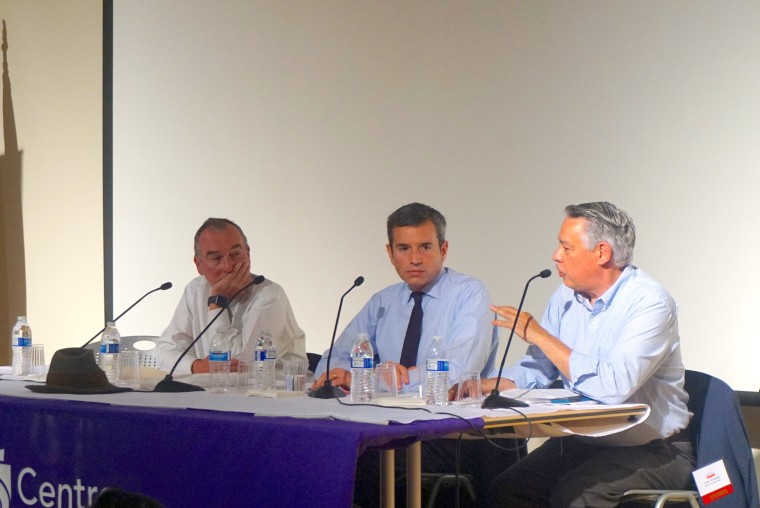 "Why now is because all of these historical factors have converged to create a very unique historical situation, and that has had tremendous consequences for Puerto Ricans in the Diaspora," said Meléndez.
Puerto Rico is fighting for its life. Since 2006, a prolonged recession brought about in large part by Congress's elimination of tax credits that spurred investment in the island triggered a staggering fiscal and economic crisis, crippling the island with a 72 billion debt and a looming budget deficit of more than 20 billion.
Health, education and public services have seen severe cuts because the government simply has run out of cash. Hospitals have closed entire floors and school bus operators have stopped providing school bus services for children to go to school. Home foreclosures are the highest in the entire country. More than 20 percent of housing units in the island are vacant today. A draconian sales tax of more than 11 percent further aggravates a desperate panorama.
"This is a Puerto Rican crisis, and I also should say that this is an American crisis," said Antonio Weiss, Counselor to the Secretary of the U.S. Treasury. The Treasury Department has been urging Congress to pass legislation to allow Puerto Rico to tackle its economic crisis.
Currently, almost half — 45 percent — of Puerto Ricans on the island live below the poverty line; 58 percent of these are children. The unemployment rate approaches 12 percent, sparking the largest out migration since the Great Migration at the end of World War II.
Over the last decade, half a million Puerto Ricans have left the island for the United States — robbing Puerto Rico of its most important asset — its human capital.
"What started as a recession, has evolved into a crisis of debt, and that debt is starting to show humanitarian consequences. We are out of time, there is no time left," said Treasury's Weiss.
Puerto Rico is already in default and faces massive payments of 433 million on May 1st. Congress has not decided on the framework of an "oversight board" advocated by the Republican members of Congress and the financial community. As proposed, the board, called PROMESA, or Promise in English, would in essence override the Puerto Rican government's authority and control any mandate on debt restructuring.
RELATED: Lin-Manuel Miranda Raps: 'Stop the Bleeding,' Help Puerto Rico
Democrats in Congress have advocated for Puerto Rico to be allowed access to U.S. bankruptcy laws - the way Detroit restructured under Chapter 9 — as a solution to its fiscal crisis.
Republicans balked and pushed for a resolution such as that endorsed recently by Wisconsin Representative Rep. Sean Duffy, Chairman of a House Financial Services subcommittee. The Duffy bill would force Puerto Rico to restructure its debt in conjunction with an enhanced oversight board, something that is not palatable to the island's government. Because of the impasse in Congress on what the oversight fiscal board should look like or if it is the solution at all, voting on the controversial bill by the House Committee will mostly miss the May 1st deadline, leaving Puerto Rico with no recourse but to default.
"The only way we have been able to advance any set of issues of great concern to the island is when (Puerto Rico) unites with the Diaspora. We have the level of influence with the elected officials," said Melissa Mark-Viverito, speaker of the New York City Council, herself born and raised in Puerto Rico.
Because of its current territorial status, Puerto Ricans on the island do not vote for representatives in Congress and don't vote for president.
RELATED: Puerto Rico Faces Default as Congress Stalls on Help
"This window of opportunity will not come again, in terms of being an election cycle, a presidential cycle, being the end of one presidency coming into another," she said.
"This is a painful time, but it is really an opportunity to make a difference and make our voice heard collectively. Nuestra isla nos necesita — our island needs us, and we have to come together and help her out."
Congresswoman Nydia Velázquez, (D-NY), who has been working on and reviewing Puerto Rico-related legislation, said at the conference that "from Florida to Chicago, New Jersey, Connecticut, New York, all of you - I hope that all of you come to the realization that the power is within us. And that the political climate in Washington is such that we do have leverage."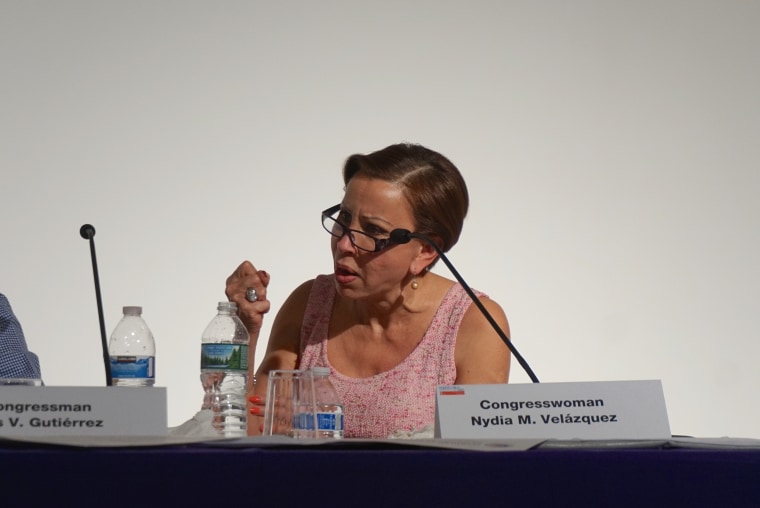 Like Velázquez, Illinois Democratic congressman Luis Gutiérrez and New York Democratic congressman José Serrano urged those present to continue exerting pressure on legislators.
The importance of getting Puerto Ricans in the mainland to vote, the possibility of a national mobilization to Washington D.C. and the need to assist community organizations in states like Florida, Massachusetts and Chicago to deal with the unprecedented influx of Puerto Ricans migrating to the mainland were also main topics of the conference.
RELATED: Puerto Rico Proposes New Debt Restructuring Deal as Cash Dwindles
The conference closed with an emotional speech from the Archbishop of San Juan, Monsignor Roberto González Nieves, who called for the union of all Puerto Ricans in the face of the island's crisis.
"We must reestablish our motherland. Otherwise, Puerto Rico will die; it is already emptying. Puerto Rico, as we have known it, is disappearing," he said.
"We, the Puerto Ricans are people of peace, but we are not a culture of resignation," said the archbishop. "We think, we fought, and now that we are cornered by history, by the economy, by the exodus of our talented and educated people, we have to do as recommended by Don Jose de Diego, who died in this city in 1918, in his poem "En La Brecha 'If weariness weighs down your spirit, do as the once barren tree: Flourish! And like the planted seed: Rise!'"