Sen. Catherine Cortez Masto brought Latinos forward hundreds of years Tuesday as she was sworn in to the U.S. Senate, becoming the first Latina and first Mexican American woman to do so.
"It's about time," Cortez Masto said in the hallway outside the Senate chamber just before taking her oath."I look forward to using my voice."
Vice President Joe Biden stood directly in front of Cortez Masto, D-Nev., as he read the oath to her and three other senators – all senators were sworn in groups of four. She was escorted in by the now former Senate Minority Leader Harry Reid who is passing the baton of representing Nevada to her.
Cortez Masto carried with her a Bible that she said was given to her by her aunt who had sponsored her for her confirmation, a Catholic religious rite.
"I have always said it's important to have diversity in the United States Senate," said the freshman Senator.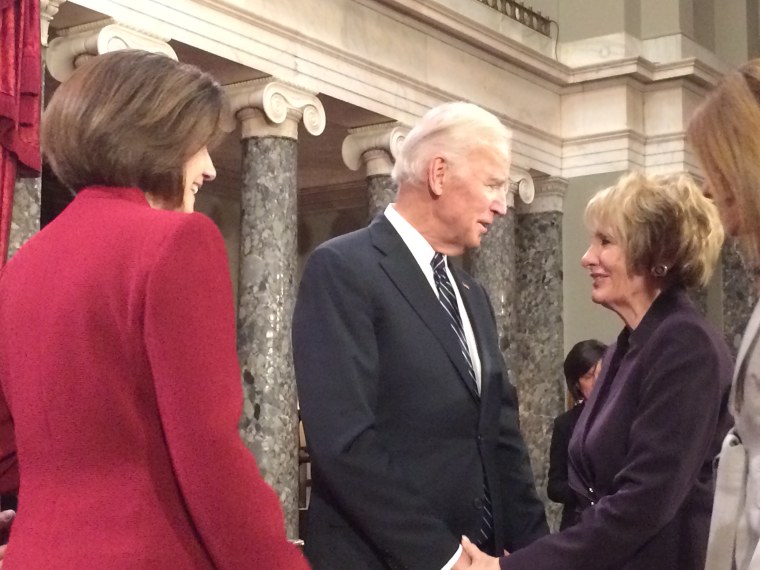 Several family members and friends joined Cortez Masto at the Capitol for her ceremony. Her mother Joanna was with her at the ceremonial swearing in, where members and their family get to take the oath one on one with the vice president. When Cortez's mother walked up to Biden, the vice president said he wanted to know what she was drinking, which at first seemed to take some family members aback. But Biden followed with a compliment that she looked young enough to be Cortez Masto's sister.
"It's the most amazing day of our lives. I've waited a long time for this. I'm not disappointed," Joanna Cortez said. Asked if she had expected her daughter would one day walk the halls of Congress, she said. "Do I have to be truthful? No I didn't really. It's always a wish a parent has for her children, although I never thought I'd be around to see it."
RELATED: Latinos See Historic 'Firsts' As New Congress Gets Started
Cortez Masto's grandfather was born in Chihuahua. Her father, the late Manny Cortez, was born in Las Cruces, New Mexico. Joanna Cortez's ancestor was from Italy.
The new Congress, the 115th, began work Tuesday, with both the House and Senate swearing in new members. Seven Latinos joined the House and were sworn in, to raise the number of Hispanics in the Congress to 38. Latinos are about 17 percent of the U.S. population.
There have been very few Latinos in the U.S. Senate. Cortez Masto joins Sens. Bob Menendez, D-N.J., Marco Rubio, R-Fla. and Ted Cruz, R-Texas.
Democrat Darren Soto, who was to become the first Florida U.S. representative of Puerto Rican descent sworn into Congress Tuesday, is bracing for what he thinks is coming as he faces a Republican-controlled Congress and the agenda of a Republican in the White House.
RELATED: Nevada: Catherine Cortez Masto is First Latina Elected to U.S. Senate
"I've been through at least one super majority in my time in the state Legislature where there was an onslaught of ultra-conservative pieces of legislation pushed forward," Soto, a five-term legislator, told NBC Latino on Monday.
"We have our voice. We have to rally the American people to the points we disagree with (their) agenda. There still will be the Senate and the interplay between chambers to determine to what degree whatever progress was made (by) Democrats is reversed," said the newly sworn-in congressman.