Brazil's doctors are calling for stricter measures as the daily coronavirus death toll shows little sign of easing — while the nation's turbulent politics threaten to undermine efforts to combat the spread of the outbreak.
Case numbers have been doubling approximately every five days, and according to a recent study by Imperial College London, Brazil has the highest transmission rate of any major country.
"Last week, we reached the lowest peak of quarantine compliance, and this week more serious cases started to appear," said Amanda Ferreira Santa Barbara, 26, a doctor at Sao Paulo's Unifesp training hospital.
She's one of several medical professionals who spoke to NBC News about their concern that Brazil needs more stringent lockdown restrictions to prevent further infection spread. "I believe we are reaching the worst stage."
President Jair Bolsonaro, who last month summarily dismissed highly-respected Health Minister Luiz Henrique Mandetta after publicly clashing with him over social distancing measures, has continued to downplay the impact of COVID-19 on Brazil's more than 200 million residents. This takes place as gravediggers have carved out mass burial sites at the edge of residential neighborhoods in the commercial capital Sao Paulo for days at a time.
Brazil's Ministry of Health says there have been more than 135,000 confirmed infections and more than 9,000 deaths as of Thursday night — but epidemiologists say a lack of testing capacity means those numbers likely fail to capture the grim reality. Brazil has the highest number of cases in the region.
"It's only getting worse," said Luca Silveira Bernardo, 31, an emergency room doctor at Unifesp. "The public health system is getting overloaded now. And we are experiencing a huge increase in the number of severe cases."
Last week, Bolsonaro responded to concerns in a manner that to many Brazilians epitomized a dismissive attitude that has seen his popularity ratings plunge precipitously during the crisis. "So what?" he said to a journalist who asked him about the rapidly climbing death toll. "What do you want me to do?"
The president has squandered the political support of almost all the country's 26 governors, and faces accusations from his recently resigned justice minister, Sergio Moro, a polarizing but high-profile prosecutor-turned politician, that Bolsonaro interfered in federal police investigations that involve his two sons.
"The city collapsed, the system collapsed"
The consequences of Brazil's history of corruption have been most keenly felt in the northern city of Manaus, a metropolitan hub that serves as a gateway to the Amazon basin. Official statistics indicate there have been just 806 COVID-related fatalities there. But with its limited hospital capacity, authorities have registered a death rate over the past several weeks that is three times higher compared to the same period during the last three years.
"Here in the Amazon, we don't have enough health care professionals to deal with the pandemic," said Adele Benzaken, 64, a public health expert from Manaus who ran Brazil's HIV/AIDS prevention program at the country's Ministry of Health until she was dismissed by Bolsonaro. "A lesson that I hope that the politicians can get from this public emergency, is that we have to invest more in the public health system."
She says decades of political incompetence and the siphoning away of public funds — the state's governor and the health secretary were both charged with corruption in 2018 — have helped highlight the disparity in health care among Brazil's regions and the weakness in Manaus. "When COVID came, that was exposed," she said.
"We do not have enough intensive care beds," she added. "The city collapsed, the system collapsed, two or three weeks ago." She cited statistics that roughly 20 residents a day are dying at home of suspected COVID-19, due to a lack of capacity in the city's hospitals.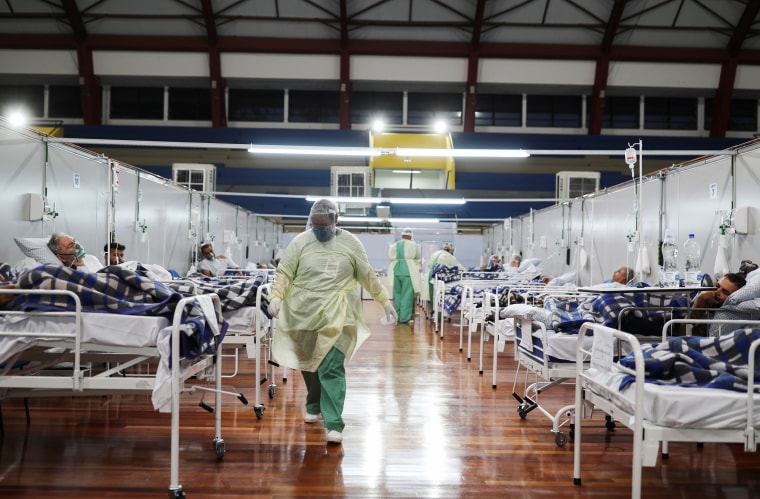 Paulo Eugênio Tavares, 33, who oversees several packed intensive care wards at two of Manaus' seven hospitals, the public Adriano Jorge Hospital Foundation and the private Check Up Hospital, agrees long-term investment shortfalls are an important factor behind the city's current challenges.
But even before Brazil's first recorded case came in late February, he says national health administration officials failed to see the risk from COVID-19 early enough and have been trying to play catch-up with ICU capacity ever since.
"Unfortunately we are treating only the serious cases, and the mortality is very high," said Tavares, who is one of the "many" medical professionals he knows to have been struck down by the disease in recent weeks. He recovered in late April after two weeks and immediately returned to work.
He said Manaus' geographic isolation, surrounded by water and reliance on slow cargo boats, has exacerbated shortages of medical equipment and supplies. The fact that many doctors have gone months without wages meant hundreds had left the city in search of better working conditions elsewhere.
Indigenous communities face existential threat
Further upstream from Manaus, authorities have recorded COVID-19 cases in roughly two-thirds of the 62 administrative municipalities that make up the state of Amazonas. Outside Manaus, there are no intensive care facilities for a region that is almost four times the size of California, and advocates for the tens of thousands of indigenous residents say they face an existential threat from infection spread.
"It's very difficult and very expensive to reach these remote areas," said Victor Salviati, head of institutional development at the Amazonas Sustainable Foundation, which has for more than a decade supported sustainable development for roughly 40,000 people, in 600 indigenous groups, stretching across Brazil's Amazon region. "You don't have the basic infrastructure to deal with, and to address this kind of pandemic that we are facing here in Brazil."
"The indigenous population in Brazil are at particular vulnerability in light of COVID," said Maria Laura Canineu, Human Rights Watch's country director, after global celebrities including Brad Pitt, Oprah Winfrey and Madonna signed an open letter calling on Brazilian authorities to safeguard the region's residents.
"Bolsonaro is a president that doesn't care about the indigenous people," Canineu said. "But Brazil is made up of many other democratic institutions who are concerned about what's happening in the Amazon, what is happening with indigenous people." She said international pressure is necessary to make the different groups move forward.
"If COVID is spread in this indigenous community," said Benzaken, who has worked for decades on HIV prevention in remote settlements and until last week sat on Manaus' COVID crisis committee, "it will be catastrophic."
Follow NBC Latino on Facebook, Twitter and Instagram.