Many filmmakers and TV producers have taken on the legend that has become Pablo Escobar. The man who became synonymous with the Colombian drug wars of the '80s remains a polarizing figure who stirred up conflict wherever his business went, ultimately landing him in the crosshairs of the United States' anti-drug efforts. Escobar created a new kind of class system in his country, one where poor men trafficked their way to riches and most likely an early, violent death.
But the legend of Escobar is not what captured Javier Bardem's attention. It was his friend, director Fernando León de Aranoa, who approached the actor with the idea of adapting the memoir of one of the people closest to Escobar, journalist Virginia Vallejo, the woman who became his lover and eventually led the U.S. feds to him.
Their project would eventually become "Loving Pablo," which opens in theaters Friday with Bardem playing the role of the infamous cartel leader and Bardem's wife, acclaimed actress Penélope Cruz, playing Vallejo.
Bardem told NBC News over the phone that he was intrigued by the way Vallejo's book deconstructed the myth surrounding the man.
"We wanted to make sure that there was nothing glamorous and iconic to talk about," said Bardem. "Actually, when we were shooting in Colombia, a lot of people would approach to ask us to not do the same thing of creating that aspect of glamour and coolness about being like Pablo Escobar. They don't want their kids to repeat their story."
Despite the precaution, Bardem said he didn't have any reservations before taking on the role.
"I believe that performing or making movies or any act — discipline, music, writing, sculpture, painting — it's about bringing mirrors of who we are to ourselves, to get a glimpse of what we can be for the better or for the worse," said the Academy-Award winning actor.
"The fact that we wanted to make it more human — it's not because we want to justify or excuse him but understand that he is not an alien coming from outer space. He's one of us," said Bardem.
Bardem said he studied Escobar to better portray him, watching several documentaries and reading extra books on his subject. He said he "found the key" to understanding Escobar's fondness for animals like the hippopotamus.
"You can tell that it's a part of his energy because the hippopotamus is the wildest, more criminal animal in Africa — more than the lion," he said. Bardem cites Escobar's notoriously quiet but deadly demeanor as one of the reasons he survived as long as he did.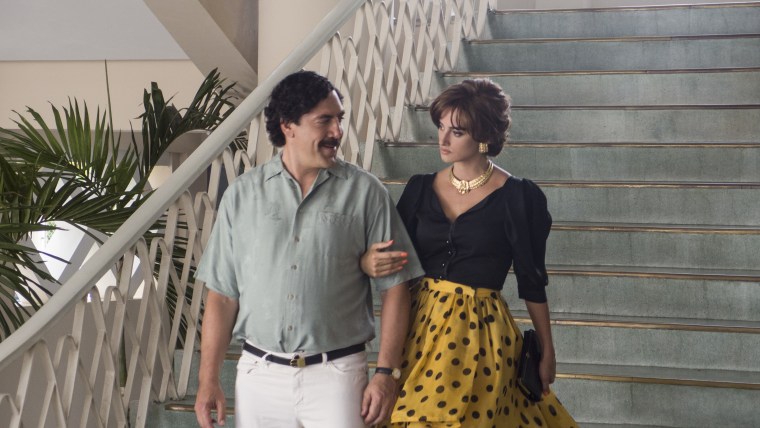 Unlike other versions of the Escobar story, "Loving Pablo" had the challenge of telling a Colombian story bilingually in Spanish and English.
"We wanted to make it in Spanish in the beginning, but we couldn't because of the budget," said Bardem. "Unfortunately, when they [movies] are in a foreign language, the buyers, they don't want to buy it because they don't want to read subtitles. We decided to go ahead and make it in English but always respect the flavor of the place and the accents."
The Spanish actor said he and other cast members took notes from two dialect coaches who helped perfect their street savvy Medellín accent, the city where Escobar lived, as well as the upper class accents of those from Bogotá, like Vallejo.
For Bardem fans, perhaps one of the most sensational aspects about "Loving Pablo" is that his co-star is played by his wife Penélope Cruz.
"I mean, she's a great actress," Bardem said about working opposite Cruz. "We know how to draw a line between the picture and reality, so we don't get confused. Our life is a different thing than any fiction that we play."
After "Loving Pablo" wrapped, Bardem and Cruz took on another movie together with Asghar Farhadi's "Everybody Knows."
"It is not common that we do movies together, or do two in a row," he said. "Since one movie was not related with the other, we felt we were safe, and we did it."
But Bardem notes that this will not become the couple's new normal. They want to reserve their energy, he said, for "when a good story justifies that we do it together."
FOLLOW NBC LATINO ON FACEBOOK, TWITTER AND INSTAGRAM.