Is it Jeb or "Heb?" Former Florida governor and likely Republican presidential candidate Jeb Bush is quite the topic on social media after a New York Times article reported he had marked "Hispanic" in a 2009 Florida voter registration application.
Mr. Bush, whose wife Columba is from Mexico, is fluent in Spanish, has lived in Latin America and has consistently appealed to Hispanic voters.
On Twitter, his name Jeb quickly became "Heb;" the letter "j" is pronounced "h" in Spanish.
And as was probably expected, there is already a new parody Twitter account, @YebBush.
The New York Times notes that the Florida Division of Elections requires an original signature because the information is affirming an oath that it is true.
On Twitter Mr. Bush said he had made a mistake.
Some downplayed the meaning of Bush's 2009 "Hispanic" designation.
"I would assume it's the way Hispanics can check either black or white - it's more of an identity thing," said Republican Danny Vargas, who recently announced his campaign for the Virginia House of Delegates.
"He has lived with Latinos so long that he's able to feel like he's part of the family," said Vargas. "The man's got a good heart, and anyway, the more the merrier," said Vargas, who is of Puerto Rican descent.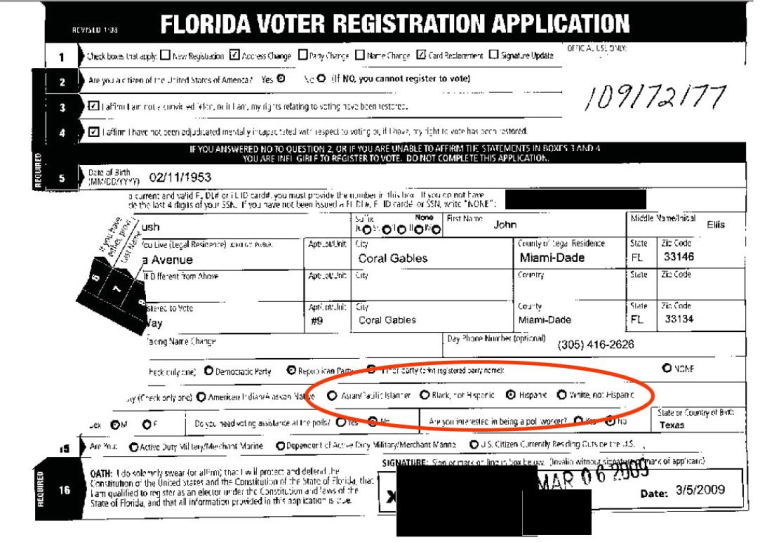 René Rocha, political science professor at the University of Iowa, said people can use identity "instrumentally."
"We don't usually see someone of European descent identifying as Hispanic, but if just highlights how malleable these identities are and how they can change based on a person's personal or social circumstances," said Rocha.
When asked whether Bush's "self-identification" as a Hispanic could hurt him politically, Rocha said that ultimately what will matter is the policies advocated by a candidate.
"It creates an interesting juxtaposition of someone being pushed in the conservative direction in terms of policy and yet making these appeals to ethnic communities - that's the part that could be interpreted as insulting," said Rocha.
More than other groups, said Rocha, Hispanics have fluctuated widely in their support of Republican candidates. George W. Bush got between 36 and 38 percent of the Hispanic vote in 2004, whereas Mitt Romney got around a quarter of the Latino vote after his "self-deportation" and other comments came to identify his outlook in the eyes of many voters.
Ultimately, said Rocha, "Latinos don't care about what box you fill in your census form but about the policies you advocate as a candidate."
Meanwhile, Democrats seized on the news, and the DNC put out a statement saying that on issue after issue, Bush was not "fooling anyone," saying he had recently said citizenship for undocumented immigrants was an "undeserving reward" and his economic programs have largely benefited the wealthy and corporations "over the middle class and hardworking Hispanic families."