Jharrel Jerome made history when he became both the first Afro-Latino and the first Dominican to win an acting Emmy for best lead actor in a limited series for his haunting performance as Korey Wise in Netflix's "When They See Us." He dedicated his award to the men, whom he called the Exonerated Five.
"Most importantly, this is for the men we know as the Exonerated Five," he said as the five men stood up in the audience raising their arms in triumph.
The five innocent black and Latino men had been falsely accused of a 1989 rape and assault when they were boys. They were plastered with the label Central Park Five. They were between 14 and 16 years old at the time.
The series documented the arrests, interrogations, coerced confessions and eventual incarcerations of the boys — Raymond Santana, Yusef Salaam, Antron McCray, Kevin Richardson and Korey Wise —on whom police and prosecutors pinned the rape and assault of a jogger in Central Park.
It brought new scrutiny to their arrests and prosecution and those who carried it out and helped bring further focus on racism in the criminal justice system.
The boys confessed after being questioned for many hours without parents or attorneys present. Donald Trump took out a full page ad in local papers calling for their execution and criticized the $41 million settlement with the city and still called them guilty years after they were exonerated.
Jerome addressed the men while dedicating his Emmy to them.
"This is for Raymond, Yusef, Antron, Kevin and King Korey Wise. Thank you so much." he said. "It's an honor. It's a blessing."
Jerome, 21, thanked his family, as well as filmmaker Ava DuVernay, who created, co-wrote and directed the four-part series. "When They See Us", which spans 25 years, earned 16 Emmy nominations.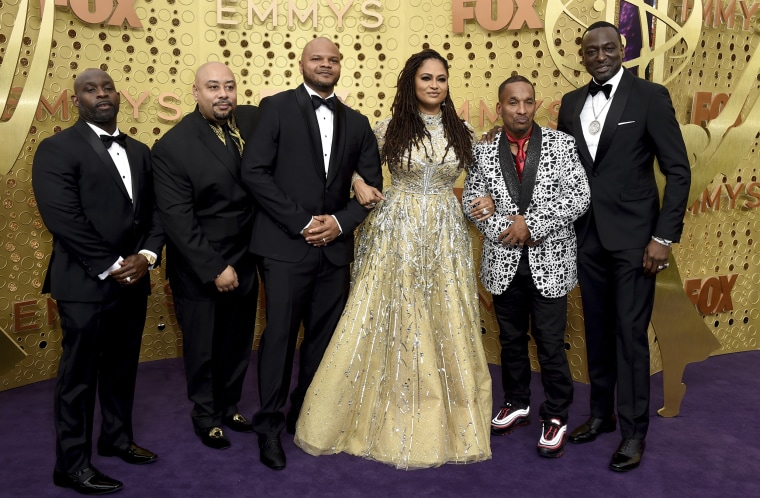 "I feel like I should just be in the Bronx right now, just chilling, waiting for my mom's cooking." Jerome said while accepting his award. "But I'm here in front of my inspirations."
Though the men were dubbed by the media as the "Central Park Five," DuVernay said she was intentional about not referring to them by that shorthand in the series' title.
"Korey, Anton, Raymond, Kevin and Yusef also tell the story of many young people of color unjustly ensnared in the criminal justice system," DuVernay said in a previous statement to NBC News. "We wanted to reflect this perspective in our title, embracing the humanity of the men and not their politicized moniker."
Wise was the oldest of the five boys. He was present when police arrested his friend, Salaam, and went along to the police station to support him. Police then charged Wise too. At 16, he was tried as an adult and served 13 years, the longest of the five boys, who became men in prison.
"We were just baby boys, we were just trying to be entrepreneurs, having fun being kids," Wise told The New York Times.
In addition to being the first Afro-Latino and Dominican to win an Emmy, Jerome is also the youngest person to win in his category. Before "When They See Us," he was best known for starring in Barry Jenkin's "Moonlight," which won the Academy Award for Best Picture in 2017.
Lin Manuel Miranda, creator of the award-winning Broadway play "Hamilton", tweeted about his encounter with Jerome on the red carpet.
"I hope this is a step forward for Dominicans, for Latinos, for Afro-Latinos," Jerome told reporters backstage after the win. "It's about time we're here."
Follow NBC Latino on Facebook, Twitter and Instagram.