A week after José was reunited with his 3-year-old son, the Honduran father said his little boy was not the same as before they were separated for nearly two months.
"It has been difficult to gain his trust like it was before," José, 27, said in Spanish from his brother-in-law's home in northern Virginia, where they are staying as they fight for asylum in the United States.
"He likes playing. He likes talking," he said of José Jr., as his son sat on his lap, sometimes wrapping his arms around his father's neck or playing with his father's hands.
But José, who asked that his last name and the city he is living in not be used out of concern for his family's safety, said that when someone, like his brother-in-law, goes to put José Jr. in the car, "he acts strange" and doesn't let them, and that worries him.
The father and son were separated in mid-May after arriving at the U.S. border following a grueling journey through Central America and Mexico and claiming asylum. José had fled Honduras fearing for his life after criminals killed members of his family and warned that he was next, according to José and advocates supporting his case.
Last week, after being held by the federal government about 2,000 miles apart from his son at one point, José was reunited with José Jr. in Immigration and Customs Enforcement custody in Arizona. The reunion followed a judge's order that more than 2,500 children taken from their parents as a result of the Trump administration's immigration policies be returned to them.
"It was the happiest day of my life since God gave him to me," the Honduran father said. "I was happy to hold him in my arms again, like I carried him when he was born."
But he was surprised when José Jr. did not appear to share his joy.
"He just kept looking at me, crying. He wouldn't talk to me," he said, adding that he believed José Jr. felt he had been abandoned.
"I imagine that he thought that, that I had abandoned him, because the boy would talk to me before, everything, and in that moment I would talk to him and he would just keep looking at me very serious," José said. "The next day in the afternoon he started to talk to me, but not with happiness as he would before."
Arriving in a new home
José said he felt like he could finally relax when he and his son boarded a bus last week in Arizona headed to their relatives in Virginia.
"I just looked at him while he was asleep in my arms and I caressed him because I was not able to have him in my arms for so long," he said.
"Will you buy me toys?" the boy asked his father at one point during their bus ride, José said. "Yes, everything you want," he said he responded.
But even that journey proved difficult. The bus they were traveling on caught fire, and many of their already few belongings were lost, according to Peter Isbister, a senior lead attorney with the Southeast Immigrant Freedom Initiative, a project of the Southern Poverty Law Center. José said even with that additional hurdle, all he focused on was having his son back.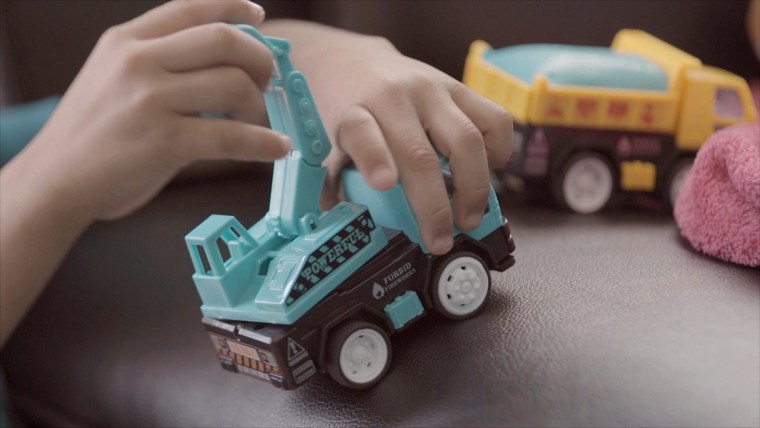 On Monday afternoon in his relatives' home, José Jr. played with toy trucks on the living room floor, gifts from the family's attorneys. He crashed a green excavator against a truck he called an ambulance.
"Oh no, the truck died!" José Jr. said in Spanish after slamming one truck into another. "We have to rescue him, let's bring in the firefighters," he added, making the noise of a siren.
"Don't break them," José said. "He's a little destroyer," he said of his son.
Later, José Jr. grew upset and tried to hide himself under a rug on the living room floor.
The battle for asylum ahead
The reunion of dozens of the youngest separated children with their parents is only one step in a long journey for migrant families hoping to stay in the U.S. permanently.
José is under ankle-monitor supervision while waiting for his asylum case to play out. He passed the first important phase in his application, the "credible-fear" interview, where asylum-seekers must convince an asylum officer that they deserve to have their case heard in immigration court, Isbister said Monday from the home of José's brother-in-law.
José has regular check-ins with Immigration and Customs Enforcement and at some point will go before a judge in immigration court who will decide if he can stay in the U.S. Isbister said José's case could take months to resolve.
"I would say that there's a good possibility that his case will come to trial in 2019, but it might well be anytime during 2019," he said.
The length of time for asylum cases varies widely across the country depending on the backlog of cases, and the process is slower for migrants who have been released from detention, like José, as opposed to those who remain detained, said Michelle Lapointe, a senior supervising attorney and acting deputy legal director at the Southern Poverty Law Center.
"In some cases, dockets are backed up for years," she said.
The Southern Poverty Law Center found attorneys in Virginia to represent José and is working to have his first court hearing moved from Georgia, one of at least three states where he was previously detained, Isbister said.
Asylum cases are difficult to win, with only 20 percent of applications granted last fiscal year, according to U.S. Citizenship and Immigration Services, which handles some cases.
A family still separated
While José has been reunited with his son, his wife and their infant daughter remain in Honduras. José believed it was too dangerous for the four of them to travel to the U.S. together.
While his wife was glad that José and his son had been reunited, she was sad because "we're also separated," he said.
José was just one of thousands of migrant parents separated from their children, but his case was unusual in that he was separated from José Jr. even after crossing the border at an official port of entry in Hidalgo, Texas, and claiming asylum there, which should not have resulted in him being detained, immigration advocates said. The Trump administration said Monday that since May 6, there were seven instances of migrant children being separated from their parents at ports of entry.
When previously asked about José's case, Customs and Border Protection said it could not comment on individual cases, but listed four reasons families may be separated, even if they are seeking asylum at a port of entry: the criminal or immigration history of an adult in the family; evidence of abuse indicating the child's safety is at risk; uncertainty over whether family members are truly related; and insufficient detention space to accommodate the family.
After his son was taken away, José was sent to detention centers in Georgia, Florida and eventually Arizona, where his son was staying at a shelter for migrant children.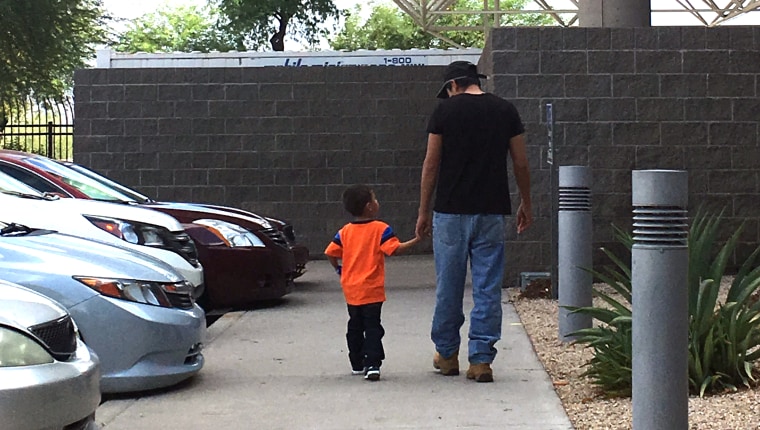 He was able to speak to his son only three times during their separation, twice by phone and once in a video call. All three times, the little boy did not speak, he said.
"I can't tell him that I was in a jail, and that's why he is somewhere else, that'll make him feel worse," José said. "He would just stare at me," José said of the video call. "He wouldn't want to talk."
Trauma's emotional scars
"I didn't eat, I didn't sleep thinking about him," José said of the time apart from José Jr. "When would I see him? Where could he be?"
Isbister said he was worried about the lasting effects the separations would have on families.
"The emotional scars that his son and even that he are exhibiting are apparent to the eye," Isbister said of José. "I'm quite saddened to see that our government is perpetrating trauma and causing scars to families in our name."
José said he would tell his son what happened when he is older, though he fears the separation will leave a permanent mark.
"I'm going to explain it ... so he knows it was not my fault that he was separated, or that I had left him abandoned," José said. "I am afraid that he'll be left with problems."