JUÁREZ, México — José Antonio Bidros is one of the many city and church officials scrambling to prepare for the pope's arrival Wednesday.
"Juárez is ready," said Bidros, the city's chief of communications.
For many, the pope's visit to Juárez affirms the change that has already begun to transform a city that has been devastated by years of drug-related violence, and that between 2007 and 2012, was considered the deadliest in Mexico.
Though the violence has waned considerably in the notorious drug trafficking corridor, it has not disappeared. Approximately 430 homicides were reported in 2014, a significant decrease from the more than 3,500 recorded in 2010.
But amid the shadow cast by the crimes that have long characterized the city, it seems Juárez is not just ready for Pope Francis but also for the hope he represents.
All along the main corridors of the border city, banner ads bearing images of Francis welcome the leader of the Catholic Church. The city has also consigned three books at central locations around town, where Juárez residents and visitors alike can inscribe personal messages and prayers. The books will be presented to the pope during his visit.
At one of these book-signing stations in Juárez's downtown was Clara Olivia Ramos, a nun who has called Juárez home for the past 50 years. Ramos, a petite woman whose gray hair was pulled into a discreet ponytail, spent minutes scribbling her message.
"I asked for blessings for my family and I asked for blessings for Juárez," she said. "I asked for change."
That change is already apparent. Last Sunday, hundreds of people congregated in the downtown, where they ate elote, a form of corn-on-the-cob, as well as elaborate tropical fruit bowls slathered in the savory-sour chamoy sauce from food vendors. They stood in crowded circles watching street artists and young folklórico dancers whose vibrant costumes blurred into swathes of color with every twirl. The vibe was energized and jubilant, and a far cry from the somber mood that has characterized the city in years past.
The Pope's visit signifies change on an emotional and spiritual level, but also on an economic one. "The dynamic of the town is back," says a city official.
By any measure, the city was bustling with activity. Bidros said this is reflected in the overall economy, as well.
"Public spaces have been recuperated, people are going out, the dynamic of the town is back," he said. "People are going to restaurants, people are going to events."
During the height of the violence, Juárez's economy took a hit. Businesses shuttered, residents left the city, and officials predicted that it would take the city 15 years to recuperate financially. A resident who grew up in the city and witnessed its evolution pointed to many of the bars and restaurants she once frequented that had since closed, each time repeating the same refrain: "Because of the violence…"
But Juárez is on the fast track toward recovery. In 2013, some 50,000 people were unemployed, Bidros said. But by November 2015, the city had generated 11,000 new jobs. Mexico's maquilas — or manufacturing operations — are setting up shop again in Juárez, which represents tremendous economic opportunity for the city.
In March of last year, Mexican superstar Juan Gabriel held a free concert in Juárez, which some 130,000 people attended, Bidros told me. But the scale of the pope's visit is much bigger than that. In many ways, Francis's visit not only signifies change on an emotional and spiritual level, but also on an economic one.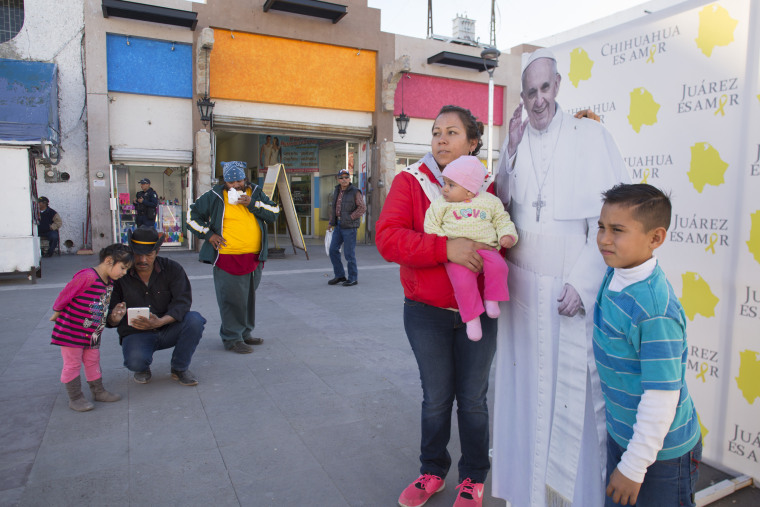 In fact, city officials estimate that the pope's visit will bring approximately one million tourists to Juárez—nearly doubling its current population. Hotels across the city are fully booked, and in an effort to accommodate everyone, the city has even asked malls and other private businesses to open their parking lots to pilgrims, so that they may camp there.
The pope's visit has also instilled confidence in others to visit the city. Karmin Strain, an El Paso resident who has family across the border, said she hadn't visited Juárez for 15 years. But she recently signed up to participate as a medic for the 25-mile-long human chain that will protect Francis as he makes his passage through the city. In preparation for her role, she's been crossing the border more frequently.
"A lot has to do with the terrible reputation it had of the drug cartels and how dangerous it was, and the fear," Strain said, standing in the midst of Juárez's downtown for the first time in years. "Today, I've been proven that I'm incorrect. I'm just flabbergasted that it's so beautiful."
She added, "I think it's opening El Paso's eyes to what a wonderful country Mexico is and what a beautiful city Juárez is," she said.
Flyers of missing women that were posted up along the streets were stark reminders of the pain that still plagues the city.
Still, Juárez has a ways to go before it recovers fully from the trauma of years past. Flyers of missing women that were posted up along the streets were stark reminders of the pain that still plagues the city. And Anita Cuéllar Figueroa, who wears a button of her daughter who went missing in 2011, along with a rash of other young women, carries that reminder daily.
Figueroa is one of several mothers of missing children who have been given front-row tickets to see the pope. For her, the significance of his visit is resounding.
Related: Historic Sentences Handed Down for Women's Killings
"Faith is the motor of my life; it is what keeps me upright," Figueroa said. "If I didn't have my faith, I wouldn't be able to live my life and live through these circumstances."
Figueroa said that young women continue to go missing in Juárez, and that she hopes the pope's presence in their city will help raise awareness to bring them back.
"I take it as a blessing," she said of the pope's visit. "Juárez has been chosen to heal and to send a message of peace and harmony. For me, it doesn't matter that Juárez has this past. I can still be free, and that's something that will be reinforced by his visit."
In many ways, the pope's arrival to Juárez is sending a message to the rest of the world, as well: Juárez may be badly bruised, but it is not broken.