LOS ANGELES — The hotel busboy who came to Robert F. Kennedy's aid when the New York senator was shot in Los Angeles has died.
The Los Angeles Times reported Thursday that Juan Romero died Monday in Modesto, California, at age 68.
Longtime friend and veteran TV newsman Rigo Chacon of San Jose told the Times that Romero suffered an apparent heart attack several days earlier.
Romero was a teenage busboy in June 1968 when Kennedy walked through the Ambassador Hotel kitchen after his victory in the California presidential primary and an assassin shot him in the head.
Romero held the mortally wounded Kennedy as he lay on the ground, struggling to keep the senator's bleeding head from hitting the floor.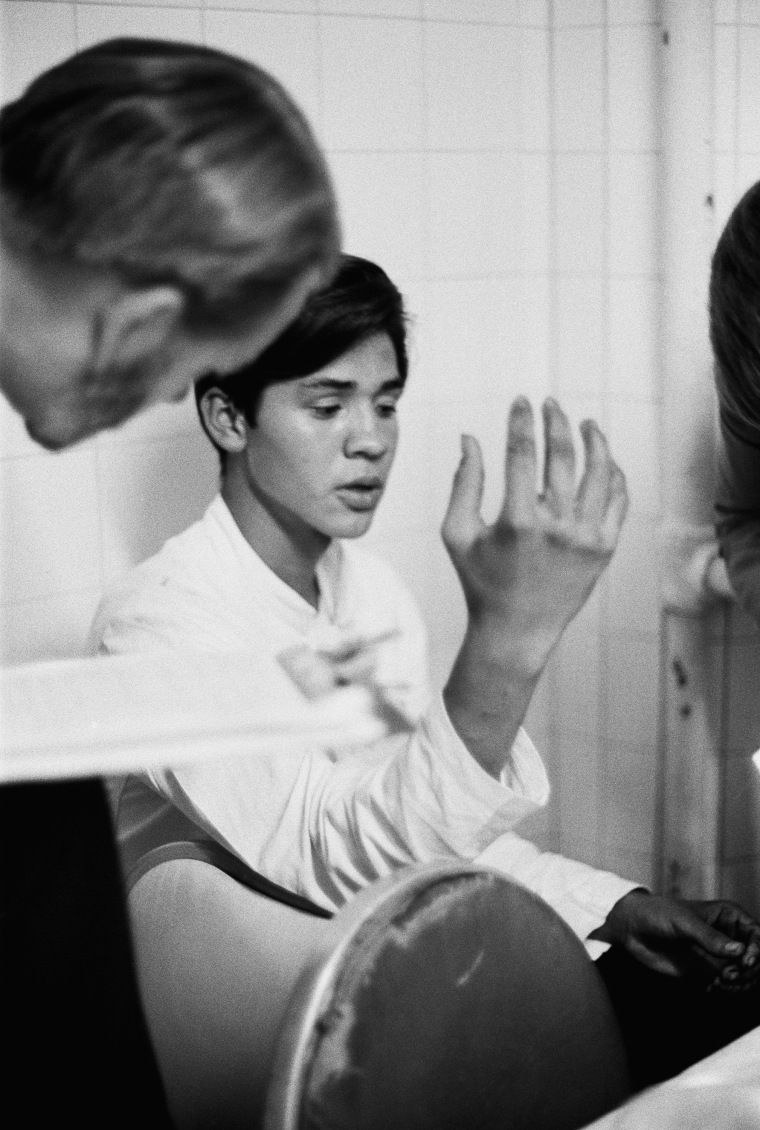 The moment captured on film haunted Romero because Kennedy stopped to shake Romero's hand and was shot seconds after that.
For many years, Romero blamed himself for Kennedy's death — wondering if he could have done something to prevent Kennedy from being shot. Romero often asked himself what would have happened if Kennedy had not stopped for the handshake.
But decades later, Romero said he no longer felt the same guilt, thanks in part to the support of Kennedy fans who say the former busboy was an example of the type of people Kennedy sought to help in making racial equality and civil rights a cornerstone of his life's work.
Romero rarely granted interviews but recently made himself available for the Netflix documentary "Bobby Kennedy for President," StoryCorps and others to talk about the hope Kennedy inspired that remained with him 50 years later.
"I still have the fire burning inside of me," Romero told The Associated Press earlier this year.
Born in the small town of Mazatan in the Mexican state of Sonora, Romero moved to Baja California until his family received permission to bring him to the U.S. as a 10-year-old. The family lived in poor East Los Angeles and he attended Roosevelt High School the year that Chicano students started organizing walkouts to protest discrimination against Mexican-American students.
But Romero's stepfather "ruled with an iron hand," and the teen feared he'd face trouble at home if he took part. Instead, Romero got a job at the Ambassador Hotel as a dishwasher and later a busboy.
Romero met Kennedy the day before the California primary, when the senator and his aides ordered room service at the Ambassador Hotel. Romero was on duty and came into the room with a group of other busboys. He saw Kennedy toward the back — one hand held a curtain and the other gripped a phone. Kennedy put down the phone and waved Romero to come forward.
"All I remember was that I kept staring at him with my mouth open," Romero said. Kennedy grabbed Romero's hand with both hands and said, "thank you." For a moment, there was silence.
"I will never forget the handshake and the look ... looking right at you with those piercing eyes that said, 'I'm one of you. We're good,'" Romero said. "He wasn't looking at my skin, he wasn't looking at my age ... he was looking at me as an American."
Voters went to the polls the next day and that night Kennedy thanked supporters in the hotel's Embassy Room and then departed, going through the kitchen where a gunman opened fire.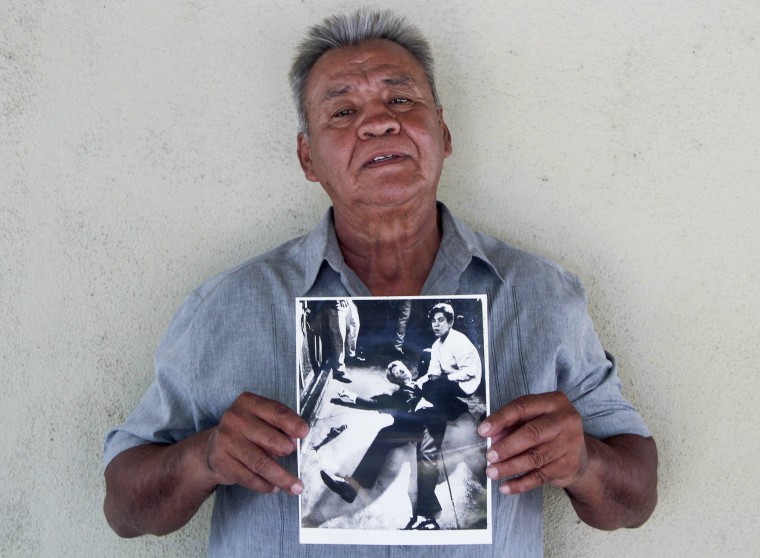 Romero ran to Kennedy. News photographers captured pictures of Romero next to the bloodied Kennedy — images that would be seen all over the world.
"Is everybody OK?" Kennedy asked. Yes, he said. "Everything will be OK," Kennedy said before losing consciousness. Romero put a rosary in Kennedy's hand.
Kennedy's wife Ethel — at the time pregnant with their 11th child — ran to her injured husband and pushed Romero away. Romero turned and saw a group of men punching the gunman. "I felt my hand making a fist to join in," Romero said. "Then I thought, what's the point?"
Kennedy was pronounced dead at a hospital hours later at age 42.
FOLLOW NBC LATINO ON FACEBOOK, TWITTER AND INSTAGRAM.