Julián Castro, who started his 2020 presidential campaign saying he was not born a front-runner, pushed fellow candidates to the left on immigration, housing, criminal justice and other issues but ultimately didn't get the support he needed to move beyond his underdog status.
"¡Ganarémos un día (One day, we will win!)," Castro, a former Housing and Urban Development secretary under President Barack Obama, said at the end of a video message in which he announced his exit from the race Thursday.
A Stanford University undergrad and a Harvard University law graduate, Castro attempted to strike a balance between raising the profile of Latinos and other marginalized groups and appealing to non-Latino voters in an election when Democrats want a sure bet to beat President Donald Trump.
Castro celebrated his Latino roots, choosing a Selena tune and embracing and championing progressive immigration policies despite the potential it might pigeonhole him. He also sought to build a multiracial coalition similar to the one that had swept Obama to victory.
But his story — the son of a single mother and the grandson of a Mexican immigrant, overcoming a lower-income childhood to become a member of Obama's Cabinet — did not catch fire with enough voters to draw in the millions of dollars needed to sustain his campaign.
"Very sad, very sad," said Joe Enriquez Henry, a national adviser with the civil rights group League of United Latin American Citizens, describing his reaction to Castro's departure. Henry had endorsed Castro.
"He's the voice of 60 million Latinos in the United States. We are losing our voice for our community during this presidential campaign," said Henry, who also is LULAC's Iowa political director.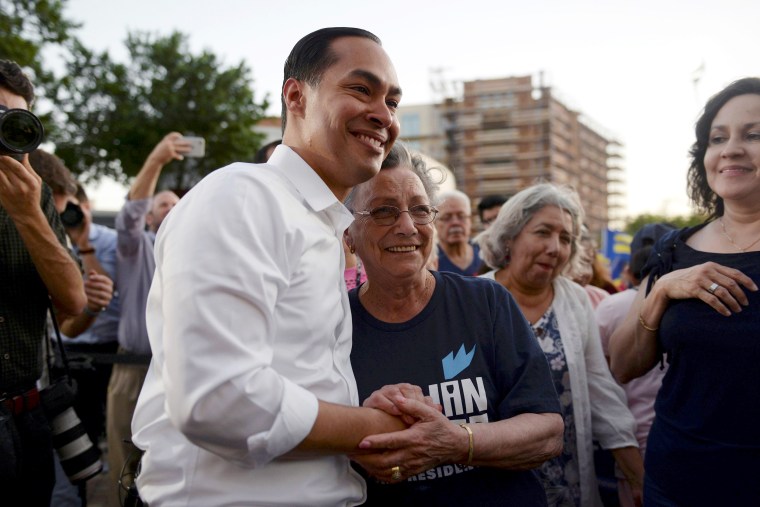 "I'm certainly disappointed he didn't make it further in this race. I wish he would have made it to Nevada," said Juan Proaño, a Democratic consultant and the CEO of Plus Three.
Proaño said the competition for fundraising resources was a big factor impacting the campaign, "and the fact he was not able to get traction in the polls was a key indicator he had to leave the race."
Castro was seen by some as too reserved at the start of his campaign. But he became more vocal during the debates. Although his campaign gained momentum on his immigration proposal — and tangling with fellow Texan Beto O'Rourke in a debate over it — it seemed to stall in a clash with former Vice President Joe Biden that some suggested amounted to ageism. But even Biden noted the impact of Castro's campaign in a tweet Thursday.
Castro did not qualify for the last two debates, though he was active on the campaign trail and on social media during the two events.
In the campaign's final months, he had become outspoken about the lack of diversity on the Democratic debate stage and in the party's nominating process, which starts with Iowa and New Hampshire, two overwhelmingly white states.
Although Castro had a small staff, his campaign manager, Maya Rupert, was the only African American to lead a campaign this election cycle.
A record of 'firsts' in policies
Although Castro's fellow candidate, Sen. Elizabeth Warren, D-Mass., is often credited for her detailed policy plans, Castro's plans were equally sweeping and often praised for being "intersectional." His labor plan made sure to include farmworker rights, while his education plan addressed housing segregation and its effect on schools.
Castro often scored some "firsts" in the campaign, being the first to put out a plan or call for a certain policy.
"When Julián Castro showed up on the stage, it really created a lasting conversation," said Amanda Rentería, the former national political director of Hillary Clinton's 2016 campaign. "Whether immigration, gun violence or talking about different communities of color, he was the one on the stage that would name names when other people hadn't."
Castro proposed taking immigration enforcement back to a time when crossing the border illegally was treated as a civil, and not a criminal, violation.
The idea was adopted by Warren and supported by most other candidates with a show of hands in an early debate. But the proposal was also criticized by some as playing to the Republican rhetoric on Democrats wanting "open borders."
It's a position that candidates still in the race will have to wrestle with in the coming months.
During his campaign, Castro visited with homeless people living in underground tunnels in Nevada, listed by name the victims of police violence and repeatedly said police violence is gun violence, often drawing his loudest support and occasional standing ovations when he did so.
Castro made Puerto Rico his first stop on the campaign trail, focusing attention on the island's continued struggle to recover from its financial crisis and the devastation caused by Hurricane Maria and highlighting disparities based on the island's territorial status.
He issued a policy on lead in drinking water while visiting Flint, Michigan. He made the climate change debate more inclusive by adding environmental racism and environmental justice to the discussion; he also called for reproductive rights for the transgender community.
LULAC's Henry said he agrees with Castro that some of the structure of the political process, from the caucuses to the polls, work against candidates of color.
Albert Morales, the political director for the polling firm Latino Decisions, said "the fundamentals never change. Any election is always about money and votes — and they are not mutually exclusive."
Castro's departure from the field comes just a month before the Feb. 3 Iowa caucus. In 2016, Republican Sen. Ted Cruz of Texas had won the Iowa caucus, becoming the first Hispanic to do so.
Follow NBC Latino on Facebook, Twitter and Instagram.