AUSTIN, Texas — As Andrew Gillum made a final push to turn out Florida voters last weekend, former Housing Secretary Julián Castro was with him. He came away believing his friend could win.
"What I saw at all locations was tremendous enthusiasm for him," Castro told NBC News Wednesday, the day after Gillum became Florida's Democratic gubernatorial nominee. "People young and old, black and white and Latino. I saw enthusiasm across the board."
Castro, a potential 2020 presidential candidate, had endorsed Gillum in the spring of 2017 and held a fundraiser for him. This spring and summer, his political action committee, Opportunity First PAC, endorsed him and kicked in $2,000 for his campaign. The two had known each other for years and when he returned to Texas after the campaign swing with Gillum, he could smell victory:
"There's a whole new generation of young men and women of color running for office, who have run and who are able to pull people together, progressives and (others) and that's the secret sauce for 2018 and going forward for winning primaries and general elections," Castro said. "It was neat to see in Little Havana strong support from the Latino community for Andrew."
Much of the focus on Gillum's upset win has been on the boost he got from Sen. Bernie Sanders, I-Vt. But Gillum's backing from black, brown, white voters and people of other backgrounds also was vital in helping him grab the nomination and setting up what's already expected to be a fierce general election race, activists said Wednesday.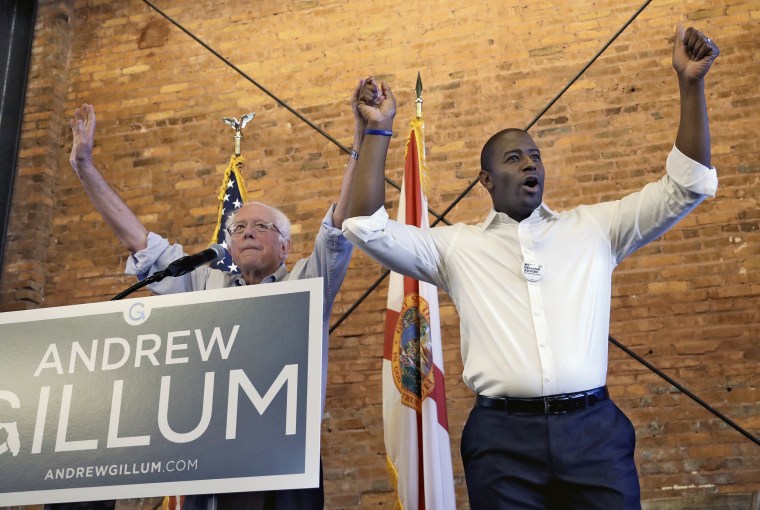 His win and those of other minority candidates — particularly in gubernatorial races — show that Democrats' progressive activism is very much tied to and reliant on minority communities in addition to white progressives.
That is not to say Sanders' endorsement wasn't critical. Sanders helped raise awareness of Gillum, who had been trailing through much of the campaign. His endorsement of Gillum, who was a Hillary Clinton backer showed he met the progressive test for Sanders backers. But Gillum also is mayor of Tallahassee and at 23, was the youngest ever elected member of Tallahassee's city commission.
"It's very evocative of the Obama dynamic where constituencies get inspired and galvanized and when they turn out in large numbers, they decide elections," said Steve Phillips, author of "Brown is the New White: How the Demographic Revolution has Created a New American Majority."
Jared Leopold, communications director for Democratic Governors Association tweeted that Democrats had a historic turnout for the primary.
The Tallahassee Democrat reported that Gillum benefited, too, from the negative ads run by a billionaire candidate against the two leaders for much of the race, Tallahassee Congresswoman Gwen Graham and former Miami Beach Mayor Philip Levine.
On the same night Gillum won, David García, who is Mexican American, clinched the Democratic nomination in the Arizona governor's race.
Castro's Opportunity First PAC also endorsed and backed García, Abrams and Valdez. The PAC gave Abrams $2,000 and contributions of $1,000 and $2,000 are penidng for García and Valdez, respectively. More contributions are likely in the general election, including to Jealous.
Arizona remains a Republican state, but the race is seen as more competitive than in previous years because of momentum behind Democrat progressives and anti-Trump sentiment, as well as a contentious fight over education in the state
"People are not giving David enough credit," Castro said of García. "David has been working hard for well over a year, impressing people as a candidate, hitting the right notes, articulating an agenda for progress … My hope is people pay attention to just how well he's doing there."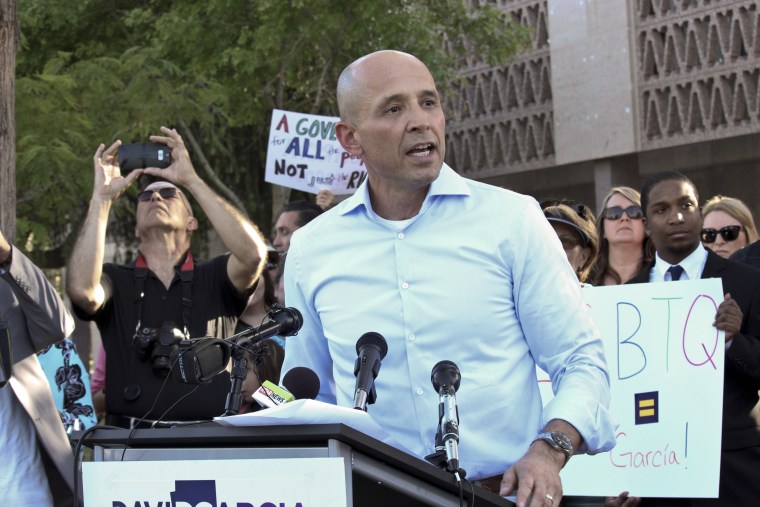 Gillum's and Garcia's wins extend the list of candidates from minority communities that are running for governor.
Also on the list of gubernatorial candidates: Stacey Abrams in Georgia, the first black woman of a major party to be nominated for governor in any state; Ben Jealous in Maryland, who could be Maryland's first black governor; Michelle Lujan Grisham in New Mexico, Lupe Valdez in Texas, who could be the state's first Latino governor, its first openly gay governor and with Lujan Grisham, could be the first Latina Democratic governors and Paulette Jordan in Idaho, who would be the first woman and first Native American to be the Idaho's governor and in the country.
Their chances of winning in the general elections vary, but their candidacies are changing the complexion of the party's ticket in high-level races.
Phillips, who also founded Democracy in Color, which promotes multiracial, multicultural and progressive politics, has been pushing Democrats for years to recognize that its chances of winning elections lay in building a coalition of minority communities and white progressives. He said it's "offensive" to attribute Gillum's win solely to Sanders' backing because Gillum had been a "significant political leader in his own right for over a decade-long before people had heard of Bernie Sanders," he said.
"The better way to understand what is happening is, the country is engaged in a fairly titanic struggle. Are we going to be a multiracial country primarily or a country that prioritizes white people?" Phillips asked. Answering his question, he said the election of Barack Obama as president represented the multicultural movement's peak and Trump represents the backlash to that, he said.
"What we are seeing across the country now is the reassertion of the leadership of people who have been under attack from this White House," he said.
With energized minority communities, Gillum could win the crucial state that Trump voted for Trump in 2016, Phillips said. When former Florida Gov. Charlie Crist lost his bid for re-election in 2014, he lost by 64,000 votes. There were 1.2 million African Americans who did not vote and 1.6 million Latinos who did not vote, he said.
"That's how winnable this is," Phillips said.
In February, the progressive group People for the American Way (PFAW) organized an event featuring Gillum, Abrams and García at the National Press Club in Washington, D.C. The event was titled "2018 Governor Races: The future of Democratic Leadership and Control."
Gillum had worked with People For the American Way Foundation and was the past national director of Young Elected Leaders Network which developed young and newly elected political leaders. Castro had participated in that program.
PFAW had run digital ads through its Latinos Vote! program for Gillum, including one that ran in English and Spanish that targeted Latino voters. One of the ads featured clips of Gillum saying he is one of seven children in his family and the first to graduate from high school and college, saying that "illegals" is not a noun and criticizing the Trump administration response to Puerto Rico after it was devastated by Hurricane Maria.
"Andrew had a very diverse winning coalition and people are ready for a diverse progressive young voice to win," said Lizet Ocampo, PFAW's political director.
The group has been focusing on helping to get more progressive gubernatorial and legislative candidates elected.
Ocampo said PFAW doesn't always back candidates with the most money, which often is used to measure the viability of a campaign but can hurt diminish the chances of minority candidates.
"Sometimes people will discount people of color in particular and say they don't have any money," she said.
Polls had shown Gillum was in third place and behind in fundraising and was late in putting up television ads. Sanders' endorsement helped bring more attention to the race and several progressive groups invested $3.5 million in his race in its final days.
Had Gillum's closest opponent won, "we would not have had any diversity on that statewide ticket," said Albert Morales, senior political director with Latino Decisions polling firm.
"This is coming after 2016 in Florida where the dropoff of black voters was huge," Morales said. Latino voters made up for the drop off of black votes in the presidential race with one Latino vote for every dropped African American vote, "but it was not enough to stave off the disaffected Republican voters that got woke by Trump."
Castro serves on the board of Voto Latino, a group focused on turning out millennial Latinos who are at least 44 percent of the Latino electorate. The group invested $7 million to register voters around the country for 2018 and 2020.
"We don't have to choose between appealing to working-class white people and people in big cities," Castro said. "People like Andrew and Stacey are going to show you can do both."