SAN ANTONIO — Musician Juan Tejeda sees something very familiar in Democratic presidential candidate Julián Castro.
"He is very indigenous and Chicano," said Tejeda, a conjunto accordionist who has roots in the West Side neighborhood of San Antonio, just like Castro.
Castro, 44, is not the first Latino to run for president but he is the first of note, as far as Tejeda is concerned. That's because Castro, with his brown skin and roots in a poor Mexican-American neighborhood, is the first who looks like him and who has lived like him.
Since Barack Obama kicked open the door to the White House for African-Americans, there have been hopes by many that a Latino would follow him through it.
There are likely to be more than two dozen candidates seeking the Democratic nomination, including some starting out better financed and with more name recognition, such as Sens. Kamala Harris of California and Elizabeth Warren of Massachusetts or former Vice President Joe Biden. Harris has said she's running. Warren has launched an exploratory committee and Biden is weighing whether to run.
But by being in the Democratic presidential field, Castro is giving Americans a view of Latinos that counters stereotypes and racist depictions of the country's largest minority group.
"In Julián, you see a very indigenous-looking person," Tejeda said. "The whole world now is going to have to come to terms with one, the way he looks and also, that he is very smart, that he's gone to the finest universities."
Castro attended Stanford and Harvard Law, was mayor of San Antonio and served as the secretary for Housing and Urban Development under Obama.
Should he be the Democratic nominee, the Ivy League-educated, former Cabinet secretary would go head-to-head with President Donald Trump, who described people who've come to the U.S. from Mexico — as Castro's grandmother did — as rapists, drug traffickers and criminals. Trump also accused a federal judge of being unable to do his job because he was Mexican-American.
At the same time, Castro is pursuing the White House after American voters elected the most diverse Congress in the nation's history and as the American population has moved closer to being majority minority.
"He's a leader who has excelled as a public servant — within him, he holds the hopes and aspirations for our children to be able to succeed," Tejeda said of Castro.
Lucy Flores, a former Nevada assemblywoman and the CEO of Luz Collective, a Latina-focused digital site and organization, said Castro is the first viable Latino candidate for president who "really leans into his identity, who has said it is part of who they are as an American."
Even if he doesn't end up being the presidential nominee, his candidacy "is incredibly meaningful for members of a community that hasn't seen itself reflected in the highest office in this land," despite being the largest minority group, Flores said.
Indeed, Castro put his heritage on full display when he announced his candidacy from colorful Plaza Guadalupe in San Antonio's West Side neighborhood. He made sure campaign signs, banners, pins and even a balloon display included the accent over the "a" in his first name.
The low-income neighborhood of his childhood once thrived with commerce established by Mexicans who fled Mexico's Revolution, and also has been home to several generations of U.S.-born Americans of Mexican descent. Despite segregation and racism against its residents, the community launched other national leaders such as former HUD Secretary Henry Cisneros, who served under President Bill Clinton, and Henry B. González, a Democrat and the longest serving Hispanic member of Congress.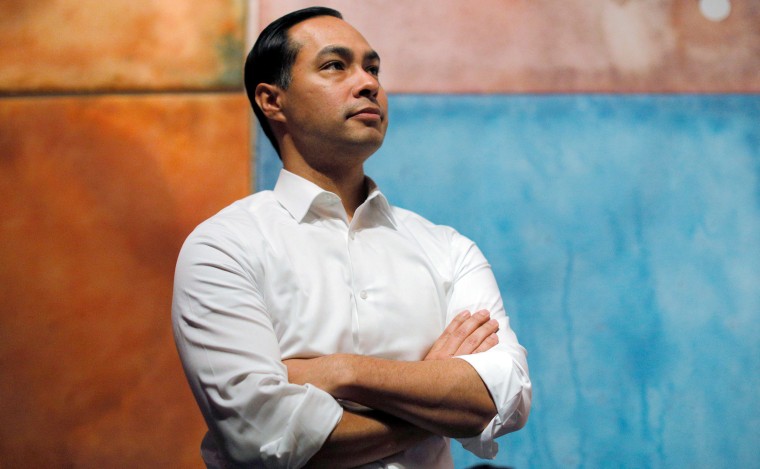 In his presidential announcement speech, Castro identified the plaza and its neighborhood as emblematic of the purpose of his campaign.
"Look around, there are no front-runners born here, but I've always believed that with big dreams and hard work, anything is possible," Castro said when he announced his presidential bid on Jan. 12.
In an October 2018 interview with NBC News, Castro qualified that ideal, saying that it's not enough to work hard for your family and to achieve the American Dream, "often, you also have to make your community and society better."
Castro has said that he intends to show people of all backgrounds that his cultural pride influences his plan for elevating all Americans, not just those from the Latino community.
"I want to work hard to create the kind of opportunity for other families that I had in my life," he told NBC News.
Beyond an 'invisible' community
In his autobiography, "An Unlikely Journey: Waking Up from My American Dream," Castro describes writing a college essay about himself in which he repeatedly used the word "Chicano" — a label used by some Mexican-Americans that originated from 1960s activism. The computer's spellcheck repeatedly flagged the word and asked whether he meant to write "Chicago."
"That made me think about how relatively unknown, even invisible, the Chicano community was to the vast majority of Americans," Castro wrote.
But he also realized the Chicano activism he knew through his mother's political activities skewed his worldview.
"I was forced to pull back from my tight community and understand how a common thread ran through so many cultures around the world where people had to fight for their rights," Castro wrote.
Castro credits political scientist Luis Fraga, his former Stanford professor who's now at Notre Dame, with helping him use those realizations to steer him into public service and shape his political framework.
Fraga taught his students, including Castro and his identical twin brother U.S. Rep. Joaquín Castro, D-Texas, that public servants can't be successful if they only serve their constituencies.
They must serve all citizens in the political community at the same time that they are serving their constituents, said Fraga, director of the Institute for Latino Studies at Notre Dame.
"Julián has always been a person who is completely secure in his historic and ethnic identity," Fraga said.
"He knows where his identity and community come from, but he's also comfortable in other communities, with the range of identities he has — as someone who went to Stanford, Harvard law school and someone who was responsible for the entire city of San Antonio," he said.
A working-class identity
Castro told NBC News during his campaign trip to Puerto Rico this month that he already is taking criticism about whether he is "Latino enough" to excite Latino voters.
He has been criticized for not being fluent in Spanish — not atypical for many of the nation's estimated 59.2 million Latinos.
Juan Sepúlveda, who served in the Obama White House and was Texas state director of the Obama for America campaign in 2008, dismissed that criticism: "As if somehow there's one secret answer to what it means to be Latino," he said.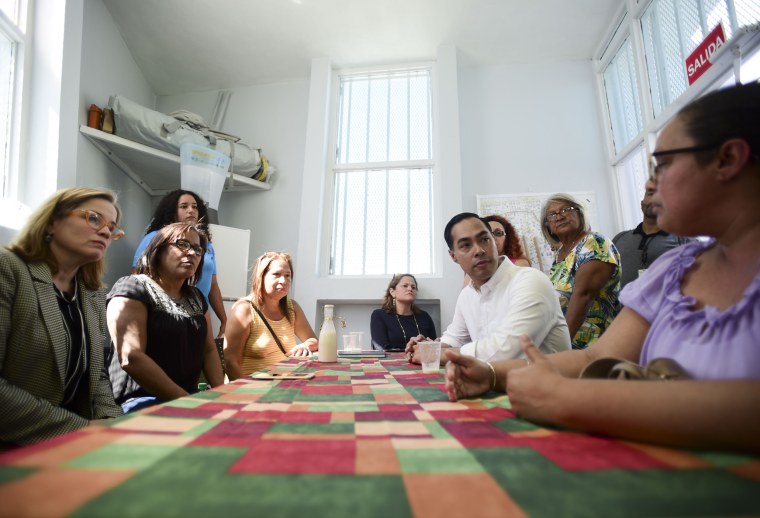 What is more important and not discussed enough on campaign trails is his economic identity, said Sepúlveda, a professor of urban education at Trinity University in San Antonio.
Castro comes from a working class, low-income background. He was the first in his family to own a home. He was raised mostly by a single mother and his grandmother; at times the family relied on friends for food, had to deal with bill collectors and wrestled with a lack of health insurance.
According to Castro's autobiography, the hospital bills from his and his twin brother's premature births were paid for with grand prize money his grandmother won in a "menudo" — a soup made with beef tripe and hominy — cooking contest.
"He's trying to restore the American Dream because he and his brother lived it," Sepúlveda said.
Steve Phillips, author of "Brown is the New White," said questions being raised about whether Castro should be running for president are similar to comments made when Stacey Abrams ran for Georgia governor. The questioning is a reflection of "implicit bias on who people think is a leader and who is not," he said.
"What direction are we going to go in 2020? Are we going to get back on the multicultural, inclusive perception of our country or are we going to continue on this retreat from diversification to a time when white people dominated public office?" he asked.
Fraga said Castro's candidacy will be another opportunity for the country to display its ideals and for voters to decide whether "it wants to respect and listen and learn from someone who is the embodiment of the American Dream."
"They have to see him as Latino and American, Latino and hard-working, a Latino and Mexican-American and someone who represents the best of what this country can be," Fraga said. "We'll see whether the country is self-confident enough to be able to display that appreciation for the best of itself."