DES MOINES, Iowa – In his hand, Christian Ucles holds names of dozens of Latino registered voters. In his head, he sees those same voters filling the 2016 Iowa caucuses.
It's Sunday afternoon and Ucles, political director for League of United Latin American Citizens of Iowa, is rapping on doors of Latino voters homes in the Valley Junction neighborhood of West Des Moines.
What Ucles wants to know: Are they willing to show up to caucus Feb. 1? Will they help make Latinos count in a state where they hold no statewide public offices, have no presence in the Legislature and hold a minuscule number of Iowa's 7,000 elective offices? The community's influence in the nation's first presidential primary is often dismissed because they number only about 174,000, just 5.6 percent of the state's population.
"The only reason Iowa grew in population was because of the Latino community - I think it's our turn now to make sure we have representation in every facet of government," said Ucles.
LULAC, the oldest Latino civil rights organization, is dedicating at least $200,000 and as much as $300,000 to its Latino Iowa Caucus Project. Its aim is to ensure Latinos are in the room when their party decides who it prefers for president through the Iowa caucus process. The group wants more Hispanics to be among the delegates chosen to attend the national party conventions, where candidates are officially nominated.
"We have over 50,000 registered Latino voters - about 200,000 people out of the 2 million registered voters in Iowa participate, so if we can get about 10 percent of the 200,000 to be Latino registered voters, then we will be able to promote our issues and the things we really want to fight for within those caucuses so the presidential candidates know exactly where we stand," said Joe Enriquez Henry, LULAC's Midwest national vice president, overseeing 12 states.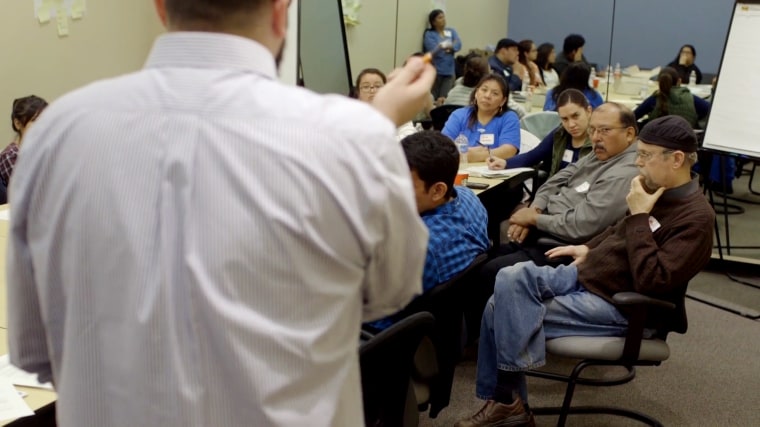 The project was launched last Friday at an awards banquet held by LULAC Council 307 in Des Moines, drawing about 300 activists that spanned generations. The event drew representatives for Democrats Bernie Sanders and Hillary Clinton and for Republican Jeb Bush. The featured speaker was Jesus "Chuy" Garcia, who forced incumbent Chicago Mayor Rahm Emanuel into a first-ever runoff for re-election. Garcia lost in the general election, but managed to win 44 percent of the vote despite entering the race late and spending far less.
"Latinos have to exert themselves in every state they exist," Garcia said.
LULAC is a non-partisan group, so it is encouraging Latinos to caucus for either party.
Luckily for Ucles, last Sunday the sun was out as he walked among homes with front yards still decorated with ghosts and pumpkins from the previous day's Halloween trick or treaters.
He and some volunteers and part-timers will be doing door knocking through the cold months of Iowa's winter. But that may mean finding more people at home keeping warm, at least more than he found on this 70-degree day that broke a week of cooler temperatures.
"The only reason Iowa grew in population was because of the Latino community - I think it's our turn now to make sure we have representation in every facet of government,"
After a couple of hours of knocking on a half dozen doors of identified Latino voters, Ucles found Ramona Gomez, who votes in almost every election, most recently in a school board election. From behind her porch screen, Gomez said she was planning to caucus. She told Ucles an issue that was important to her was childhood hunger.
Ucles said many Latinos declare themselves independent here, so some may caucus with one party and vote on another. If enough show up at caucuses, they could help reset the rhetoric that has dominated that party's campaigns and promote concerns about high rates of poverty among Latinos, access to higher education and health insurance and other priorities, LULAC leaders said.
Iowa's Latino community grew 110.5 percent from 2000 to 2014, according to the State Data Center of Iowa. Latinos are projected to be 13 percent of the state's population by 2025.
Latinos, mostly Mexicans and Mexican Americans, have deep roots in the state, many helping to build the railroad, migrating here for farm work and working in its mining and cement industries.
But with the explosion of the population, some Latinos feel their community has been the target of diatribes, and have cited the sting of the rhetoric and legislative actions of U.S. Rep. Steve King, R-Iowa, who said young immigrants have calves the size of melons from hauling drugs. His sentiments, say some Hispanics, have been reinforced by GOP presidential candidate Donald Trump.
The tension has become visible in recent clashes: a young woman ripped in half the hand-made sign of a Latino anti-Trump demonstrator at a recent tailgate party; she later issued a statement apologizing. Meanwhile, some 600 to 800 Latino protesters lined a street in Sioux City, to protest a speech by Trump at a local high school.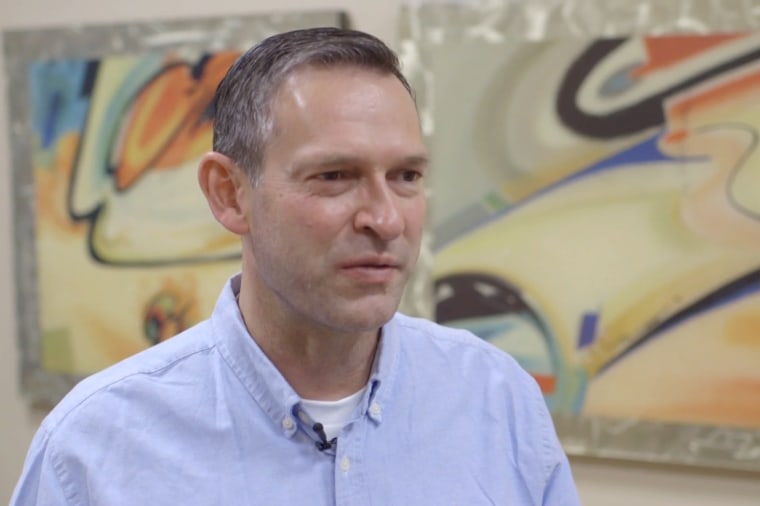 "We have traditionally raised money to do voter registration and gone to battleground states and overlooked Iowa," said Brent Wilkes, LULAC's national executive director. "We felt the way the primary process is playing out in Iowa is important especially on the issues of immigration and the way the Republican Party is discussing them. It's important to have a strong turnout to counter the strong language the candidates are using in the primary."
Enriquez Henry said it was important that more participate in the primary process. "Not many people play this game, it's usually those political insiders who play this game."
LULAC officials know there is an education process that needs to take place to reach their goal. Earlier in the day, 15 people showed up to one of the caucus workshops Ucles conducts across the state.
With 49% of Latino turnout in Iowa and 68% in Hispanic-heavy counties, increasing Latino numbers at the caucus appears to be a reachable goal.
Marlú Abarca, 23, of Des Moines, was among those attending Sunday's workshop. She moved to Iowa from Los Angeles to attend Grinnell College, which she graduated from last year.
The daughter of Mexican immigrants, Abarca said she became interested in politics when she was 16 and volunteered for a city council candidate's campaign for extra credit in school. Her work and involvement with Latino organizations introduced her to the idea of caucusing.
"I had voted throughout the time that I was in college and when I got to Des Moines and the fact that there's so many candidates here, it really attracted me to the process itself; there wasn't a lot of information coming to my campus to caucus," she said.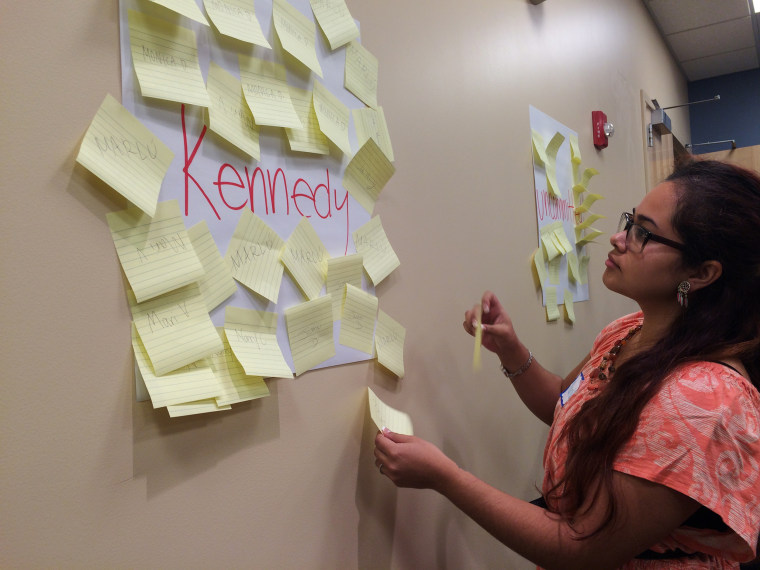 In the caucus training, sheets of paper were taped to the wall with the names of previous presidents as substitutes for candidates: Lincoln, Kennedy, Teddy Roosevelt and others. One paper reads "uncommitted."
Attendees were given yellow stickie notes to attach to the name of the "candidate" they preferred. They whittled the candidates, and jockeyed for the votes of the uncommitted. Ultimately Kennedy, who Arbac backed and recruited votes for, emerged with the most delegates.
Both of Abarca's parents had migrated separately from Jalisco in Guadalajara, Mexico. They had known each other as children and met again in the U.S. fifteen years later and married. Retelling her mother's story brings Arbac to tears. Her mother was raped after arriving to the U.S. but didn't report it because she didn't know her rights, Abarca said.
"There's so many people in this country who don't have a voice but have the passion and have the urgency and care about these issues. As a citizen, I'm very privileged to be able to voice my opinion and be part of the process when others can't," Abarca said.
The activism of young people could be a key to the success of LULAC's Latino Iowa Caucus Project. LULAC leaders have been impressed with how the Sioux City, Iowa youth were able to turn out hundreds of protesters in a few days to protest Trump's appearance.
With 49 percent of Latinos turning out to vote in Iowa, and 68 percent turnout in counties where much of the Latino vote is located, increasing Latino numbers at the caucus appears to be a reachable goal.
"We are working with these young people, the Dreamers and others, working with the parents and we are going to help them participate in the caucus," Enriquez Henry said. "We want those young people to know they are not forgotten."