Known for its eclectic blending of Latin classics, American rock and Mexican folk music, La Santa Cecilia will soon be releasing its new visual album, "Amar y Vivir."
Recorded live in the historic center of Mexico City, "Amar y Vivir" is a love letter to the band's Latin culture. A journey into the band's roots, it features traditional boleros, huapangos, jarocho, bossa nova, cumbias, rancheras, pop and rock. Covering songs from José Alfredo Jimenez, Chavela Vargas to Café Tacvba, the band ventured the streets, nightclubs and park squares that inspired these classic songs, while also finding the common thread in American culture.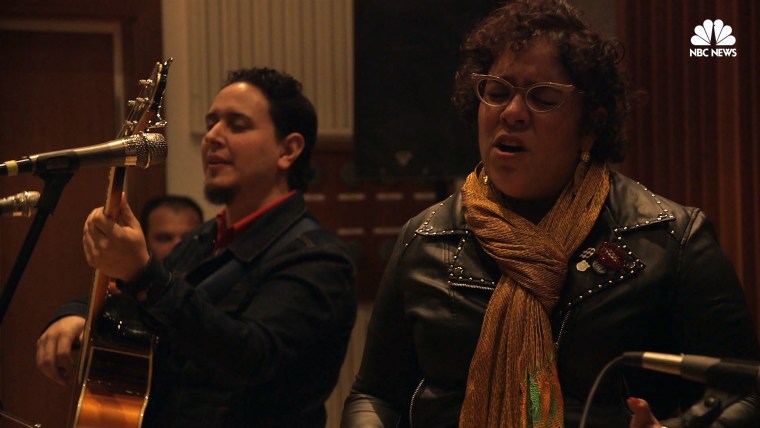 "Our parents left Mexico in search of opportunities, in search of a better life and here we are looking back to Mexico in search of possibilities to connect and take our music there. It's been great to see how they receive us," lead vocalist Marisol Hernández told NBC Latino.
Their first two singles from the 2017 album, "Leña de pirul" and "Amar y vivir," came out on April 7. The visual album is released May 12.
In 2014, the Los Angeles based group won a Grammy for Best Latin Rock, Urban or Alternative Album. The quartet explored the experience of undocumented Latino immigrants with its hit song "El Hielo" (which means ice; ICE are the initials for Immigration and Customs Enforcement). It made the group the voice of a generation of immigrants and children of immigrants that live and breathe their biculturalism — as well as the reality of those who grapple with family members who are undocumented.
Hernández, also known as "La Marisoul," told NBC Latino that the band's music is politically charged for a reason; the members want their music to tell stories of what it means to be Latino in the U.S. "We didn't want to make a band with any musical boundaries," she said.
Percussionist Miguel Ramirez said the music is what connects them to their own families and their Mexican heritage. "Regardless of what's happening in society, our family and our culture will carry us to the next day, to the next stage and that's why we're driven now more than ever."
La Santa Cecilia took its name from the Mexican patron saint of music. The band's members recall a diverse array of music that influenced them while growing up, from the rock group Santana to jazz and punk rock, as well as Latin classic groups like Los Panchos and Los Alegres de Terán.
They expressed hope that their music can change the political and social conversation and emphasize the importance of humanizing those most affected by constantly changing immigration policies and deportations. They also hope they can be a cultural — and musical — bridge between the United States and Mexico.